'Changing the odds': Lompoc students discuss college, life during African-American summit at Cal Poly
As Lompoc Valley Middle School Principal Schel Brown flipped through his own 1970s-era middle school yearbook, memories of that time brought both smiles and headshakes.
Brown, who is African-American, keeps a copy of the book, which was published by his Alabama middle school, on a shelf in his office. While he said he has many fond memories of that time, the disappointment on his face is clear when he reaches the pages that highlight the student superlatives.
Most of the categories, such as "best dressed" or "class clown," feature two sets of winners: one white and one black, as voted on by students from each respective racial group. Some of the other more meaningful categories, however, such as "most likely to succeed," include only white faces.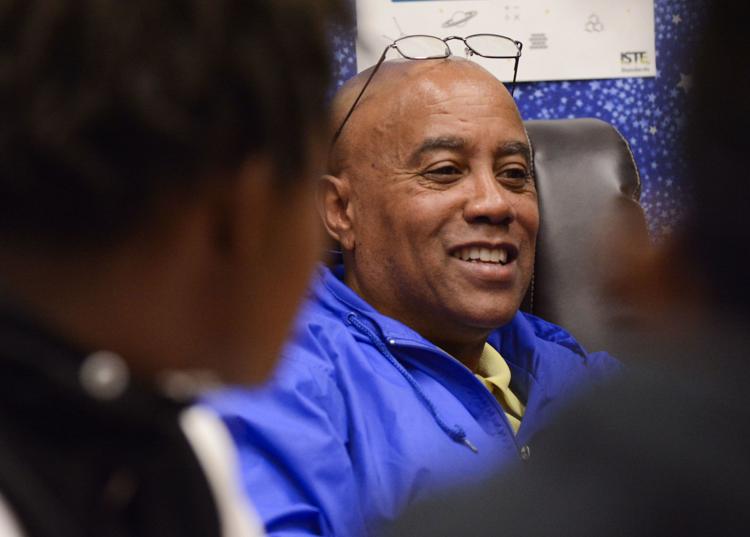 "We weren't eligible for those," Brown said.
This month, the principal joined with other Lompoc Unified School District administrators for a first-of-its-kind program sponsored by Hancock College and Cal Poly that organizers hope will help close the education and opportunity gaps that still exist between black students and their peers from other racial groups.
A group of 52 LUSD middle and high school black male students traveled to Cal Poly on March 12 for an African-American Male Spring Summit. The daylong event included campus tours, presentations from African-American students and faculty about their paths to college and breakout sessions during which the Lompoc students could pick the brains of the Cal Poly students about how to adjust to college, particularly as a minority student, and how to achieve their education and career goals.
"It was inspirational to see how they made it to college and (knowing) we can make it, too," said Matthias Taylor, a seventh-grader at LVMS.
Added fellow seventh-grader Jaylun McLean: "It also showed that we can make a difference."
The event was initially developed through a partnership between Cal Poly and the California Student Opportunity and Access Program, or Cal-SOAP, which is a statewide program designed to increase the number of students attending college.
Diana Perez, the director of Cal-SOAP at Hancock College, said the summit was one of many types of programs promoted by Hancock College aimed at "changing the odds for our community."
"Outreach and activities like the African-American Male Spring Summit are essential to helping area youth experience college and see it as an attainable goal," she said. "Hancock and the Central Coast Cal-SOAP Consortium are committed to encouraging students to pursue postsecondary enrollment."
The summit was particularly personal for Mardel Baldwin Jr., an assistant director of student academic services at Cal Poly's San Luis Obispo campus. Baldwin, noting that he grew up in Long Beach without his father, said it wasn't until late in his college years that he began to discover mentorship and other programs aimed at improving the odds for students like himself.
"For me personally, being an African-American male, it's something I've always wanted to do and I have a passion for it and for helping my community," Baldwin said of this month's summit. "But from a university standpoint, I think we're all looking to support students who come from underserved communities. So, this was one way of being able to tap into that and to be able to connect current and prospective students together to talk about things that are affecting them on an everyday basis."
Lompoc was specifically chosen for the first-time program because it has a higher African-American population than other communities in Santa Barbara and San Luis Obispo counties.
LUSD administrators seemed to be on board with the program right away.
After reaching out to students who self-identified as African-American, the district sent a letter signed by Superintendent Trevor McDonald to those students' families.
"I encourage you to speak to your son about this exciting opportunity," read a portion of the letter from McDonald, which was dated Feb. 27. "On behalf of Lompoc Unified School District, I am proud to support an event that will inspire and motivate our African-American male students to consider pursuit of a college education."
The students were picked up from LVMS, Lompoc High School, Cabrillo High School and Vandenberg Middle School on the morning of the summit and traveled together, by bus, to San Luis Obispo.
While some of the younger students said they enjoyed hanging out with the high school students on the bus trip, the real fun apparently took place at Cal Poly.
Several students cited the campus tour as one of the highlights. Some of the kids had never been to a college campus before, but even some of those who had said that seeing Cal Poly up close was an eye-opening experience.
"It was just exciting to see the campus from the inside," Taylor said.
Brown said he could tell the Lompoc students were engaged and captivated by the speakers and the breakout session leaders by observing their body language.
Some of the guest speakers, Brown said, shared stories of overcoming significant obstacles. One, for example, grew up in the Aleutian Islands and showed pictures of his village, which had no running water or other first-world amenities that many Americans take for granted. Another speaker, Brown said, shared his story of growing up poor in West Philadelphia with a mother who couldn't read or write. That speaker, who recently earned a post-graduate degree, credited his teachers and counselors with helping him succeed in academics.
"During that time, by them talking and having visuals, our kids were silent," Brown said. "They were looking up there, and a couple even mentioned during lunch that they had never been in a room where there were African-American men talking to African-American boys about these issues."
Some of the students expressed appreciation for the opportunity.
"They talked to us about how college is a really great opportunity and how we should strive for college because it opens up a lot of opportunities that we wouldn't (otherwise) have," Taylor said.
"Like better jobs and better options," McLean added.
Taylor said the discussions went beyond just college and career, though.
"We talked about what being a black man means to us and how that will affect our lives and our futures and how we'll go on in life and take that responsibility," he said.
Baldwin said he hadn't yet been able to review all of the surveys that were given out after the summit. From what he has read over, though, he said the parents of the students, a few of whom attended the event, seemed to also be grateful for the breakout sessions.
"They loved the idea of getting the young men together and being able to have real conversations that were built around identity and college and support of their community," Baldwin said.
Although the event was held at Cal Poly, Baldwin pointed out that it wasn't necessarily Cal Poly-centric.
"It wasn't so much about coming to Cal Poly," he said. "If they do, that's awesome, but it's moreso about going to college — whether that's a community college first and then transferring, or going to another four-year university — that's the ultimate goal for us. It's more about educating them to go to college and not so much about outreach to go to Cal Poly, per se."
The event could become an annual occurrence, said Baldwin, who indicated that he'd like to see it continue and include more Central Coast students. Additionally, discussions have started for a similar event for African-American female students.
"This is a great first step in the right direction, but there's still a lot of work that needs to be done," Baldwin said. "So, I'm looking forward to continuing this and doing some more things for the community and for students who are often overlooked in regards to college and success. I want to try to change that narrative and empower them to know they can also do well in school and do well in life and support their families."
That message wasn't lost on the student participants.
McLean, the LVMS seventh-grader, said it motivated him to "strive for college and prove that black men can go to college."
Willis Jacobson covers the city of Lompoc for Lee Central Coast Newspapers. Follow him on Twitter @WJacobsonLR.