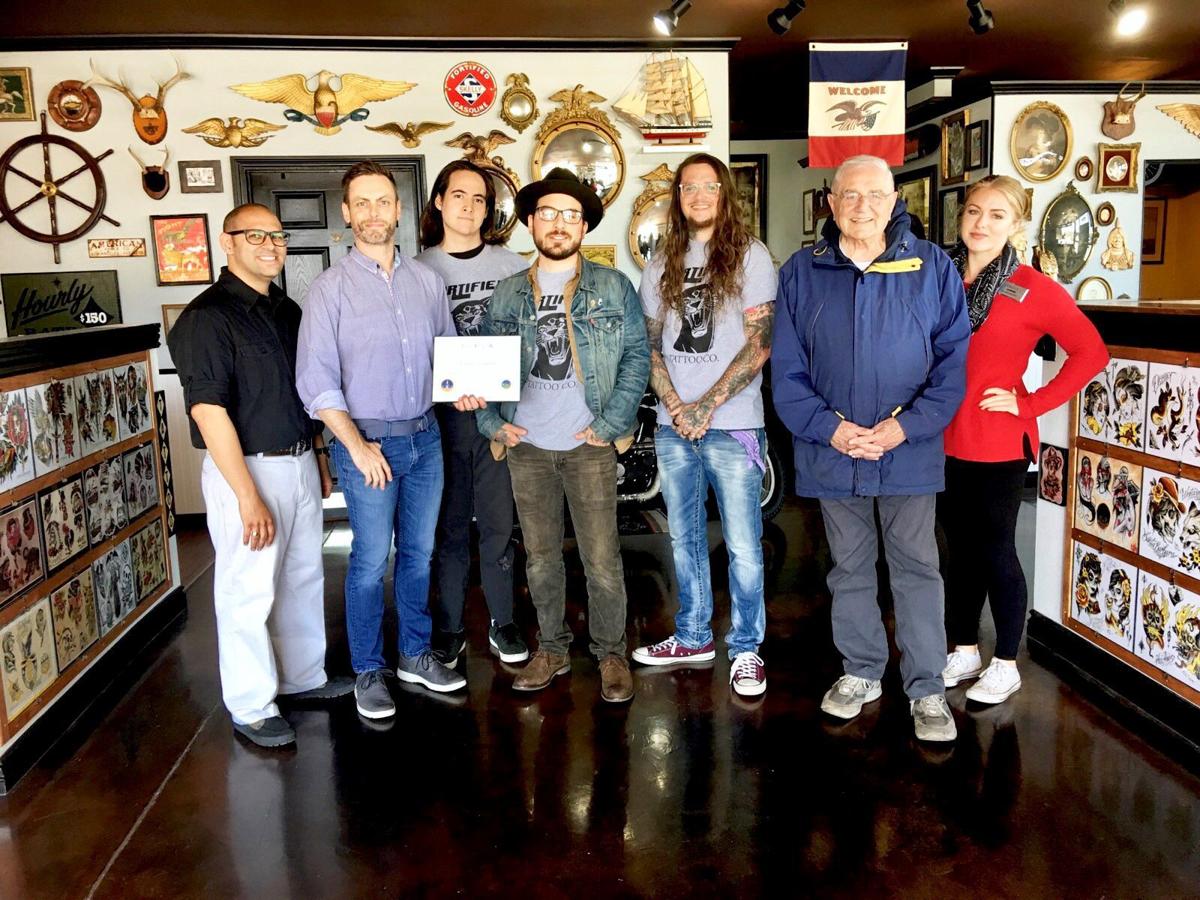 Fortified Tattoo Company is the latest recipient of the Lompoc Economic Development Committee Economic Vitality Award (EVA). The shop is located at 135 North H St., in the Walnut Plaza. The shop specializes in bold American-traditional tattoos.
The EVA is awarded to businesses in Lompoc that make a positive impact on the community. That impact may be an investment and improvement in a space or the continued support of community groups. EVAs honor Lompoc organizations that impact the community by going above and beyond basic business interests.
Fortified Tattoo Company earns this honor for their contributions to the local community. Jamison Stagaard showcases carefully curated artists from around the country. These guest artists bring their own creative energy and artistic flair to the shop and share these skills with their customers. The inclusion of these artists allows the shop to cater to their customers while showcasing the Lompoc Valley to a national audience.
Stagaard, a New Jersey native, moved to Lompoc in 2018 after years of tattooing in Santa Barbara and southern California. Fortified Tattoo Company officially opened its doors July 2018, and has been a resounding success since then. The shop's trademark wrap-around windows display a very lively and exuberant business to one of Lompoc's busiest streets.
Since opening Fortified Tattoo Company, Stagaard has supported the local community by participating in the Chalk Festival as well as the annual Scarecrow Contest.
Fortified Tattoo Company is planning a flash tattoo event that will further support the community. Artists will offer their services to community members looking for a unique and beautiful method of artistic self-expression. The proceeds from this event will go to the Hope Vs Cancer Foundation, a nonprofit organization aimed at raising the spirits of children during cancer treatment.
Fortified Tattoo Company is a shining example of a business that extends itself outside of their business doors into the sidewalks and streets of its community as it embraces and supports the community members. Congratulations to Fortified Tattoo Company on their current success and their bright future in Lompoc Valley.
To stay updated on the EDC's progress throughout the year like the "Lompoc Economic Development Committee" page on Facebook.
Building the Future Today is a column by the Lompoc Economic Development Committee. The column runs on the first and third Sundays of each month. To contact the committee, email j_mcginty@ci.lompoc.ca.us.
The business news you need
With a weekly newsletter looking back at local history.