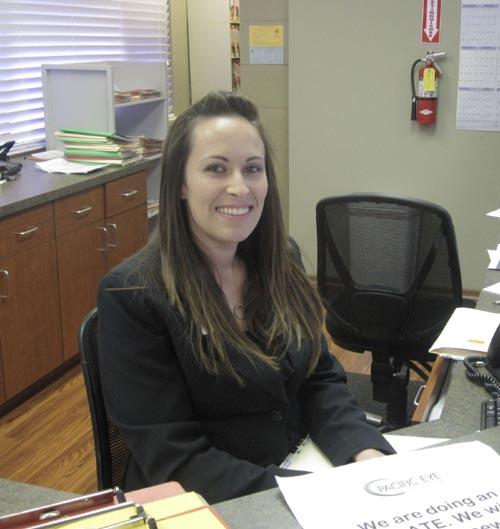 Location: 1111 East Ocean Ave., No. 7
Hours: 8 a.m. to 4 p.m. Mondays through Fridays
Receptionist and surgery coordinator for the Lompoc office.
Would you describe your job?
I handle all aspects of the front office, surgery, scheduling and assist in our optical department for the Lompoc office.
How long have you had the job?
I have had this job for 2½ years.
You have free articles remaining.
I did my medical assistant training in 2010. I went to school at Center for Employment Training in Santa Maria. I was working for a geriatric doctor in Santa Maria, but it was just temporary.
When Dr. (Steven) Dixon merged with Pacific Eye, they needed someone for the front office. I saw an ad for this job on Craigslist. So I applied here even though I didn't have any ophthalmology experience, but I had medical experience.
What do you like most about doing your job?
I am interested in all the different diseases our doctors get to treat. I enjoy watching the success of treatment for patients, such as routine eye care, medical eye care and surgeries. I get to see patients before and after; it's very rewarding to see the success of our patients.
What do you find most challenging?
Sometimes patients don't believe they have vision care. Most of our doctors are medical doctors, so patients believe they can't get an eye exam. I explain that we can use their medical insurance to cover eye exams.
What do you do in your spare time?
I love the outdoors: hiking, camping, hunting with my grandfather, rescuing animals in need with my mother and shopping with my grandmother. I have three rescued dogs and a cat of my own although I am currently spending most of my free time remodeling at my home with my father and fiancé.
Is there anything you want to add?
I am happy to assist in the verification of anyone's insurance.
If you would like to be featured in this column or suggest someone to be featured, contact Frank Young at thats-30@youngreport.com.