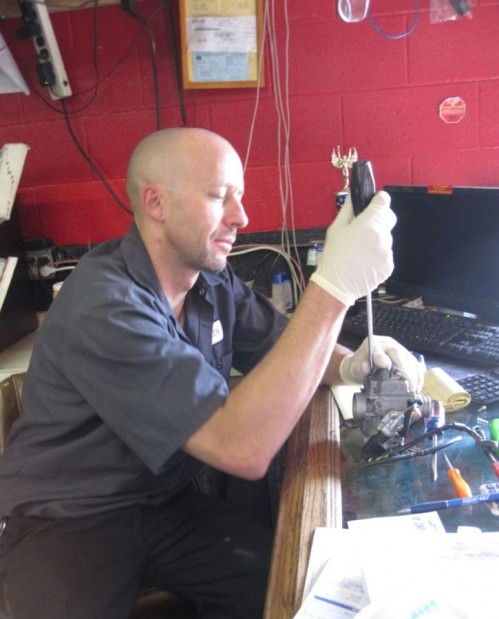 Business: A & E Motorcycle
Location: 628 North H St., Suite A
Hours: 9 a.m. to 6 p.m. Tuesday through Friday, 10 a.m. to 6 p.m. Saturday
What products and services do you offer? We offer motorcycle parts, fabrication, welding, accessories and apparel.
You have free articles remaining.
Who are your customers? My customers come from all walks of life, anyone who rides a motorcycle. You'd be surprised at people who ride. Customers come from Santa Maria, Buellton, Santa Barbara, San Luis Obispo and Lompoc.
How many people do you employ? Right now, besides myself, I employ two people.
How long have you been in business? I've been in business since 2007.
How did you get into this business? I've always loved bikes and have been riding as long as I have been driving. I was a mechanic for a car dealer for 13 years. And I got most of my mechanical experience there. I asked my boss for a raise one year, and you always have to justify a raise. I added up all my hours and multiplied it by his hourly rate to figure out how much money I made him. I noticed that there is no way I could advance to that level without being in business for myself. So, I did. It's a risk but it's worth it.
What do you like most about owning your own business? When I work 12 hours here, it doesn't feel like anything compared to when I worked 8 hours for somebody else.
What do you find most challenging about owning this business? The economy tanked six month after I went into business. To survive these times I could not spend money that I didn't have to, just the bare necessities. There's a lot of paperwork on top of my regular work.
What do you do in your spare time? What spare time? I spend as much time as I can with my wife and kids. I'll go home and hang out with my family. They go to bed about 9:30. I'll come back and work for a couple of hours.
Is there anything else you would like to add? I appreciate my loyal customers.
If you would like to be featured in this column or suggest someone to be featured, contact Frank Young at thats-30@youngreport.com.