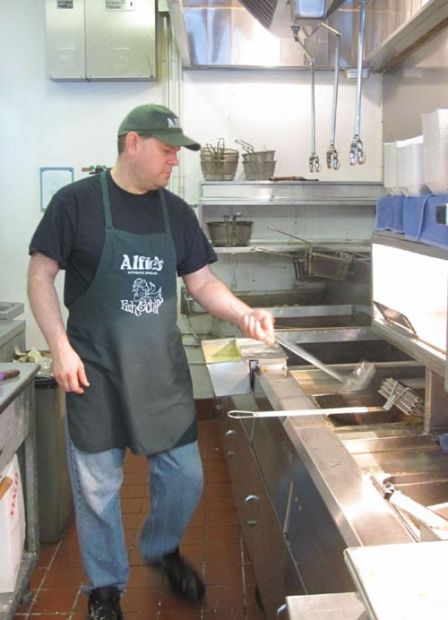 Name: Mike and Nellie Sewall
Location: 1031 North H St.
Hours: 11 a.m. to 9 p.m. every day.
What products and services do you offer?
We provide English-style food with the feeling of an English Pub in a family setting. We serve fish and chips, scallops, shrimp, chicken strips, clam chowder and oysters. We serve beers, sodas and alternative drinks. We also do hush puppies. About the middle '80s a lot of people from the South wanted hush puppies, so the former owner got a fantastic recipe together and now it's one of the most popular things we have. They are not particularly Southern; they are "California Hush Puppies."
We have a lot of folks from the Central Coast. We have retirees, families, military guys coming in from the base. We have younger kids working here, so their friends come in. We have a lot of international travelers. They drive Highway 1 and stop here. We have people from the Netherlands, France, Germany — and England, of course.
How many people do you employ?
You have free articles remaining.
We employ seven people including us, our son and daughter. We have four kids. They have all worked here.
How long have you been in business?
Alfie's has been here for 43 years. We have owned Alfie's for 12 years.
How did you get into this business?
My wife, Nellie, worked in a steak house in Ohio for three years, when she was 16 and then worked a lot of restaurants. I have been in the restaurant business for the last 25 years. I worked at Pea Soup Andersen's, the Jetty and Federico's in Buellton. I managed a total of four restaurants here on the Central Coast. Twelve years ago, we heard that Alfie's was for sale, and decided that we wanted to work for ourselves.
What do you like most about owning your own business?
We like the freedom that allows us to take small vacations. However, the last few years have been a little tough for that because of the economy. We make our own hours. I like meeting the diversity of people who come in our restaurant. I like the interaction every day. And there's the pride of ownership.
What do you find most challenging about owning this business?
The economy is challenging. The last three years have been the hardest. It hits restaurants because people don't eat out as much. However, things feel like they are getting a little better. This year was a little busier than last year.
What do you do in your spare time?
I read, write and do a little acting at the local theater. I have a small part in "The Boys Next Door" being done by the Lompoc Civic Theater. I write a column called "Assumptions" for the Lompoc Record.
If you would like to be featured in this column or suggest someone to be featured, contact Frank Young at thats-30@youngreport.com.