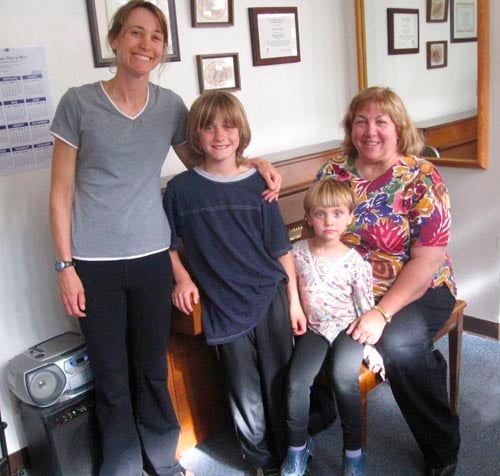 Business: Lompoc School of Music
Location: 601 E. Ocean Ave., Suite 9
Hours: By appointment only, working hours are 2:30 to 8 p.m., seven days a week.
What products and services do you offer?
We offer private music instruction as well as group ensembles. We give lessons in music theory. We teach piano, guitar, voice, violin, saxophone and the brass instruments.
We have people coming mostly from Lompoc as well as Vandenberg Air Force Base, Santa Ynez, Guadalupe, Santa Maria and Santa Barbara. Ages of customers range from as young as 3 to grandma and grandpa's age.
How many people do you employ?
How long have you been in business?
You have free articles remaining.
I have been in business for 14 years.
How did you get into this business?
Teaching has been my passion since I was 17. It was a rush when I understood that this is what I'm going to be doing. I saw the enthusiasm of having a school where students of different ages and levels got instruction on different instruments. I had a great music teacher. We put on productions that were popular. I went on to attend Allan Hancock College and got a bachelor's degree in music from San Jose State in 1981. Now I teach at Allan Hancock College.
Things change. People don't have music in schools like they used to so. I knew a lot of people and they asked if I know a good guitar teacher or a good violin teacher; and I thought this is a time to offer under one roof what the school district is no longer doing. There was a need for music education here in Lompoc.
When I opened up this business in 1999, I had a lot of advanced young ladies, homeschooled high school age that were very adept and devoted and quite well-equipped to teach the younger students. When I began to expand and didn't have time enough of my own schedule, I thought to do what my teacher had done, to help students learn how to teach and work with me here. I've never had any problem finding people who want to be part of a school for music.
What do you like most about owning your own business?
I like being my own boss. I like having my own hours. I like being the master my own fate. It's rough, don't get me wrong. But it's a positive thing. It's a job that doesn't feel like a job. It's a great environment.
What do you find most challenging about owning this business?
Coming up with creative ways of pulling out the best songs to keep the kids interested in practicing is challenging. Learning an instrument takes time. When students develop the creative artistry to have a song touch themselves or others, this is where the beauty, the magic happens.
What do you do in your spare time?
I play with my grandson. I am pretty much almost a full-time grandma right now. We have all kinds of musical little toys.
If you would like to be featured in this column or suggest someone to be featured,