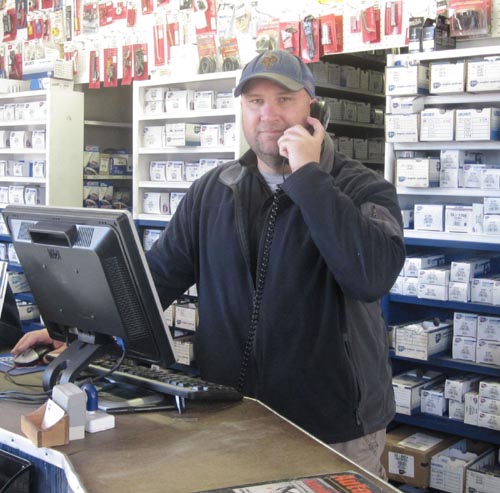 Business: Perry's Auto Parts & Service
Location: 113 South F St., Lompoc
Hours: 8 a.m. to 5 p.m. Monday through Friday, parts only, 8 a.m. to 3 p.m. Saturday
Would you describe your job?
I do the daily inventory. I check the stock orders that come in. I make sure we have the parts coming in for the vehicles we're working on, get all that lined up. Get shipments out to our customers. We have many customers around town, dealerships, other auto shops that order parts though us, and I have to get them ordered and shipped out to them. It's basically logistics.
You have free articles remaining.
How long have you had the job?
Since June 1990, 23 years.
When I was 20, I was working on base for a company called American Rocket, as a launch pad mechanic intern. That company closed up. Then I applied at Lou's Chevron, down the street, to be a mechanics helper. I didn't know Perry's Auto existed at that time. Apparently Lou down there called here at Perry's because they needed someone as a parts delivery guy. I'm 20 years old and I needed a job. Lou Bacca gave them my name and Bill Perry called me up on a Saturday. I stopped by and he hired me that day. And I've been here ever since.
What do you like most about doing your job?
I work here; Mr. Mike Perry — I couldn't imagine a better boss. He's done things for me and other employees that I couldn't imagine. It's a great place. They treat me great. It's not like coming to work in the morning; it's almost like family down here.
What do you find most challenging?
Explaining to a customer with no knowledge of cars what is going on with their car in a way that they can understand and feel comfortable. Relating how it works to something they understand.
What do you do in your spare time?
I spend time with my wife. We go hiking with our dog, get outside. We like taking trips. She likes sports almost as much as I do. A lot of our trips are sports related. She's a 49er fan; we'll go see a 49er game. I'm a Viking fan; we'll go see a Viking game. We visit my family both locally and in Minnesota.
If you would like to be featured in this column or suggest someone to be featured, contact Frank Young at thats-30@youngreport.com.