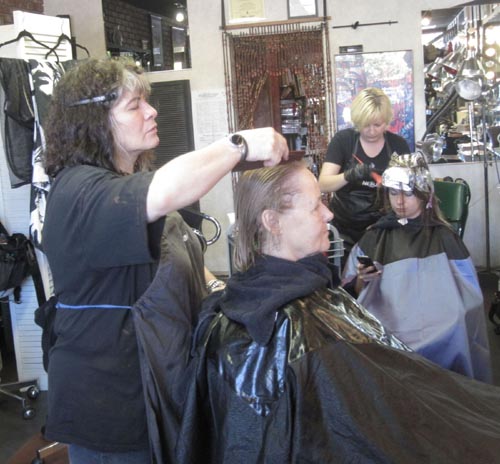 Location: 137 North H St., Lompoc
Hours: 10 a.m. to 9 p.m. Tuesdays, Wednesdays, Fridays and Saturdays. Other days by appointment only.
What products and services do you offer?
We are a full spectrum hair salon. We do cutting, coloring and re-texture rising, which is perming. We also do skin care and makeup services, including theater and photography.
We have a very eclectic customer base. I have children as young as 1. I have clients as old as 80. I pull as far north as San Luis Obispo and as far south as Ventura. My customers are busy people who prefer an easy and quick development of their hairstyle and skincare. I have 40 percent male clientele.
How many people do you employ?
You have free articles remaining.
How long have you been in business?
I've been in business in Lompoc since 1980. I have been at this location since 1992
How did you get into this business?
I had a booth at the beach show in Santa Barbara in the mid-'70s. I had a gentleman partner and he thought the way I was engineering fabric that I would make a good hairdresser. I had a modular clothing booth. Modular clothing means that you could buy a shirt or pair of pants and skirt and they would all mix-and-match. I kept my booth on the beach and went to beauty college during the week. I went to John's Beauty College here in Lompoc. I worked on my clothing at night and sold them on the beach on the weekends. I kept the booth until I got my clientele rolling in. My first hair salon was called The Studio located at A and Ocean here in Lompoc. I had a booth there.
What do you like most about owning your own business?
I have rarely worked for someone else in my life. The only time was as an independent contractor, so I was still working for myself. I really like the fact that everything comes down to me including my failures. If I can own it, I can be the creator and fix it. I like being the person that makes the changes that need to be made. I've always worked for myself since I was 17 years old.
What do you find most challenging about owning this business?
I find time management the most challenging because it's so unpredictable.
What do you do in your spare time?
I spend time with my husband. We like to travel. I do art, sculpt and make jewelry. I read and write. I see writing as art.
Is there anything you would like to add?
I make the products I use in the salon. All the shampoos and conditioners are made completely by me from scratch. I went to Allan Hancock and took math up through Algebra II, then took chemistry and biology courses. Rather than getting a degree, I just used the classes for the information I needed. I was able to then read books and teach myself. So I was able to understand that I was manipulating proteins, because that's what you do it with hair care, and formulate all my own products.
If you would like to be featured in this column or suggest someone to be featured, contact Frank Young at thats-30@youngreport.com.