A growing collection of painted wood horses decorating downtown Santa Ynez and the artists behind them will be celebrated during the town's second Artisan Market slated for 10 a.m. to 2 p.m. Saturday, April 17. 
The Painted Horse Project, which was launched by the Santa Ynez Chamber of Commerce last fall and paid for by private donations and a grant from Visit SYV, began as a six-horse collection, according to Linda Small, executive director of the Santa Ynez Chamber of Commerce. The project has expanded to so far include 10 colorful wooden steeds.
"Art is always fun to see and experience," Small said. "I hoped to bring something artistic for the community to experience outdoors, and this project fit perfectly."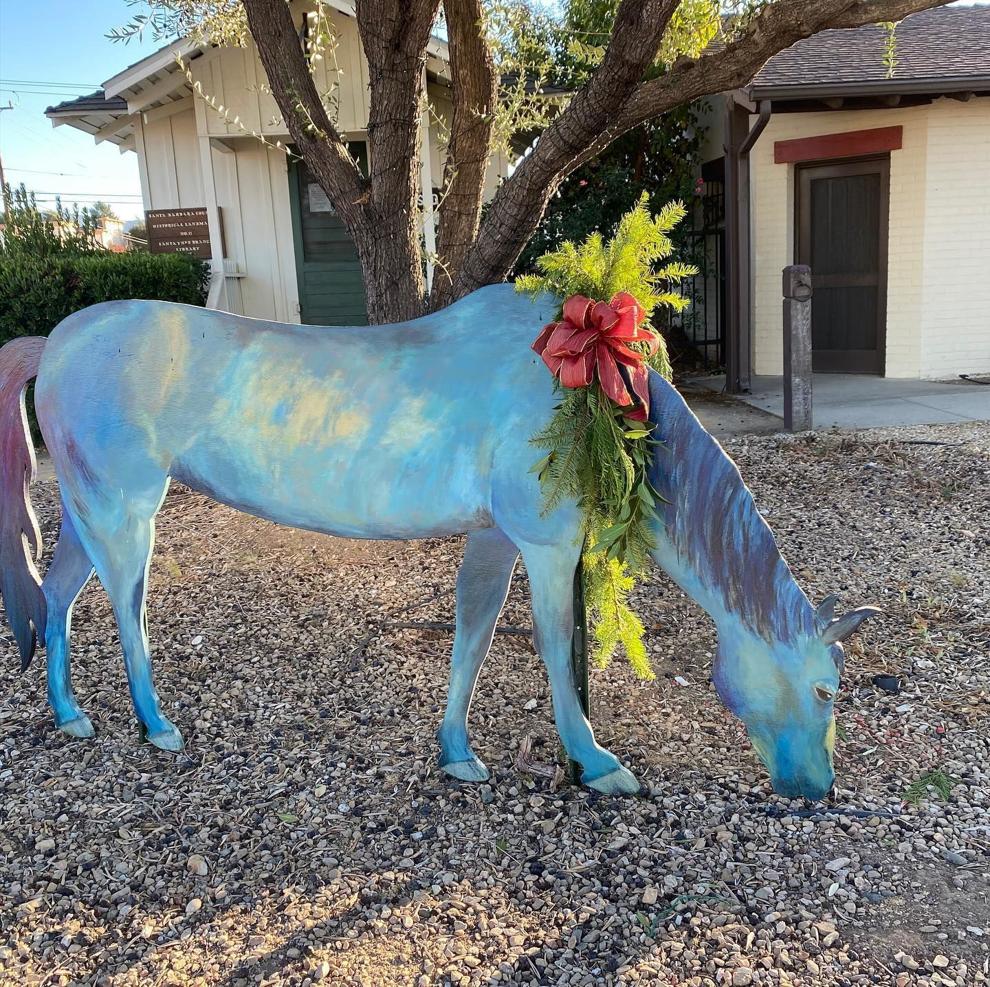 Artists who donated their time and materials to decorate the wooden horses include:
Susan Cobb, whose horse is located in front of the Santa Ynez Valley Historical Museum on Sagunto Street;
Nicole Pena, whose steed is located in front of the Community Services District on Faraday Street;
Laurie Owens, whose horse is located at the corner of Sagunto and Edison streets;
Joan Reden, whose cloud-painted horse is located on Edison Street;
Suzanne Huska, who created the "spirit" horse located on Edison Street;
Annie Guillemette, whose horse is located in front of Mechanics Bank on Sagunto Street;
Natalie Asselstine, whose artwork located in front of Lucky Hen Larder on Meadowvale Road;
Dawn DeBartolo, whose horse is located in front of Finch & Fern Home Garden on Faraday Street;
Faith K. Ortega, 12, whose painted horse was sponsored by Santa Ynez Band of Chumash Indians and is located on the corner of Edison Street and Highway 246.
The public is invited to meet the artists, participate in a prize-winning drawing and witness miniature horses performing with trainer Ramon Becerra during the Artisan Market on April 17. Booths also will showcase creative wares for purchase, and downtown shops will offer fun activities. 
The market will be held in the open field located on the corner of Meadowvale Road and Highway 246, across from the Lucky Hen Larder, at 1095 Meadowvale Road in Santa Ynez. 
Lisa André covers lifestyles and local news for Santa Ynez Valley News and Lompoc Record. 
The business news you need
With a weekly newsletter looking back at local history.