The competition only gets tougher at this point in the high school basketball season and Wednesday night's girls basketball quarterfinal playoff games will be no exception.
The Righetti Warriors face another tough opponent when they play Fontana's Summit High School SkyHawks in the CIF Southern Section Division 2A girls championship tournament.
The Warriors (25-1), the PAC 8 League champions and overall No. 2 seed in the division, are coming off a 69-35 victory over Duarte in Saturday night's second round after eliminating Lompoc 64-43 in their tournament opener on Feb. 15.
The SkyHawks (22-6), who just won their fifth straight Sunkist League championship, moved into the quarterfinals with a 64-49 win Saturday over Dana Hills and a 48-43 victory over Arcadia in their tournament opener.
"They're really an aggressive team. From what I've seen, they press a little bit — they run a man-press and a matchup zone," Righetti coach Desiree Hitch said at Tuesday's practice. "They've got three or four good players, two solid scorers — girls that score in double digits. I was able to get some film on them. They are really fast-paced, scrappy and really aggressive. I think if we can handle their pressure, we should do really well."
The SkyHawks' leading scorers are senior guard Alondra Duncan, who will be playing at Cal State Dominguez Hills next year, and sophomore guard Laila Walker. Duncan is averaging about 15 points per game while Walker is adding another 12.
Summit has five girls averaging between five and seven points per game — Trinity Harper, Alyssa Boone, Amonie Jackson, Tianna Johnson and DeAdra Ross.
"Summit players are all around 5-foot-8 or 5-foot-9. Their big girl (center) is 5-8 but they are pretty much all the same size," said Righetti senior guard Zane Sheckherd, who at 6-foot will jump for the opening tipoff. "They look like they are a pretty good team. They just look like they're out of control a little bit and just kind of go — whoever has the ball, they just take it in one-on-one."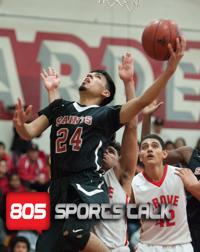 Righetti will try to slow down Summit's breakneck pace with its stifling zone defense — a defense that completely frustrated Duarte, leading to a number of steals and turnovers.
"If you can stop their fast break, they have trouble with a half-court offense," said Hitch.
For their part, the Warriors will also unleash their own fast break whenever they get the chance but if they have to slow things down, they have plenty of offensive weapons.
Sheckherd spoiled Duarte's game plan when she nailed two quick 3-pointers to open their second-round game, forcing Duarte to call a timeout to adjust its game plan just over one minute into the game.
Sheckherd scored 21 points — 18 in the first half — against Duarte.
Despite facing 6-foot-7 center Patricia Morris, the Warriors were also able to work the ball down low for a number of inside buckets and by boxing out Morris, the Warriors were able to control the boards.
Sheckherd had plenty of help with sophomore point guard Mercedes Arredondo adding 12, junior guard Alijah Paquet scoring nine, senior forward Ashley Reynoso eight and freshman center Malia Cabigon six.
"I feel that our down low will be open a lot and our shooting should be fine," said Arredondo. "We're going to see how they react to our press but we think we should be pressing them. They have a good team but I think we're playing real good."
"The thing with Summit is they've been letting teams in CIF get a big old lead on them," said Sheckherd. "They actually came on a 20-0 run or something like that to win the (Dana Hills) game so we just have to get a good lead but not let them dig themselves back out."
"They do have quite a bit of shooters but I think we should do fine as long as we work together and communicate," Arredondo added. "I just expect it to be a good game."
"I think all of us are due to have a good shooting game," said Sheckherd. "The way their defense is set up, we're going to have a lot of open shots on the outside."
"I think the girls are enjoying being able to watch film together, we watched film (of Summit) together yesterday so we could break apart the other team's strengths and weaknesses, so they're enjoying that," said Hitch. "We're looking pretty good. The girls are healthy right now, we're having fun. We're excited — we're excited to play."
The CIF-SS has moved up the start time of Wednesday's game to 6 p.m.