But after 38 years overseeing the fine arts and dance program, McMahon is calling it a career.
McMahon is among 20 faculty and staff members who are retiring from Hancock this spring after contributing a combined 450 years of service.
While McMahon began teaching at a community college in the Bay Area after obtaining her master's degree in dance at Mills College in Oakland, she jumped at the chance to move to Hancock College when a teaching job opened up in 1981.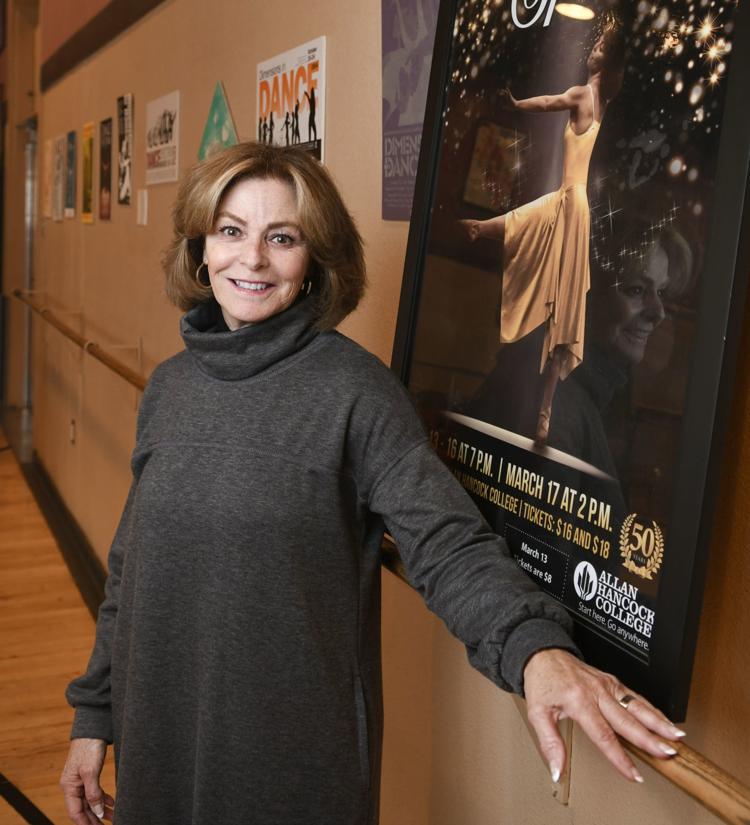 "(Santa Maria) was much different than it is now in terms of the size. The student population was roughly about 5,000 students," McMahon said. "This building (the dance center) was one of the oldest buildings."
Students and faculty alike contributed to McMahon's decision to stay as long as she has. 
"The students were the reason," McMahon said inside her office on campus Wednesday. "Also, to be very honest, all of the faculty members I've met here have always been nice, supportive and willing to offer guidance. They always call it 'the Hancock family.' Even though we've grown, it still has that small-town feel."
The dance program already was established when McMahon arrived in 1981, but she contributed in a number of ways through a variety of roles. 
"The things I did in the program: I've directed shows, taught many classes like ballet, modern jazz, hip-hop, folkloric, etc. I've choreographed some shows, and in the last 12 to 15 years I've been the coordinator here," McMahon said.
Juggling lectures and coursework with friends and extracurricular activities can be difficult for first-year students. Those who return to sch…
She did face some challenges, however, citing rising tuition costs and a state rule that prohibits students from repeating fine arts classes at a community college. 
"You could only take it once," McMahon explained.
So McMahon had to put on the recruiter hat and try to lure interested people into her program annually.
"I would never say it was very easy," McMahon said. "You just have to get out there and let people know what we're doing. We're always recruiting and talking to high schools."
Still, she managed to attract young people who became captivated by dance.
Even after they are finished with their finals, McMahon has witnessed students put on their dancing shoes to practice in the dance hall before the end of the school year. 
While retirement will take McMahon off the Hancock campus — she's planning a cruise to Europe this summer — she aims to stay in touch with both staff and students. 
"It's been an incredible experience," McMahon said. "I loved being with these students and watching them grow. These kids come from every walk of life.
"Not only was I a teacher and mentor but, also, a counselor," she added. "Interestingly, they would sometimes call me 'Mama D' because to them I'm like their second mom."
Be the first to know
Get local news delivered to your inbox!