Set against a rapidly changing sociopolitical climate, a young Jewish boy in Vienna is forced to awaken to the harsh reality in his country: Hitler has taken power. With his family, he flees and becomes a refugee. However in the process, he must stave off the darkness that threatens to consume him and fight to keep his inner light.
The recently published hardcover book entitled "The City Of Light," categorized as both historical and allegorical as it reflects the actual childhood of late actor, singer and activist Theodore Bikel, will make its debut at The Book Loft in Solvang on Feb. 15.
Responsible for carrying Bikel's legacy torch, wife, author, journalist and former Israeli news correspondent living in India Aimee Ginsburg Bikel, will conduct a book signing as well as discuss her late husband "Theo's" life story and his lifelong activism of peace and justice.
"Theo devoted his life to 'The fixing of the world' – which is a Yiddish saying, and he just never stopped," said Ginsburg Bikel. "He marched with Martin Luther King, fought against apartheid in South Africa, and was a Union leader for actors equity."
Ginsburg Bikel revealed that her late husband was sought out by publishers NPR and Moment Magazine in 2014 to write a short Hanukkah-themed story to poignantly recount moments of his childhood in Vienna, starting with the happy memories that included family, sweet cakes and holidays.
But the story takes a turn into darkness when the young 14-year-old is forced to witness the brutality and violence of anti-Semitism as Nazi influence grew in 1937-1938 during Nazi Germany's annexation of Austria.
"Just imagine this child hiding behind his parent's curtains watching Nazis march through town. He became increasingly confused and very concerned," Ginsburg Bikel said about the story's main character, who also represents her late husband as a boy. "And just the year before, he had celebrated his bar mitzvah."
Overnight Bikel's childhood was gone. His life was forever changed.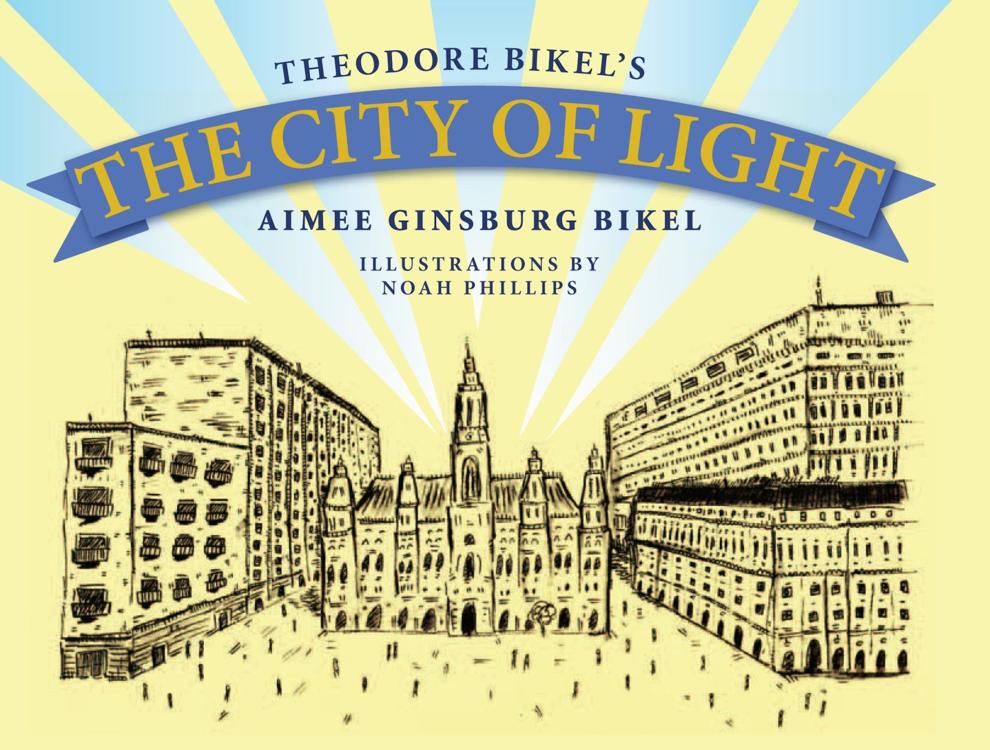 Ginsburg Bikel says that well before her husband died in 2015 at the age of 91, he had returned to his place of birth, expecting the same pervasive darkness as when he was forced to flee as a boy.
But what he found instead befuddled him. Much of what had been destroyed and tarnished, was now mended – and a light remained.
As the story goes, the boy looks within to try and understand this new reality and finds that the darkness has not taken him over. Instead, the light he sees is light that remained in his heart, steering him back "home." 
Last March, Ginsburg Bikel said that publisher Moment Books/Mandel Vilar Press reached out to her with an idea to make the short story into a children's book.
Elvehoj Museum to host release party to commemorate the publishing of "The Spirit of Solvang" historical book.
"I know his voice well," she said, "so I was able to tell the story from his perspective. I never imagined that [the story] would become so relative to today."
The 64-page illustrated book which looks to the goodness and love of humanity, includes a Yiddish glossary for children, a recipe for honey cake, and an old/ new Chanukka song, was released in December.
"It's an honor to be in charge of his legacy," said Ginsburg Bikel. "He was a giant; so kind and full of joy."
To learn more about the book and Theodore Bikel's legacy project, visit www.theodorebikel.org/thecityoflight