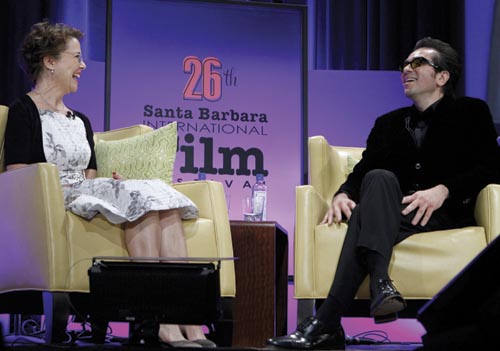 "I'm jumping out of my skin," said Roger Durling, executive director of the Santa Barbara International Film Festival.
Why? Because on Monday, the festival will feature an appearance by a true legend of filmdom: Martin Scorsese.
"I've been asking him for ten years and there was always XYZ reason why it didn't work out. He's finally accepted."
When it comes to his "wish list," Durling is both patient and persistent - and obviously it pays off.
This year, red carpet award tributes will honor not only Scorsese (whose "Hugo" is a front-runner for the Best Picture Oscar) but also celebrated actors Viola Davis ("The Help") and Christopher Plummer ("Beginners"); the two French stars of "The Artist;" and a glutton's feast of up-and-coming virtuoso performers, including Melissa McCarthy ("Bridesmaids") and Rooney Mara ("The Girl with the Dragon Tattoo").
But the festival is not just about the glamour. In the 10 years since Durling took the helm, SBIFF has grown not only in star-studded stature but in diversity of international, national and even locally made films.
"When I joined the festival ten years ago, I set out to bring the festival's program and its sidebars to reflect the city of Santa Barbara as a city, and its community," Durling said. "This year we've taken that concept even further. We have a fantastic, quirky, all-encompassing program."
In this year's festival, which began Thursday and extends through Sunday, Feb. 5, there are short films, documentary features, animation, movies for kids, independent films, student movies and studio offerings, plus free movies, world premieres and films in a smorgasbord of languages: Czech, French, Italian, Norwegian, English and Chinese, among others.
There is themed programming, such as Cinema Nouveau, showcasing emerging French directors, and Screen Cuisine, which celebrates cinematic culinary delights (with local restaurants participating).
Two documentary films have a North County connection: "The Gathering" profiles vaquero horsemanship in New Cuyama, and "Tales from the Tavern" covers the popular music series at the Maverick Saloon in Santa Ynez.
A third film, "Fortune's Favored," was shot by Daniel Lahr on his family's ranch near Los Alamos.
Also of great interest to film lovers are the panels of directors, producers and screenwriters who offer insider looks at specific aspects of filmmaking.
This year Michel Hazanavicius ("The Artist") and Gore Verbinski ("Rango" and the "Pirates of the Caribbean" movies) are two of the luminaries in the directors panel.
The "Movers and Shakers" panel will include Jim Burke, producer of the George Clooney film "The Descendants." Other panel members are yet to be announced.
These lively discussions often lead to fireworks, as in 2010 when a passionate Quentin Tarantino ("Pulp Fiction") squared off against James Cameron ("Avatar") about the appropriate use of computer-generated images in filmmaking.
Cinema past, not just present, also has a prominent place in this year's lineup. Three recently re-mastered Warner Brothers films will be screened, with restoration team members attending.
The re-mastered "A Clockwork Orange" (1971) will have its world premiere at 1:20 p.m. Friday, featuring a dazzlingly young Malcolm McDowell (he also has a cameo in "The Artist," 40 year later). New prints of "Dangerous Liaisons" (1988) and "Ben Hur" (1959) are also scheduled.
"It's a very nice tie-in to having Martin Scorsese here," Durling said. "He is a champion of film restoration and preservation. Scorsese's newest film 'Hugo' is also about restoration, so it all fits quite nicely."
"Hugo" will be presented in its 3-D splendor at a free "Applebox" screening for families at the Arlington at 10 a.m. Sunday.
Durling is also jazzed about Silent Movie Saturday on Feb. 4. The 1926 classic silent "Faust" screens at the Lobero Theatre, with local alt-rockers Gardens & Villa performing the world premiere of a new score.
Over at the Arlington Theatre, at the same time, the stars of "The Artist," Jean Dujardin and Bérénice Bejo, will receive the Cinema Vanguard Award - Wouldn't it be great if that scene-stealing Jack Russell terrier showed up on the red carpet?
Director Lawrence Kasdan is honored with a retrospective of three of his most beloved films, "The Big Chill," "Body Heat" and "Grand Canyon." His newest, "Darling Companion," which stars Diane Keaton and Kevin Kline, will open the festival tonight.
Kline joins the filmmaker for a Q&A after "The Big Chill" screening, which starts at 4:40 p.m. Friday at the Metro Theatre.
Durling has a personal reason for inviting veteran actor Christopher Plummer to receive the Modern Master Award on Saturday night.
"He was in the first movie I ever saw - 'The Sound of Music,'" Durling recalled. "I feel such love for the man. At age 82, he's done some of his best work this year, in both 'Beginners' and 'The Girl with the Dragon Tattoo.'"
Plummer introduces the U.S. premiere of the film adaptation of "Barrymore," his Tony Award-winning role as actor John Barrymore, at 10 a.m. Sunday, and then scurries south for the Screen Actors Guild Awards - he's nominated for "Beginners."
What other films does Durling recommend? He was hesitant to say, much like a proud parent of several wonderful children. But he did note "Starbuck," a Canadian feature about a sperm donor who discovers he has more than 500 children ("a crowd-pleaser, heartwarming and funny") and an autobiographical documentary, "Bones Brigade," about a group of "dorky" American boys who became skateboarding superstars ("filmmaker Stacey Peralta lives in Santa Barbara County").
FYI
Getting tickets for the Santa Barbara International Film Festival is confusing because there are no individual tickets for most films. Instead, passes, packages and mini-packs are available.
There are some exceptions, but generally, the least expensive tickets is a four-film ($57) or 10-film ($125) mini-pack.
Individual tickets are available for tributes and panels, ranging from $25 to $70. Packages including films and some tributes or panels start at $225; passes start at $325. 
Patrons with passes get seated first, before those with mini-packs or packages.
And there is no guarantee of admittance to a film, even after standing in line, so the savvy get in line early.
The schedule can be confusing, but the newly designed web page (www.sbiff.org) helps with a searchable schedule by category, name, venue or country of origin.
Tickets can be bought online there, too.
The festival started yesterday, and extends through Sunday, Feb. 5.
Stay up-to-date on what's happening
Receive the latest in local entertainment news in your inbox weekly!