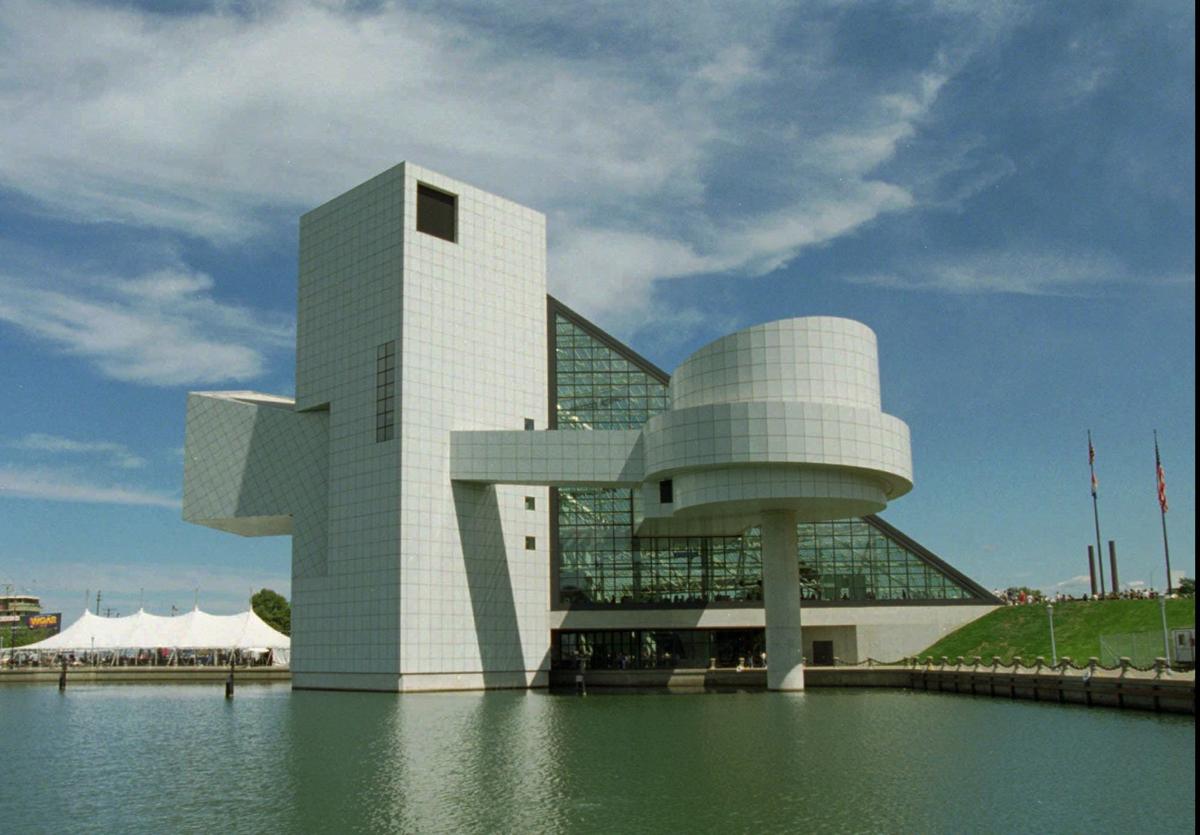 The Rock and Roll Hall of Fame announced this year's group of inductees earlier this month, and some foundational voices in modern music are being honored this year including Whitney Houston, The Notorious B.I.G and Nine Inch Nails.
On Jan. 23, 1986 the Hall of Fame welcomed its first class of honorees and the names on the list had been burning brightly on marquees across the United States - and the world - for decades.
NEW YORK — Posthumous inductees Whitney Houston and The Notorious B.I.G. will lead a new class into the Rock and Roll Hall of Fame, joined by Depeche Mode, the Doobie Brothers, Nine Inch Nails and T-Rex.
The inductees' contributions to music, while vast and impressive, were heavily outmatched by the impact their music would have on the United States, the world and the performers that followed in their footsteps. 
Chuck Berry, Elvis Presley, Ray Charles, James Brown, Buddy Holly, Jerry Lee Lewis, The Everly Brothers, Sam Cooke, and Fats Domino defined what it meant to be a musician in the new Rock 'n' Roll era.  They laid out what the sound and the look of the genre would become, and collectively re-imagined and redefined American music.
In this edition of Throwback Thursday we take a look back at the inaugural class welcomed into the Rock and Roll Hall of Fame on Jan. 23, 1986 at the Waldorf Astoria Hotel in New York City.  
You can see historic copies of articles from the Santa Maria Times and the Lompoc Record, click through a collection of Associated Press photographs for each performer and watch videos from their inauguration or of some of their greatest hits.
We'll take a look through our digital archives and share a new Throwback Thursday every week, but you can sign up and go through the 100+ years of history our archives provide on your own right here.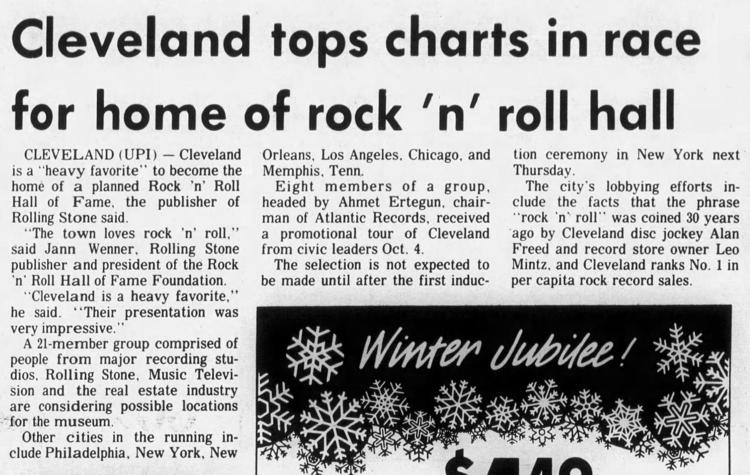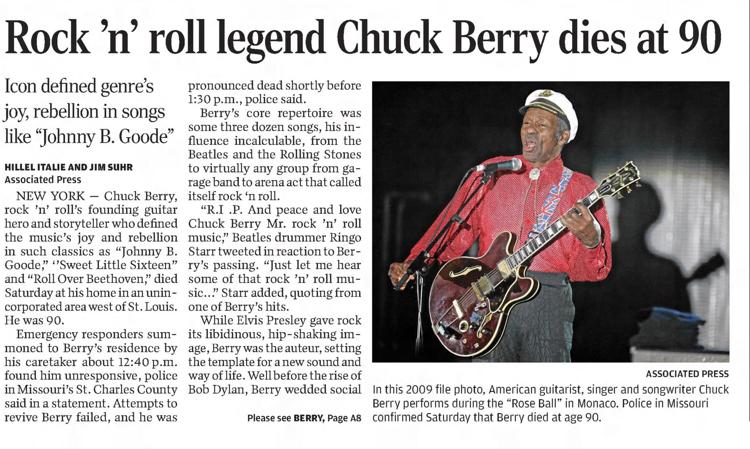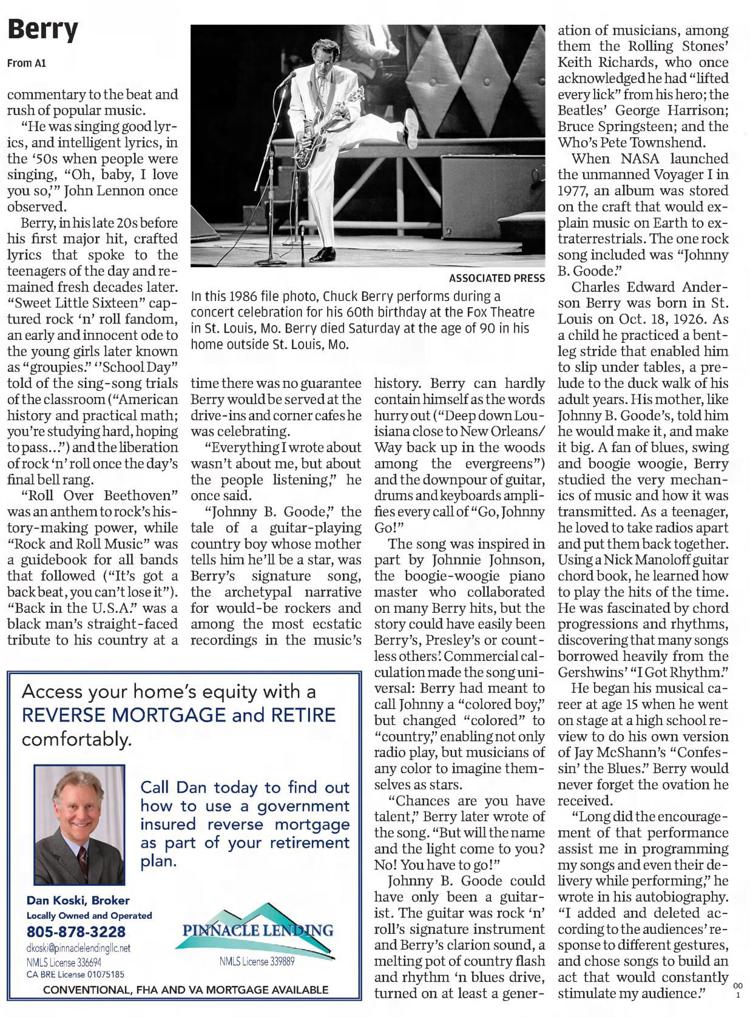 From the March 19, 2017 edition of the Santa Maria Times:
'Chuck Berry, rock 'n' roll's founding guitar hero and storyteller who defined the music's joy and rebellion in such classics as "Johnny B. Goode," "Sweet Little Sixteen" and "Roll Over Beethoven," died Saturday at his home in an unincorperated area west of St. Louis. He was 90.
Emergency responders summoned to Berry's residency by his caretaker about 12:40 p.m. found him unresponsive, police in Missouri's St. Charles County said in a statement. Attempts to revive Berry failed and he was pronounced dead shortly before 1:30 p.m., police said.
Berry's core repertoire was some three dozen songs, his influence incalculable, from the Beatles and the Rolling Stones to virtually any group from garage band to arena act that call itself rock 'n' roll.
"R.I.P and peace and love Chuck Berry. Mr rock 'n' roll music," Beatles drummer Ringo Starr tweeted in reaction to Berry's passing. "Just let me hear some of that rock 'n' roll music ..." Starr added, quoting from one of Berry's hits."
While Elvis Presley gave rock its libidinous, hip-shaking image, Berry was the auteur, setting the template for a new sound and way of life.'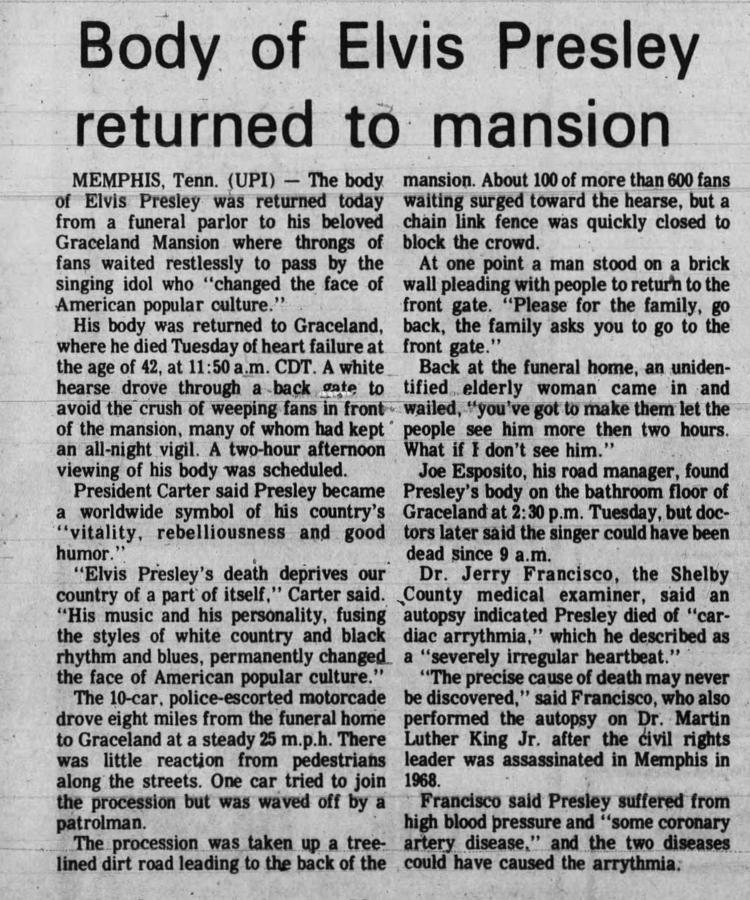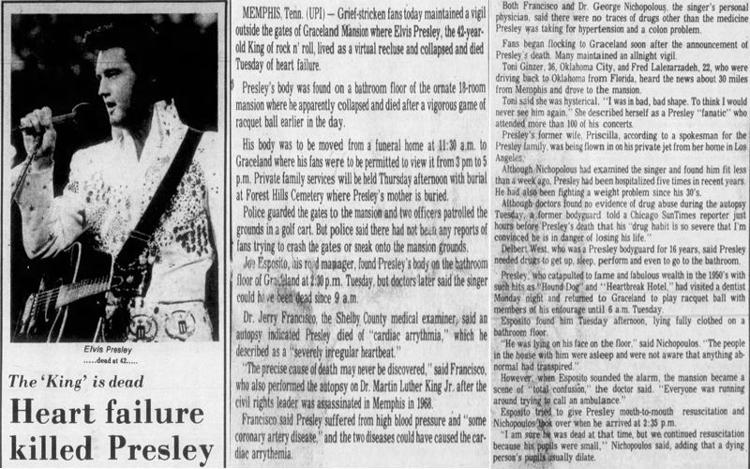 From the Aug. 17, 1977 edition of the Santa Maria Times:
'Grief-stricken fans today maintained a vigil outside the gates of Graceland Mansion where Elvis Presely, the 42-year-old King of rock 'n' roll, lived as a virtual recluse and collapsed and died Tuesday of heart failure.
Presley's body was found on a bathroom floor of the ornate 18-room mansion where he apparently collapsed and died after a vigorous game of racquet ball earlier in the day.
His body was to be moved from a funeral home at 11:30 a.m. to Graceland where his fans were to be permitted to view it from 3 p.m. to 5 p.m. Private family services will be held Thursday afternoon with burial at Forest Hills Cemetery where Presely's mother is buried.
Police guarded the gated mansion and two officers patrolled the grounds in a golf cart. But police said there had not been any reports of fans trying to crash the gates or sneak onto the mansion grounds.'
AP Photos: Elvis Presley through the years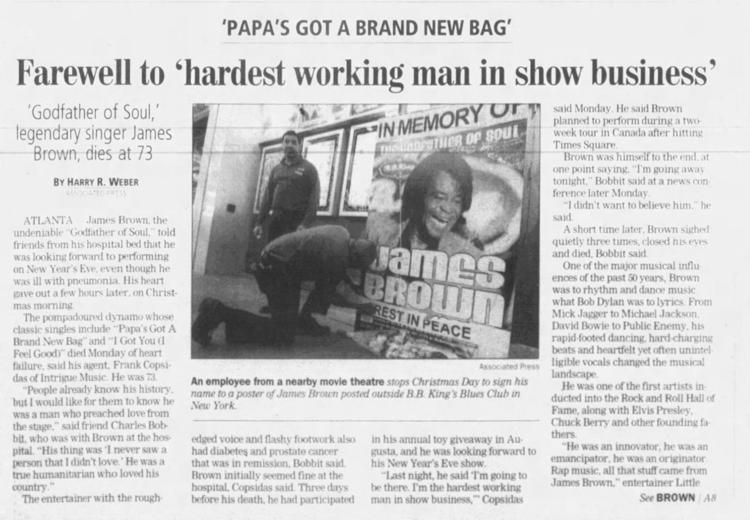 From the Dec. 26, 2006 edition of the Santa Maria Times: 
'James Brown, the undeniable 'Godfather of Soul' told friends from his hospital bed that he was looking forward to performing on News Year's Eve, even though he was ill with pneumonia.
His heart gave out a few hours later, on Christmas morning.
The pompadoured dynamo whose classic singles include "Papa's Got A Brand New Bag" and "I Got You (I Feel Good)" died Monday of heart failure, said his agent Frank Copsidas of Intrigue Music. He was 73.
"People already know his history, but I would like for them to know he was a man who preached love from the stage," said friend Charles Bobbit, who was with Brown at the hospital. "His thing was, 'I never met a person that I didn't love.' He was a true humanitarian who loved his country."
The entertainer with the rough-edged voice and flashy footwork also had diabetes and prostate cancer that was in remission, Bobbit said. Brown initially seemed fine at the hospital, Copsidas said. Three days before his death, he had participated in his annual toy giveaway in Augusta, and he was looking forward to his New Year's Eve show.
"Last night, he said 'I'm going to be there. I'm the hardest working man in show business," Copsidas said Monday. He said Brown planned to perform during a two week tour in Canada after hitting Times Square.'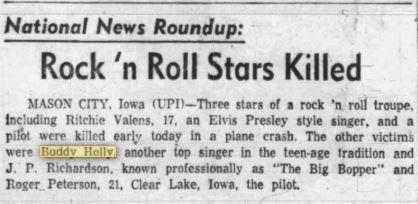 From the Feb. 3, 1959 edition of the Santa Maria Times: 
'Three stars of a rock 'n' roll troupe, including Ritchie Valens, 17, an Elvis Presley style singer, and a pilot were killed early today in a plane crash.
The other victims were Buddy Holly, another top singer in the teen-age tradition, and J.P. Richardson, known professionally as "The Big Bopper" and Roger Peterson, 21, Clear Lake, Iowa the pilot.'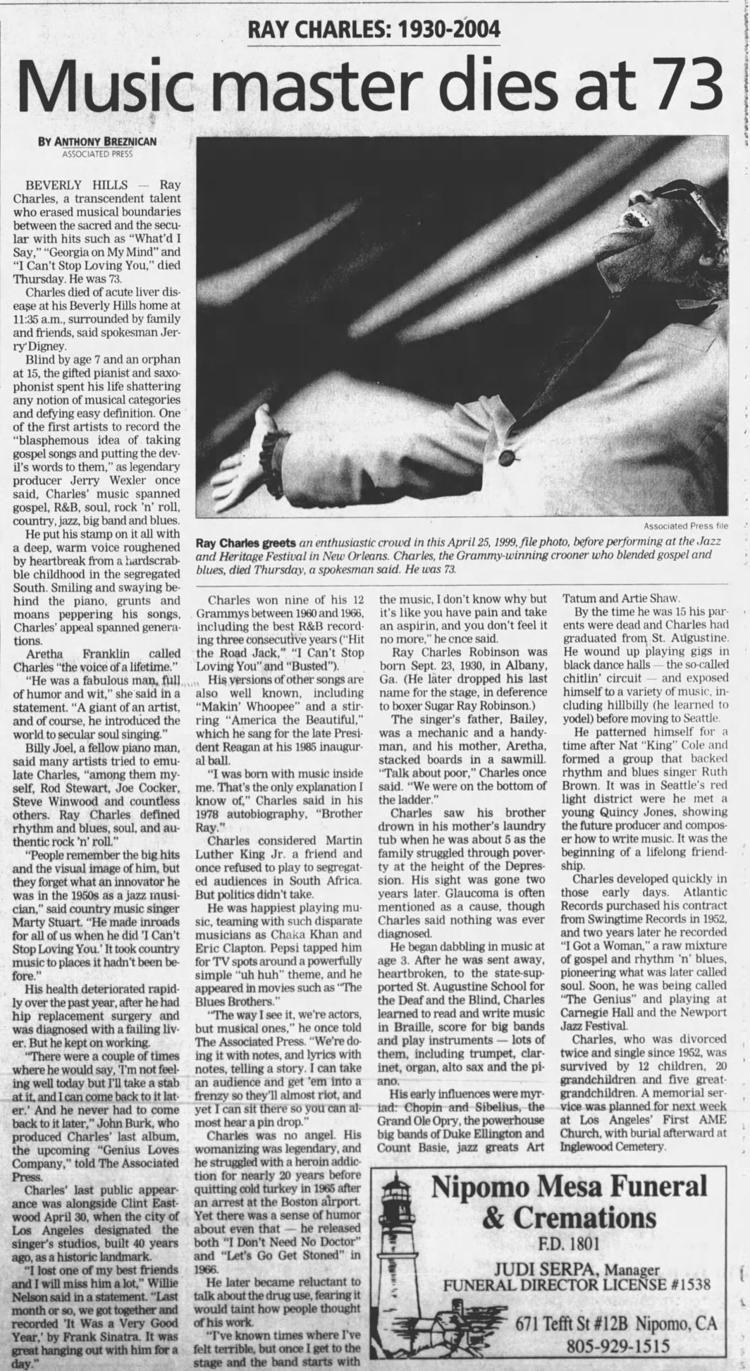 From the June 11, 2004 edition of the Santa Maria Times:
"Ray Charles, a transcendent talent who erased musical boundaries between the sacred and the secular with hits such as 'What'd I Say," "Georgia on My Mind" and "I Can't Stop Loving You," died Thursday. He was 73.
Charles dies of acute liver disease at his Beverly Hills home at 11:35 a.m., surrounded by family and friends, said spokesman Jerry Digney.
Blind by age 7 and an orphan at 15, the gifted pianist and saxophonist spent his life shattering any notion of musical categories and defying easy definition. One of the first artists to record the "blasphemous idea of taking gospel songs and putting the devil's works to them," as legendary producer Jerry Wexler once said, Charles music spanned gospel, R&B, soul, rock 'n' roll, country, jazz, big band and blues.
He put his stamp on it all with a deep, warm voice roughened by heartbreak from a hardscrabble childhood in the segregated South. Smiling and swaying behind the piano, grunts and moans peppering his songs, Charles' appeal spanned generations.
Aretha Franklin called Charles, "the voice of a lifetime."
He was a fabulous man, full of humor and wit," she said in a statement. " A giant of an artist, and of course, he introduced the world to secular soul singing."