The 7 p.m. lecture located within Stacy Hall, 2901 Nojoqui Ave., Los Olivos, will include Johnson's research about Santa Rosa Island's "Arlington Spring Man," and information gathered from six field seasons of research at the site that dates from the end of the Pleistocene era, 2.58 million years ago to 0.012 million years ago.
Part of Channel Islands National Park — a five-island archipelago located along the Santa Barbara Channel in the Pacific Ocean — Santa Rosa Island (Santarosae) continues to reveal astounding historical evidence that reaches far back.
Johnson says he will discuss the findings of Phil C. Orr, then curator of anthropology and paleontology at the Santa Barbara Museum of Natural History, who located bones on Santa Rosa Island in 1959 that turned out to be human.
Southwest of the Santa Ynez Valley, and the most remote of the Channel Islands, San Nicolas Island is an oval-shaped, 22 square-mile island shrouded in mystery. The Santa Ynez Valley Historical Museum recently hosted a lesson in the island's history and scientific discovery.
According to Johnson's research, Orr called these remains "Arlington Springs Man" and suspected that they could be 10,000 years old.
However, subsequent, modern radiocarbon dating analysis of these bone fragments in 1989, revealed that they were older, establishing an age of approximately 13,000 years, Before Present (BP).
The bones from Arlington Springs Man are the oldest reliably dated human remains in the Americas, according to Johnson
You have free articles remaining.
Early humans and wildlife crossed the Bering Strait land bridge from Siberia in to the Americas thousands of years ago, Johnson explained, and their arrival on both the mainland and on the Channel Islands is undeniable — begging the questions: "How could such early humans have crossed the deep-water channel and what did the natural world provide for their survival when they arrived on Santarosae, the mega-island comprised of what are today's local Channel Islands- Anacapa, Santa Cruz, Santa Rosa, Santa Barbara and San Miguel?"
Research from the island reveals that Paleoindians living on Santarosae were flexible and adaptable and survived with the help from plants, fresh water, fish, shellfish, birds, and pinnipeds.
The flora and fauna and environment were different then: bones from the pygmy mammoth and from giant deer mice are found in the same geologic formation that contains the remains of Arlington Springs Man.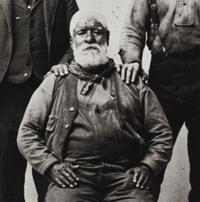 For more information, contact SYVNHS membership coordinator Marion Schlinger at synature@west.net or call 805-693-5683.
The Santa Ynez Valley Historical Museum (SYVHM) will host "Townspeople - Taming the West," the second Old West lecture in a two-part series, o…
A comprehensive plan is being developed to see that every Santa Barbara County resident is counted in the 2020 census, because undercounting the population could lead to cuts in funding and reductions in social services and even cost the county representation at higher levels of government, according to a county staff report.