Her coaching days are done, for the time being anyway, but Meghan O'Reilly is still plenty busy.
The former Meghan Zimmer, a standout swimmer when she attended Pioneer Valley and San Diego State, is a fourth grade teacher in San Diego. She also helps her husband, Corbin, run a Santa Maria-style barbecue in San Diego, Corbin's Q restaurant.
As other area school districts developed, finalized and announced plans to have student-athletes return to campus for voluntary workouts this week, Pioneer Valley athletic director Jeff Monteiro felt his district was lagging behind.
They also run a beer business, Tap Truck, with Corbin's business partner, Taylor Speers.
"The tap truck is year-round," said Meghan O'Reilly. "We do weddings, private catering events and so forth. We have licenses across the nation, one in Mexico, one in Canada."
O'Reilly was a high school swimming All-American at Pioneer Valley. She won a CIF Southern Section divisional championship in the 100 backstroke as a junior in 2006.
She still holds the San Diego State women's 200 freestyle record, 1:46.60.
After graduating in 2013, O'Reilly was active in coaching. Then, three years ago, she suffered a stroke.
"I had to stop everything for a little bit," O'Reilly said.
"I was actually pretty fortunate. I only lost vision. It took about three months for my vision to recover. I didn't lose any physical strength. I didn't lose my speech ability."
O'Reilly said, "It was weird. My brain had to fix part of the damage. It was just a weird feeling. I was tired all the time."
The former Meghan Zimmer said she started in a teaching credential program three months after the stroke.
Area athletes have been pulling in scholarship offers to continue their football careers at the next level. 
Now, "I'm 100 percent better," O'Reilly said. "(Medical personnel) said that because I was so young, I was able to recover quickly."
Before the stroke, O'Reilly coached for four-and-a-half years.
"I was the head age group coach for a college area 12-and-under swim team. I coached the junior varsity boys swim team at Granite Hills High School in San Diego for three years."
Now her coaching is pretty much confined to teaching in the classroom though, "I sometimes give private (swim) lessons," O'Reilly said.
"I love teaching. I love helping (students) achieve something. I've taken teaching (when she was a swim coach) and turned it into the classroom."
O'Reilly, as teachers throughout the state had been doing, took her teaching online. Schools throughout the state closed in mid-March because of the COVID-19 pandemic.
"It's been a little challenging just because some of my students only speak Spanish," O'Reilly said of teaching remotely.
"It's hard for my kids to sit in front of a computer all day and stay motivated. They're just not used to it. It's hard for a 10-year-old.
"The parents have been very supportive, and I'm grateful for that."
Player of the Decade: We're looking for the top player of the last 10 seasons
The sports staff at the Santa Maria Times, Lompoc Record and Santa Ynez Valley News is looking for the top football player from Northern Santa Barbara County and San Luis Obispo County over the last 10 seasons of high school ball.
See who our nominees are thus far.
Tyler Williams: St. Joseph DB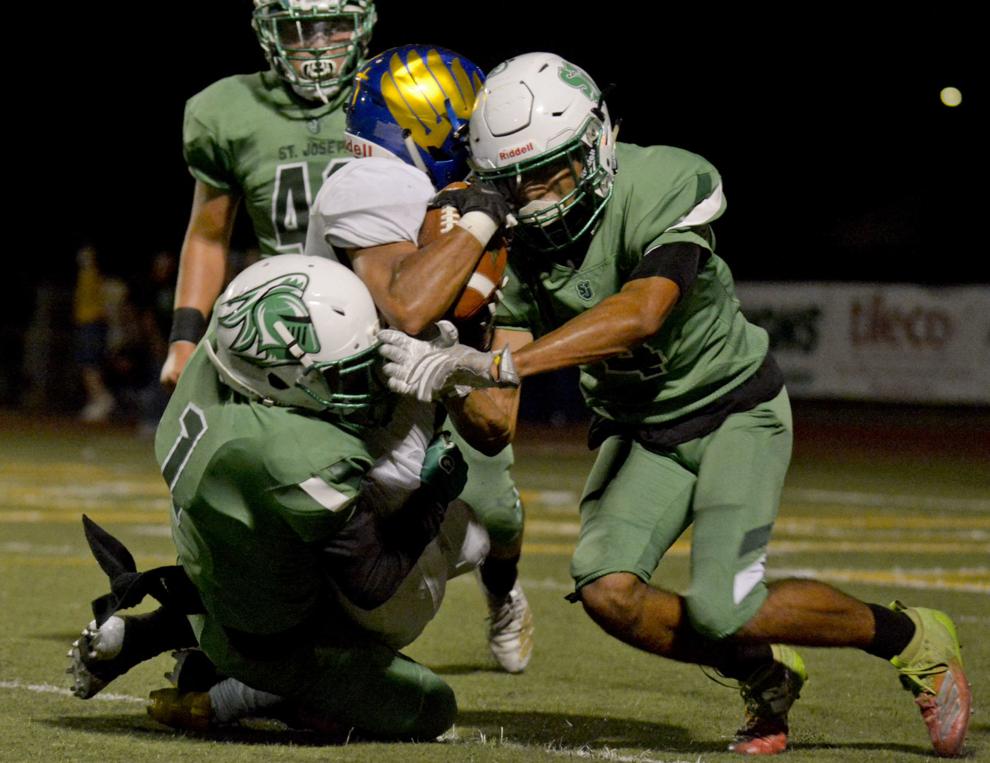 Tyler Williams, DB
High School: St. Joseph
Height: 6-foot
Weight: 170
Class: 2021
Offers (7):
Cal Poly
William & Mary
Fordham
Lehigh
Bucknell
University of San Diego
Yale
The Details
Williams is a very intriguing prospect who is starting to gain some momentum on the recruiting trail. The defensive back, who can also play some receiver, spent his sophomore season at Cabrillo before playing at St. Joseph last season and becoming an All-Area force at DB. Williams has height and a very wiry frame but can play physical with receivers before and after the catch. He's shown an ability to take on ball-carriers despite typically being the smaller man. He's increased his aggressiveness and it appeared that his confidence really started to spike as last season went along. 
Even though his athleticism off the charts, he's shown good instincts, reading plays instead of just relying on his speed or size. He improved at staying in phase in coverage, but is really adept at recovering, though he won't want to rely on that against top-flight competition. Contributes in a big way on special teams. 
Locked down Jalen McMillan in playoff game vs. Fresno Memorial. McMillan will play at Washington this fall.
This kid has a ton of athleticism and was on 'track' to have a big track season before everything came to a halt. Don't be surprised if he eventually picks up some Mountain West/other Group of Five offers. 
Thomas Cole: San Luis Obispo OL/DL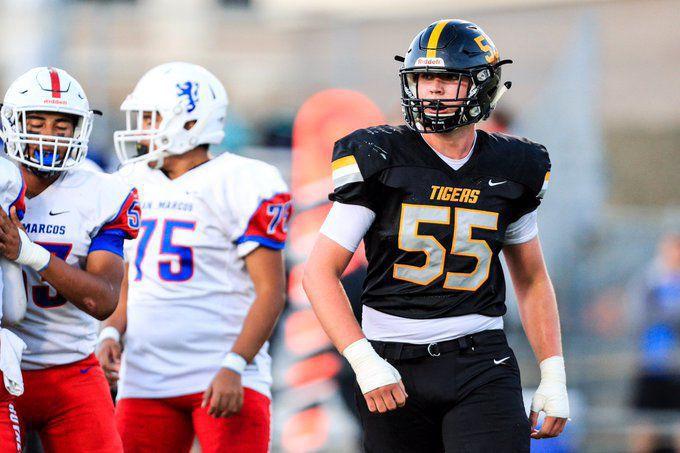 High School: San Luis Obispo
Height: 6-7
Weight: 260
Class: 2021
Offers (21): 
UCLA (COMMITTED)
Michigan
Virginia
Northwestern
SMU
Baylor
UNLV
Northern Arizona
Iowa State
Arizona
Cal
Michigan State
Washington State
Kansas State
Yale
Princeton
Utah
Colorado
Oregon State
Cal Poly
Arizona State
Cole picks UCLA
We have our first commitment since we started tracking offers in May as SLO standout Thomas Cole picks UCLA. 
This wasn't a huge shock as there were quite a few rumblings that Cole was going to go with the Bruins and he made his announcement Sunday afternoon. 
"I would like to thank all the schools that were so active in my recruitment. Special thanks to all my coaches and trainers that have helped me get to where I am at today. Special thanks to my family for their sacrifices in making my dream a reality," Cole said on Twitter. 
"To my future teammates, I look forward to working hard and going onto the field with each and every one of you! I am excited to announce my commitment to the UCLA Bruins!"
Cole, who has played OL/DL at SLO, will likely be an OT at UCLA.
The Bruins have produced some top quality NFL talent from the offensive line position over the last few years, including 2018 first-round pick Kolton Miller of the Las Vegas Raiders.
UCLA has gone 7-17 in the last two seasons under current head coach Chip Kelly, who went 46-7 in his four seasons at Oregon before coaching two NFL franchises. 
The Details
Thomas Cole is a football recruit from San Luis Obispo High School. To be a little more specific, Cole is one of the most highly sought after football recruits in San Luis Obispo County history. Cole, who plays both DL and OL with the Tigers, projects as an offensive tackle at the next level. And it's looking like the class of 2021 standout can play at the next level just about where ever he wants. He currently has 21 offers including a slew of B1G 10 schools like Michigan, Michigan State and Northwestern. We don't see too many B1G offers around these parts. 
Cole is one of the top offensive or defensive linemen in the entire Central Section. It's a shame he projects more as an OL in college because he's a monster on defense. He has that rare combination of power, athleticism and pure talent with a relentless motor. He looked like Nick or Joey Bosa against some of the Central Section competition this year. 
But he certainly has the frame for an offensive tackle at 6-foot-7. So I wouldn't be worried about what side of the ball he plays on, with his combination of size, passion and skill, he'll be playing major college football on the biggest stage soon enough.
Sheldon Canley, Jr., Lompoc, RB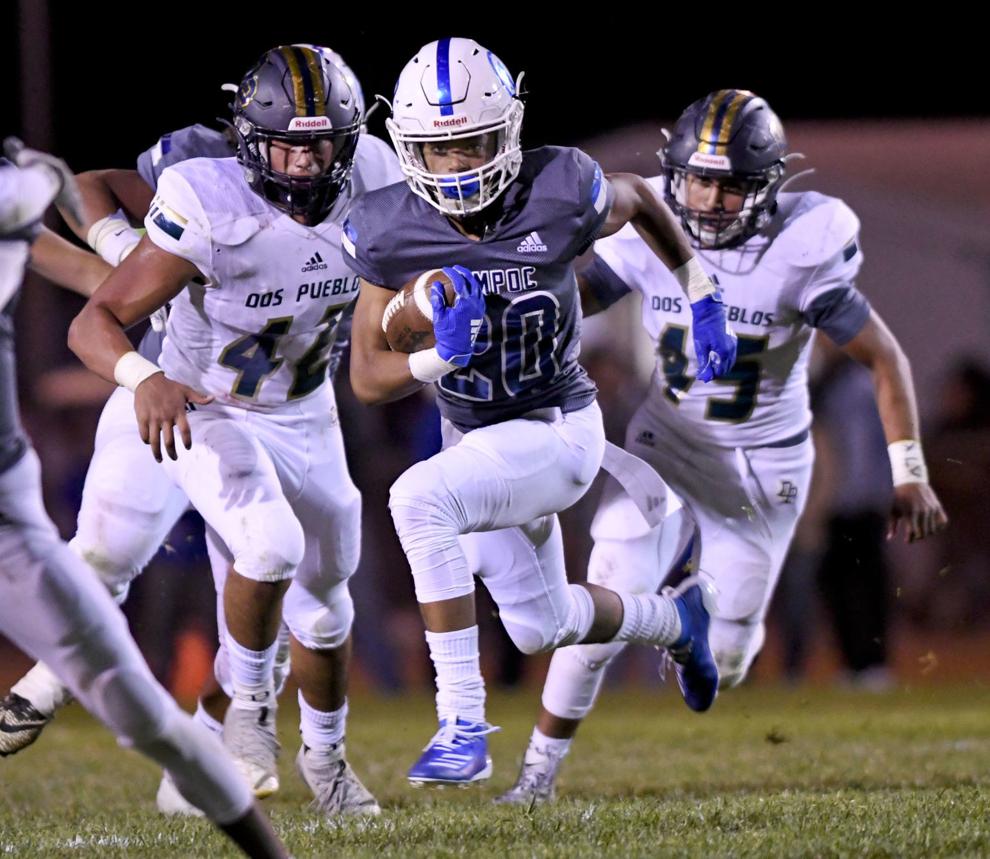 High School: Lompoc
Height: 5-10
Weight: 170
Class: 2022
Offers (1):
William & Mary
The Details
There were probably some people who thought 2019 would be a wait-and-see type of year for Sheldon Canley, Jr. 
But Canley certainly wasn't gonna do much waiting. Though he certainly was seeing... tons of defenders in his dust and plenty of the end zone. 
The third Canley sibling to play at Lompoc, joining brothers Dallas and D'Artagnan, lit up opposing defenses as a sophomore in 2019. 
He carried the ball 83 times for 808 yards and 14 touchdowns. Canley entered the season behind Leondre Coleman and Oscar Tenorio, who were both seniors. 
But Canley's explosive ability at the running back position resulted in 80-plus carries for the underclassman.
Canley made just about every one of those carries count. 
And it shouldn't come as a surprise that Canley was ready to go at the varsity level as a sophomore. His father is former Brave Sheldon Canley, Sr., who played for Big Blue in the '80s before playing at Hancock and San Jose State, ultimately entering the NFL in 1991.
Canley Sr. also played on the varsity level at LHS his sophomore season. 
Canley was clearly the most explosive every-down-back in the area last fall, showing off his breakaway ability time and time again. Once Canley finds a running lane, even if it's just a seam, he can make defenses pay with his speed.  He is a 4.50 or under 40-yard dash type of guy. 
But he also shows great vision for a youngster and does not shy away from contact. Just look at his TD run against San Marcos last year, where he was wrapped up, broke free and scored. (He had 12 carries for 272 yards and four scores in that game).
I could watch his highlight tape all day. It's that good. 
Expect to see a bigger, stronger and maybe even faster version of Canley in 2020 and him to add more offers.
Landon Nelson, San Luis Obispo, DB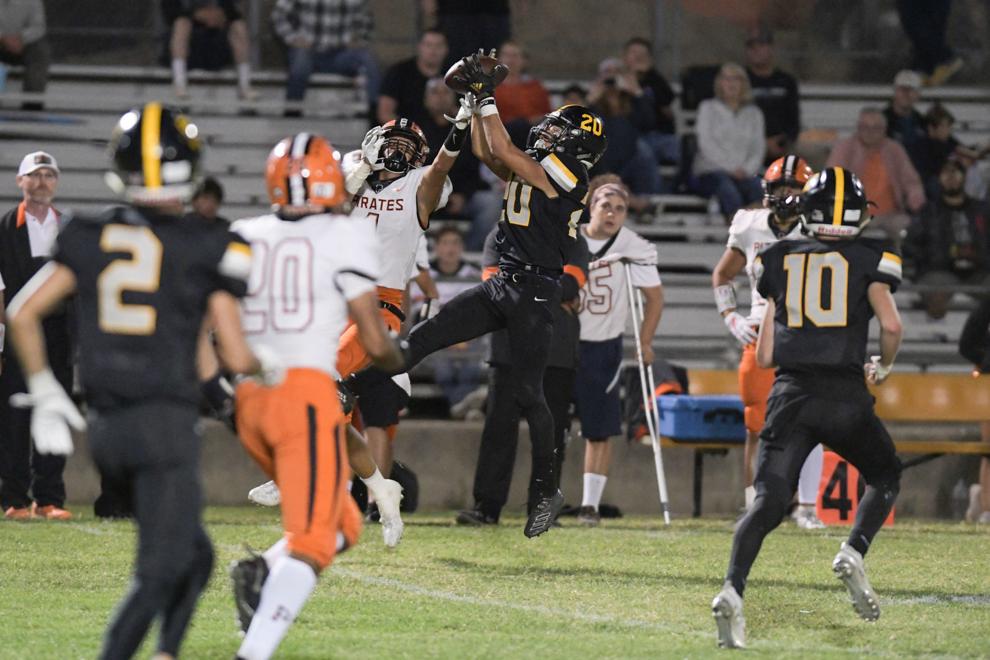 High School: San Luis Obispo
Height: 5-10
Weight: 180
Class: 2021
Offers (1):
Valparaiso 
The Details
The area's most productive defensive back finally got on the board.
SLO's Landon Nelson, who has over 200 combined tackles after just his sophomore and junior seasons, landed his first offer, from Valparaiso, last week. The Crusaders are in the Pioneer League. (Valpo is located in Valparaiso, Indiana.)
Nelson racked up 98 tackles, one sack and three tackles-for-loss as a sophomore for the Tigers. Then last fall, Nelson had 104 total tackles, 13 TFLs, 12 pass break-ups, an INT, a forced fumble, a fumble recovery and a blocked kick. 
Nelson lacks ideal size, but you would never know it from watching his tape. He's a punishing tackler that plays with absolutely no fear on the field. 
He's also a really versatile player. He's pretty solid in press, though he does need to improve at getting physical and jamming his receiver at the line. He really excels in off coverage, where he can read the quarterback's eyes and make a play on the ball. 
It's clear there are two things that sets him apart on the field: His football IQ and his reckless tackling ability.
He instantly diagnoses plays on defense and blows things up. Receivers have a real tough time blocking him because he reads plays so quickly and is already attacking the ball before the receiver knows what's happening. 
He's also an eager special teams contributor, making tackles on kickoffs and blocking kicks. He should be one of the better players every time he steps on the field this year. 
If this kid was 6-foot-2, 210 pounds and played like this, he'd be a Power Five recruit. Hopefully he'll continue growing physically and more schools will give him a look. 
Deville 'Joker' Dickerson: Lompoc DB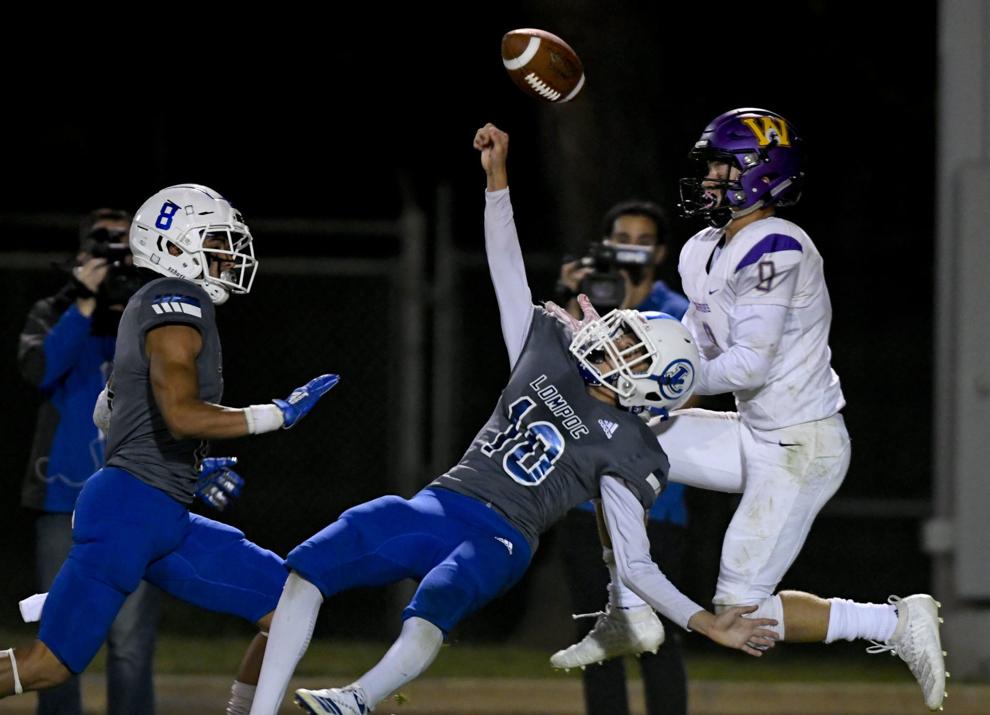 High School: Lompoc
Height: 5-10
Weight: 160
Class: 2022
Offers (1):
The Details
Dickerson is a DB through-and-through. He's got swagger and can back it up with his play. 'Joker' was relentless in coverage, going up for jump balls or through receivers breaking up passes. 
From his film, it looks like he's dialed in on every play. That's how he blocked four kicks and broke up 17 passes, intercepting three, last season. Just put on the St. Joseph game film to see that, where he got all three of his picks. He also blocked a kick. 
Dickerson has all tools to be a next level DB. His technique is really advanced. His back-pedal is butter and he's super quick out of his breaks. He's almost always in phase. He will get beat here and there trying to break up a pass in the air instead of making a safer play on the ground. But, again, he's a sophomore playing like a senior. 
As far as where his recruiting lies, it always comes down to the physical traits. He's undersized, but perhaps he'll grow a little bit more. He's already filled out quite a bit over the last year. I wouldn't be surprised to see him land some Mountain West offers eventually, but he should at least attract some top FCS programs before his senior season. 
Deacon Hill: Santa Barbara QB
High School: Santa Barbara High 
Height: 6-4
Weight: 220
Class: 2021
Offers (3):
Wisconsin (COMMITTED)
Kansas State
Nevada
The Details
Hill didn't hesitate to make his college commitment, picking Wisconsin before his junior season even started. I don't blame him either, with a B1G 10 offer being a big deal. Wisconsin isn't really regarded as a quarterback school, though I guess Russell Wilson counts in the Badgers' favor.
I'd wager Hill will eventually start for the Badgers. He has the ideal physical traits for major college football, especially in the B1G 10. He's all of 6-foot-4 and has clearly been working in the weight room, sporting a more athletic build in 2019.
Hill is a natural quarterback. With the ball in his hands he makes plays inside and outside the pocket, can work a second or third read open and can throw on the run. He's Santa Barbara County's most polished quarterback recruit in decades, coming from the same school as former NFL star Randall Cunningham.
Hill also has the intangibles needed to thrive at the position. He's cool, calm and collected. He captained his team to a CIF-SS championship game as the Dons came up just short. 
It'll be fun seeing Hill going against Lompoc, Oxnard, Pacifica, Rio Mesa and Dos Pueblos in league games this year.
Darien Langley: St. Joseph WR
High School: St. Joseph
Height: 5-8
Weight: 150
Class: 2021
Offers (1): 
The Details
Just get the ball in his hands and let him work. That's the best way to employ Darien Langley, who can lineup in the backfield, slot, out wide or on special teams to make a major impact on his team. 
Langley finally landed his first offer in May, coming from Army, a program that could definitely make sure the ball is in Langley's hands with its triple-option flex offense. (Also, landing an offer from Army isn't easy with its rigorous entrance requirements, so big props to Langley for getting that).
Langley is one of the most explosive players in the area and should build upon his first two seasons on varsity this coming season. There will definitely be plenty of opportunities for Langley to lead the St. Joseph offense with the Knights losing their quarterback, top running back and several key receivers from a team that won the Mountain League title and made the D2 semifinals in the CIF Central Section a year ago. 
Christian Jones: San Luis Obispo OL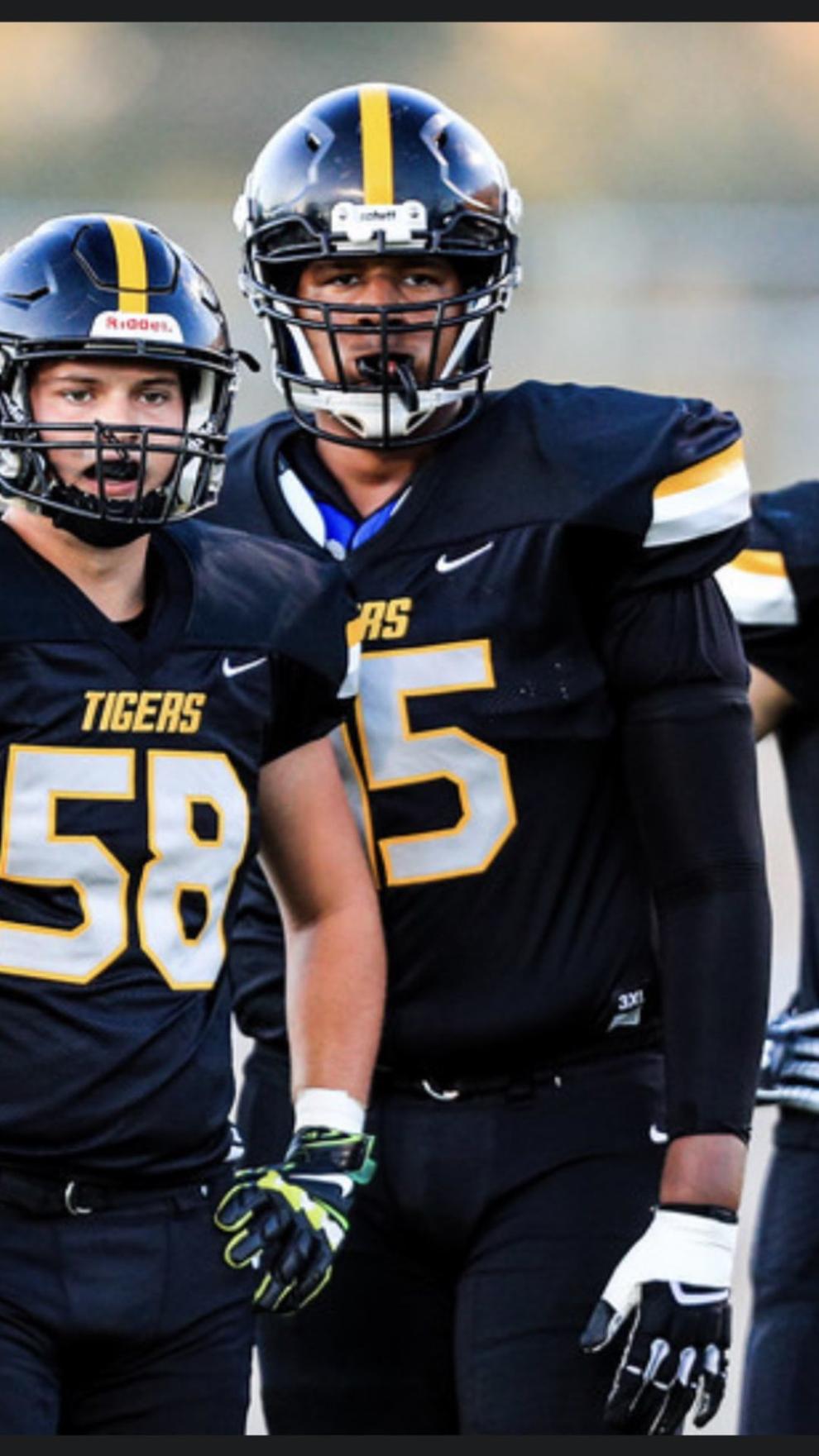 Christian Jones, OL
High School: San Luis Obispo
Height: 6-9
Weight: 295
Class: 2021
Offers (3):
San Jose State
San Diego State
University of San Diego
The Details
Update: Jones added an offer from San Diego State, he announced via Twitter on the afternoon of Wednesday, June 10. He then added an offer from the University of San Diego on June 11.
It's the oldest adage in football: You can't teach size. 
And Christian Jones has a lot of it. Hell, he has all of it.
He's every bit of 6-foot-9 and 300 pounds. Jones looks a bit raw but clearly has all the physical tools offensive tackles need. (He has a 7-foot wingspan).
Jones will likely take some time to grow into the position further and, once he gets to the DI level, eventually earn a starting spot. 
But there's certainly some major potential there.
Jones has really light, quick feet. He does have a tendency to simply overpower smaller defenders and not focus on technique, which can be a problem considering he'll mostly see smaller guys going against Central Coast opponents. Sometimes his height works against him, at a legit 6-foot-9, but if he continues on the pace he has been the last 12 months he has the potential to land some major college offers. 
Again, it's a cliche, but Jones has a huge advantage with his size and length in terms of recruiting and development. You can't coach that type of size and college coaches go out of their way to recruit size. It's a talent.
If Jones flips the switch and shows immediate development, watch out, because this guy already has NFL size. 
Cavin Ross: Lompoc, QB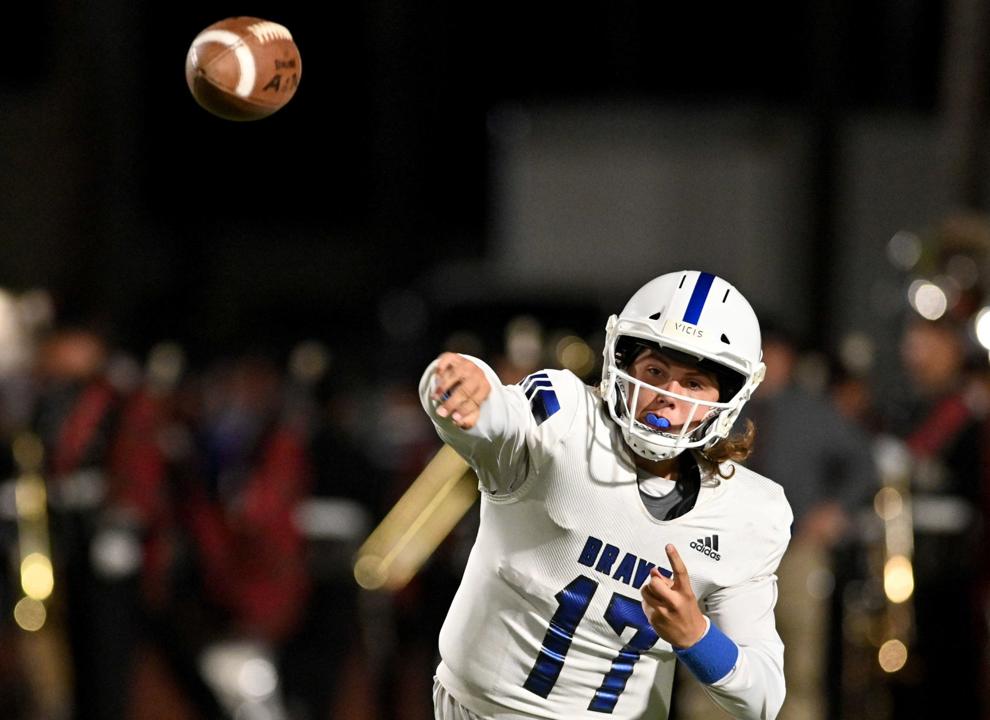 High School: Lompoc
Height: 6-0
Weight: 180
Class: 2023
Offers (1):
William & Mary
The Details
Ross has plenty of time to perfect his craft after stepping in at QB as a freshman for the Braves. He more than held his own against older competition and he wasn't put in an easy spot. Playing for one of the most storied programs in the area with high expectations while taking over for a senior QB in Cameron Iribarren that was the Channel League's reigning Offensive Player of the Year. 
Ross has a solid frame that should translate to the FBS or FCS level. His arm strength is average, but he possesses a quick release and is confident when he throws. He didn't have to read through too many progressions last year but had a solid grasp of the offense and hits his receivers in rhythm. His ball-handling is solid and he's good on play-fakes. The LHS coaching staff did a tremendous job putting Ross in good situations with lots of play-action to suck in defenses and allow Ross to hit receivers over the top. When Ross does have to look off a receiver or go to the second option he does a good job of hitting the right guy.
I will say this: Things are gonna be tough this coming season with the Braves moving to a league with the Oxnard schools and the Braves losing Leondre Coleman, Ryan Morgan and Oscar Tenorio. But Ross is certainly on the right track and has time to continue on this path toward major college football.
Carlton Brown III: Mission Prep TE/WR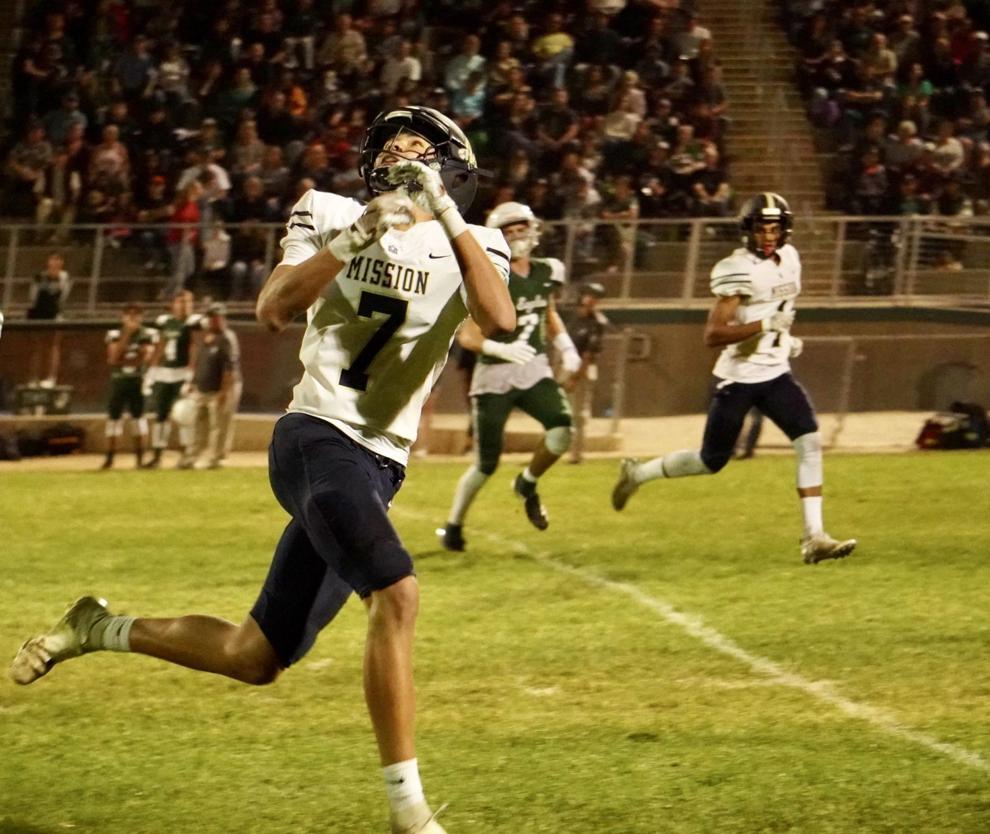 High School: Mission Prep
Height: 6-6
Weight: 200
Class: 2021
Offers (10):
Oregon State
Fresno State
Utah State
UNLV
San Diego State
Nevada
Liberty
Cal Poly
Utah
UC Davis
The Details
The first time I saw Carlton Brown was on the basketball court. And I thought he was a very good basketball player. But, now, it's clear his future lies on the football field. 
Brown has a very rare combination of skills. Playing against some of the smaller schools Mission Prep played last year, Brown at times looked like Mike Evans, when he's split out wide, or George Kittle, as an in-line tight end. Brown even lined up as an edge rusher on the D-Line.
Now, as a basketball player who's also a tight end/receiver hybrid, you wouldn't be surprised to see Brown as a finesse player. But he is not. He's shown an appetite for cracking down on smaller defenders, pushing tiny DBs 5 or 10 yards down field. Again, he's also played some D-end, and he gets after it there, too. 
Watch his film. It's really good. He's physical. He's aggressive. And it's easy to see how he had nine offers with a couple Pac-12 schools thrown in there. 
Now, I will say I want to see him against some of the better competition in the Central Section and around the Central Coast and how he holds up. Mission Prep, still transitioning from 8-man in 2018, didn't play the toughest schedule a year ago. Clearly Utah and San Diego State and Nevada, have no problem with that. But, a player like Brown, at 6-foot-6, has a big advantage against players from schools like Greenfield or Mira Monte.
Mission Prep's toughest opponents in 2020 are likely Nipomo, Atascadero and Central Valley Christian. 
Assani Berkeley: Mission Prep WR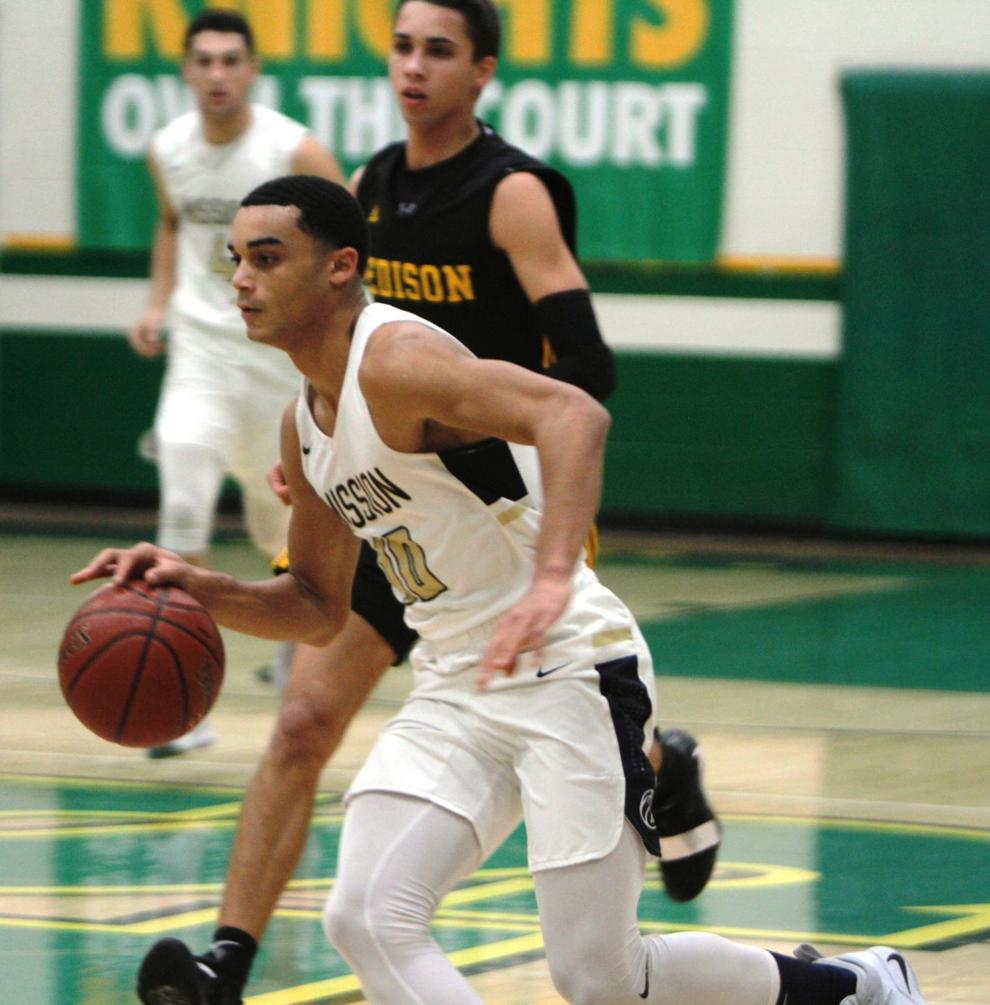 High School: Mission Prep
Height: 6-1
Weight: 180
Class: 2021
Offers (5):
Cal Poly
San Jose State
UC Davis
UNLV
Sacramento State
The Details
Update: Berkeley has added an offer from Sacramento State, one of the top teams in the Big Sky Conference.
Like his teammate Carlton Brown, Berkeley is another very good basketball player who figures to play college football. Berkeley hasn't received the same type of offers as Brown, with two Big Sky teams and two Mountain West teams after him, but I bet we'll see his recruiting really take off in the next six months or so. 
Berkeley absolutely nails the eyeball test. He looks like a DI receiver. He's a bit raw in his route-running ability, but he has off-the-charts athleticism and ideal size. He's listed at 6-foot-1 and 180 pounds. He's probably one of the best basketball players in the area with a knack to get to the rim and can easily finish off drives with two- or one-handed dunks.
Berkeley is a highly-competitive athlete. I've seen on the basketball court stuff shots and go after opponents. It appears that mind-set transfer to the gridiron.
In addition to his role as a receiver, Berkeley plays some defense as Mission Prep has lined him up as a cornerback, but he has the size to play safety at the next level if he needs to. But receiver seems to be his No. 1 position.
Berkeley has shown solid hands and an ability to catch jump balls or stretch out for an under-thrown pass. He's also really good with the ball in his hands, returning kicks or picking up yards after the catch. His running style is incredibly smooth. He's a little high in his route running and his routes are somewhat round, but with the ball in his hands he just glides up the field and is very difficult to track down in space.  
Again, I see his recruiting really taking off here in the very near future with some of the middle-of-the-pack Pac-12 schools jumping in, with his ideal size and physical ability drawing more schools in. 
Senior Spotlight Series: Celebrating the area's top senior student-athletes
Our 'Senior Spotlight' series is aimed at highlighting senior student-athletes who have had their final year of high school disrupted by the coronavirus outbreak. The athletes featured here were their school's nominee for Athlete of the Year or Student Athlete of the Year for the Northern Santa Barbara County Athletic Round Table's end-of-year banquet that has been canceled due to the outbreak.
Be the first to know
Get local news delivered to your inbox!