After 11 years of coaching 11-man football, Gabe Espinoza is getting initiated into the eight-man version of the sport.
Espinoza is the Orcutt Academy's eight-man team's new head coach. He coached football for 10 years at Santa Maria and coached at all three levels — varsity, junior varsity and freshman — at some time during his coaching tenure there. He spent both of his prior years as a varsity head coach there.
After his time at Santa Maria, Espinoza coached for a year at Righetti. He took the 2018 season off from coaching.
"I think I'm really in the swing of coaching eight-man football," said Espinoza. "It's a smaller field (80 yards instead of 100), a faster game with fewer players but it's football.
"Here, I saw an opportunity to impart from what I've learned from coaching all these years at the 11-man level to the players, and the kids have brought into it."
After 11 years of coaching 11-man football, Gabe Espinoza is getting initiated into the eight-man version of the sport. Espinoza is the Orcutt…
Orcutt Academy suffered some key losses, including graduated quarterback Max Daniels, but two-way stalwart Alex Sutton returns from the 2018 team that went 8-4.
Sutton, a junior running back-linebacker, was far and away the team's leading rusher last year, with 1,282 yards. He rushed for 10 touchdowns, second on the team to Daniels, who ran for 16.
As they did last year, the Spartans will play a freelance schedule. As for his team's offense, "We'll be run-oriented, but (what) we do will be out of the option," said Espinoza.
"The good thing about that is what we do can evolve around the personnel we have on the field. We can pass out of the option."
At press time, Orcutt Academy had two quarterbacks in the departed Daniels' wake, senior Bryce Cofield and sophomore Zander Clark. 
Orcutt Academy's program has had a lot of success. The eight-year program has been to the playoffs six times, and the Spartans made it to the semifinals last year, their inaugural one in the CIF Central Section.
"That kind of success gives the returning players a lot of confidence, and they can give that to the new players," said Espinoza.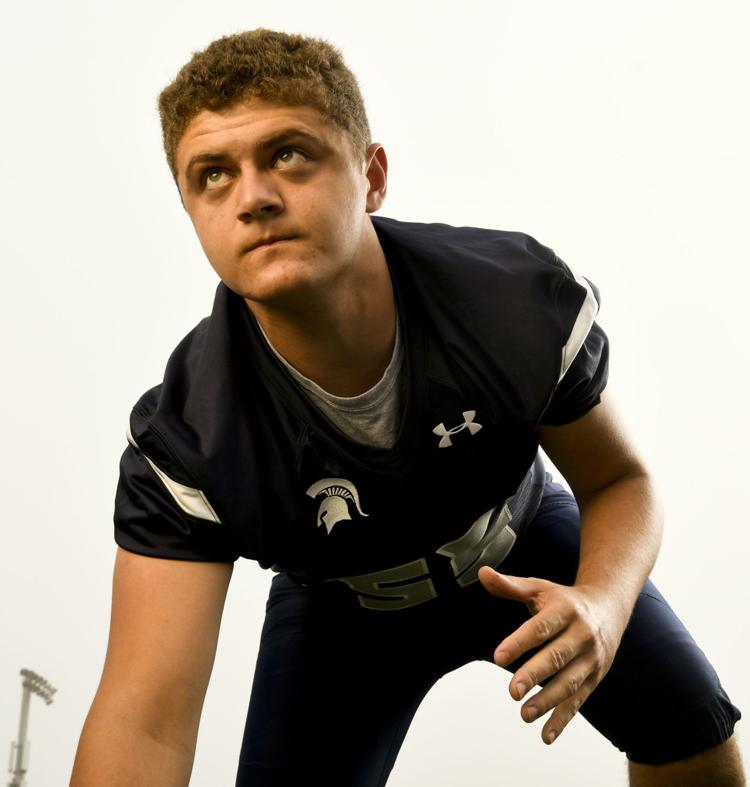 Mission Prep won the Central Section 8-man championship in 2018. The Royals have moved back to 11-man football since. Fresno Christian, which beat Orcutt in the semifinals, is on the Spartans' schedule again, this time in the regular season finale.
The Eagles defeated the Spartans both times the teams played last year. In the long run-up to his team's game against Fresno Christian this year, "We're just taking things week by week," Sutton said at the Times' Football Media Day at St. Joseph High School earlier this month.
"I've heard Fresno Christian is the team to watch out for," said Espinoza. "With that, we can't look past anyone else. We have the same lofty goal as everyone else does — a sectional championship."
Besides his team's work ethic, Espinoza is happy — thrilled, actually — with the number of players on his team's roster.
"We're pushing 32 (team members) now," Orcutt's first-year coach said at press time. "We'll see if we pick up any more during the first week of school," which has since taken place.
"I've talked to our athletic director (Chad McKenzie), and this is one of the biggest teams, in terms of size and roster numbers, they've had at this school," said Espinoza.
He did not seem to think finding adequate playing time for all of the members of his considerable squad was a concern. "We can do a lot of situational subbing," said Espinoza.
"The ideal situation for us would be to have a two-platoon system, with eight players on offense and eight different players on defense. We're not quite there yet."