For recent Santa Ynez High School graduate Maggie Usher, it's the last go-round — the last go-round of her high school career.
Usher, who will be off to Cal Poly in the fall, is one of 10 Magnificent 7 cowgirls and cowboys who qualified for the National High School Rodeo Finals (NHSFR) during the California High School Rodeo Association's state championships that were held June 9-15 in Bishop.
The Nationals kicked off their week-long run Sunday in Rock Springs, Wyoming.
"We got here Thursday," said Usher during a telephone interview Friday afternoon. "We're staying on the rodeo grounds in our trailer. It's a horse trailer with living quarters."
The trailer not only houses Maggie Usher but also her parents, Roxanne and Jim, and Maggie's two horses, Sonny and Kat.
Usher's grandparents, Suzanne and Ed Usher joined them on Saturday and an aunt and uncle are coming up from Texas to cheer on Maggie and the other members of the Magnificent 7 team — the District 7 team includes riders and ropers from Santa Barbara, Ventura and San Luis Obispo Counties.
Usher qualified in two events — goat tying (with Kat) and team roping (with Sonny).
"I was the Reserve Champion in goat tying (this after winning the goat tying state title in 2018) and finished fourth, along with Fillmore's Jamie Fontes, in team roping," said Usher.
Usher opened her championship chase in team roping with partner Fontes Sunday night.
Monday morning Usher was back for her first go in goat tying.
She has a break until Friday afternoon when she's back for her second round of goat tying before wrapping up team roping next Saturday morning.
"I'll get some practice in during the middle of the week," said Usher. "And I'll get to hang out with my friends, watch the other rodeo performances and do some sightseeing."
Usher just missed out on the chance to qualify in a third event when she finished fifth in the state championships .22 light rifle competition.
The top 20 in each event are invited back for Saturday night's third go-round when all the national champions will be crowned.
The top four finishers in each event at the state championships qualified for the National Finals.
Solvang's Gracie Lopez, who just completed her sophomore year at Santa Ynez High, is also in Rock Springs after winning the girls cutting state championship.
"This is really exciting," said Lopez during a phone interview from Rock Springs on Friday. "To win the state championship in my sophomore year and make it to the Nationals, too, is exciting."
As with most of the Magnificent 7 qualifiers, Lopez, her family and her horse Diesel are staying at the rodeo grounds in their horse trailer.
"When I'm not competing (Tuesday morning and Thursday afternoon), I'll be taking care of my horse. It's sort of like a working vacation," said Lopez. "I'll hang around with my friends, get to make some new friends and explore the town a little bit."
This is Lopez's first trip to the High School Finals although she did earn a trip to last year's Junior High Finals in Tennessee.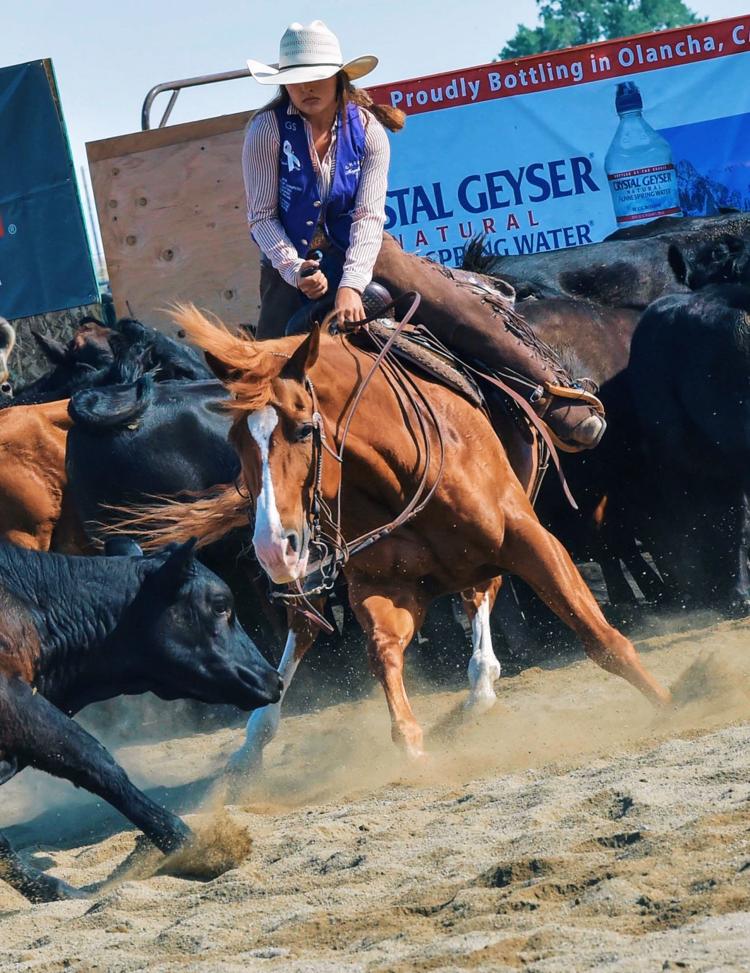 "It was a 15-hour trip to get here. We split it up into two days," said Lopez. "But as an eighth grader last year we went to Tennessee so Wyoming is a lot closer.
"I'm really looking forward to the competition. I'm really excited, my horse feels good and I can't wait for the rodeo to start."
San Luis Obispo's Josie Pereira, who just finished her sophomore year as a home-schooled student, finished fourth in goat tying at the California Finals.
This is Pereira's third time at a National Finals. Her first two appearances were in the Junior High National Finals, the first year in Iowa and the second in Tennessee.
"The toughest thing about goat tying is staying in shape," said Pereira during a telephone interview Friday. "I have to make sure I'm mentally and physically prepared for the competition. It is hard on your body. You have to ride down the arena, jump off your horse (Pebbles) and tie the goat as quickly as you can. It's not as easy as it might sound."
Pereira was in action Monday morning and comes back for her second go Friday afternoon.
"In between, I'll practice, watch the other performances and do some exploring," said Pereira. "My family and I have plans to go rafting down a local river. That will be pretty cool. It will be something nice to do during the heat — we don't have a lot of water in the rivers back home."
The rest of the Magnificent 7 entries are;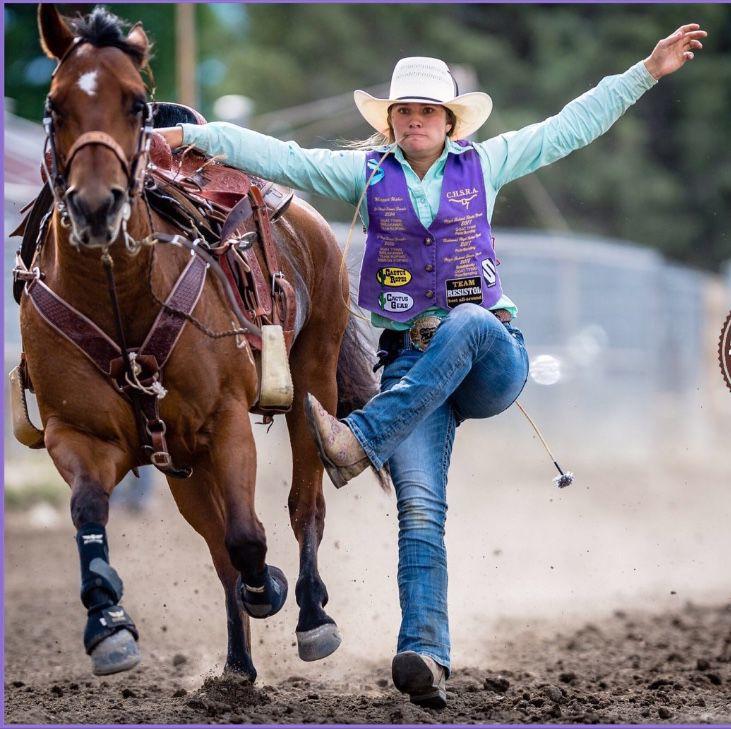 Parkfield's Sammy Massey (girls cutting), Arroyo Grande's Chase Shrode (bareback riding), Simi Valley's Chance Leatherman (reined cow horse), Camarillo's Skylar Alves (barrel racing), Paso Robles' Jared Javadi (.22 light rifle and Reserve State Champion in trap shooting) and Parkfield's Kincade Varian (trap shooting).
Featuring more than 1,650 contestants from 43 states, five Canadian Provinces, Australia and Mexico, the National High School Finals Rodeo (NHSFR) is the world's largest rodeo.
In addition to competing for national championships, NHSFR contestants will be trying to win more than $150,000 in prizes and for more than $375,000 in college scholarships.
Usher has already picked up $2,650 in scholarship money to help her get her Cal Poly career started winning $1,500 and $1,000 scholarships at the California Finals and then picking up an extra $150 when District 7's silent auction entry sold for the highest amount.