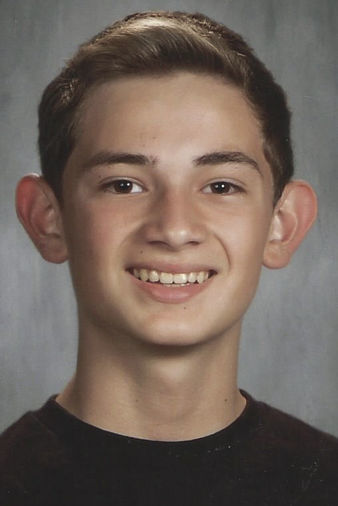 Conner Ruben Graciano, passed away unexpectedly on Sunday, October 27, 2019 and went home to be with the Lord at the age of 15.
Born on July 24, 2004 in Santa Barbara to beloved parents Ruben and Janeen Graciano. He grew up in Solvang with sisters Andrea and Samantha. Conner was an amazing son, brother, and friend to all. Growing up, he loved spending time with his dad, going fishing, building tree houses, and playing outside with their dog Jack. With his family, he enjoyed camping, swimming, going to soccer games, watching movies at the drive-in, and large family gatherings for birthday parties and holidays. He spent summers and winter breaks with his family at his grandparent's home in Grants Pass, Oregon. The summertime was spent swimming in the Rogue River, rafting, jet skiing, and playing with cousins. The wintertime was filled with ice skating, sledding, and building snowmen.
Conner attended the First Baptist Church of Solvang since birth. Here, he enjoyed Sunday School, Vacation Bible School, Christmas parade floats, potlucks, and harvest festivals. He accepted the Lord into his heart in second grade, but because of his shy nature he wasn't baptized until 2018, where he publicly conveyed his belief that God was in his heart and was baptized by his friend and pastor, Bob Rush.
You have free articles remaining.
Conner went to Solvang Elementary school, where he graduated from eighth grade in June and had begun attending the Santa Ynez Valley High School in August. Conner was known by his friends for being caring, funny, and cheerful with a bright smile. He always invited friends to his house, where he and his family would welcome them with open arms.
Conner is survived by his parents, Ruben and Janeen; his sisters Andrea and Samantha; his maternal grandparents, David and Sheila Petersen of Solvang; his paternal grandparents, Adolfo and Irene Graciano of Santa Maria; his maternal great-grandparents, Joe and Willa Mashburn of Buellton; as well as, many aunts, uncles, cousins, and friends.
His Celebration of Life will be Saturday, November 9, 2019 at the First Baptist Church of Solvang at 11:00 am. First Baptist Church is located at 2667 Janin Way, Solvang. The Graciano Family would like to thank the community for their outpouring of love and support during this very difficult time.
"For God so loved the world that he gave His one and only Son, that whoever believes in Him shall not perish but have everlasting life." John 3:16
Written with love by cousin Jamie Mathews