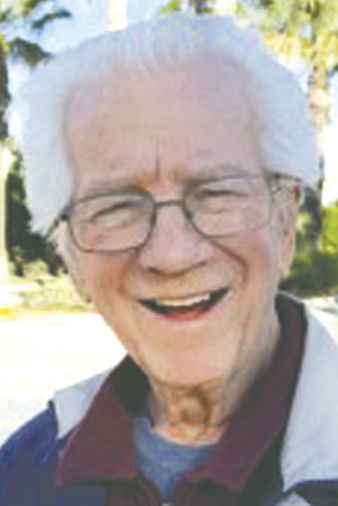 Eugene Clarence Stevens, 91, passed away on January 5, 2020 ending his 8 year-long journey with dementia. He was born in Wilmington, North Carolina on January 5, 1929, to Clarence Lorenzo Stevens and Elizabeth Allen Stevens. At age 19 he enlisted in the Air Force. He was assigned to typing/office training, which was the basis for his work in his future. In 1953 he married MaryAnn Perry from Greenville, South Carolina. In 1958 he was transferred along with the first 600 troops to Cooke Air Force Base in Lompoc, California as a sergeant. He served in the Public Affairs Office and was co Editor of the SAC Missllier, the first base newspaper. While at Vandenberg he earned an Associate Degree from Allan Hancock College and a Bachelor's Degree through the Air Force Operation Bootstrap program at University of Omaha. He separated from the Airforce as a Master Sergeant in 1962.
From 1962 to 1969 He worked for Ken, Don and Harriet Adams, publishers of the Lompoc Record, initially as reporter, news editor, and managing editor where he wrote a weekly column "Looking Glass" with comments on many topics. In 1966 he became the proud father of a son, Scott. He earned a Master's Degree from Chapman College in 1968.
In 1969 he was recruited by the President of Allan Hancock College, Walter Conrad, as Director of Public Relations and later Director of Community Services. He formed the Lifelong Learning Institute for the community, bringing well known speakers to the Santa Maria campus, like Ray Bradbury, Wm. F. Buckley and Carl Sagan. He was instrumental in bringing college courses to the Lompoc Valley, which years later led to the establishment of a campus in Lompoc in 1998. He was recognized as one of Allan Hancock College Distinguished Alumni in 1995.
After years of reporting on city council meetings and observing local politics, in 1970 Gene decided to run for a position Lompoc city council. He was successful and served for 15 years. Al Walker was campaign manager for all his council runs. In those years the council appointed a Mayor among themselves, with Gene serving four times as Mayor. He is credited with establishing the Lompoc Architectural Review Committee, the First Downtown Revitalization Committee and the Economic Development Plan Committee. He was committed to beautification programs and promoting tourism to support local businesses. He was selected as the 1973 Chamber of Commerce Man of the Year. In 1980 Gene married the love of his life, Judy. Together they enjoyed a partnership of community service. He retired from the council in 1989. He said it was the greatest privilege of his life to represent the city and make Lompoc the best place to live and raise a family. For years after their retirements he and his two closest friends, former councilmen and mayors, Richard "Dick" Jacoby and Joe Valencia shared morning coffee in local establishments discussing city politics and events of the day, often joined by other interested Lompoc residents in lively conversations.
Not content to be idle, Gene worked for the Lompoc Chamber of Commerce for 23 years promoting tourism and other Chamber programs. In 1988 he established the Lompoc Mural Society, serving as the Administrator for 25 years. The growing inventory of public art depicting the history of Lompoc Valley drew tourists to admire the work of local artistsuralists.
You have free articles remaining.
He supported the establishment of Lompoc Murals & Public Arts Commission. He was a member of the Lompoc Valley Art Association for over 20 years, was on the Lompoc National Veteran's Cemetery Task Force, an active member of Lompoc Rotary #669, Lompoc Valley Club, the Olde Town market Committee, Lompoc United States Penitentiary Advisory Board, Santa Barbara County Human Services Commission, Friends of the Library, Downtown Revitalization Committee, Santa Barbara Foundation Affiliate, and Lompoc Museum Board. When asked, he always served with his time and his heart. He was the Lompoc Flower Festival Parade Grand Marshall in 1997. In the year 2000 he was selected as Lompoc's Man of the Century for his nearly 50 years of dedication to the community.
In 2012 as memory issues were appearing Gene and his wife, Judy, decided to move to Banning, California to be nearer family. Here he traveled, rested and reflected on a life well lived.
Gene is survived by Judy, his wife of 40 years, son Scott Stevens, MD, daughter in law Lisa Palmieri Stevens, MD, granddaughter Cathryn Stevens, all of Sandy, Utah; younger brother Ray of Wilmington, North Carolina, sister-in-law Donna Stevens of Kenosha, Wisconsin, as well as many dear friends. He was preceded in death by his parents, brother Edwin Stevens, sister Eleanor Edwards, brother-in-law Col. Charles Edwards, USMC, a nephew Michael Edwards, and his dear friends Al Walker, Joe Valencia and Dick Jacoby.
He will be inurned at Riverside National Cemetery in a private family service on January 27. A memorial will be held in Lompoc at a future date to be announced.
He was an energetic, happy man, who loved life and lived it to its fullest, loved his family and friends and a was dedicated supporter of the community of Lompoc. He will be missed.
The family is grateful to the staff of Prestigious Hospice for their compassionate care at the end of his life.
In lieu of flowers the family suggests a donation to the Lompoc Mural Society or charity of your choice or perform a random act of kindness as a tribute.