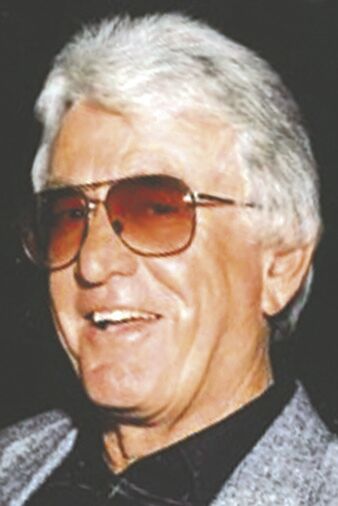 Francis H. "Mutt" Beattie, Jr. was an unassuming figure on the Lompoc scene throughout his lifetime, carrying on the family name and business. He played a major role in the business community with his membership and leadership on boards of directors.
For such an upstanding representative of the community, the name "Mutt" does not seem to equate with his station in life. To clarify, the story has been handed down of Grandma Beattie becoming so exasperated by Francis's mischievous antics that she hung him in a gunny sack for a bit, grumbling he was like a hyperactive mixed-breed dog. From that point Francis became Mutt forevermore.
Mutt was a native Lompocan born on July 27, 1936. For the major part of his life he lived in his hometown until his death on August 17, 2020, at age 84. He was preceded in death by his father F. H. Beattie, Sr. and his mother Elsie "Colli" Beattie. He is survived by his wife, Beverly, of 60 years, sons Randy and Dana and daughter Kelly. Additionally, there are four grandchildren Ashley, Tanner, Amanda, and Cole. Living relatives include his sister Joann Mayhue and aunt and uncle Mable and Dean Colli.
Mutt came from a farming family who owned acreage on the outskirts of town where they grew a variety of vegetables. The extended family of aunts, uncles and grandparents kept tabs on him as he roamed and explore the family property.
The Beattie legacy includes Mutt"s father who served as County Supervisor for two terms and who founded Beattie Ford. Due to the generosity of the Beattie family, a 50-acre park was created with an overlook of the Pacific Ocean and aptly named Beattie Park.
After graduating from Lompoc High School, Mutt attended Occidental College and then enlisted in the U. S. Army for a two-year stint. He began his business career working for his father at the Ford dealership as a salesman. Subsequently he married Beverly and started his family. It was time to get serious, so he bought the family business, ran it for several years, sold it, and became a used car salesman---not of the Cal Worthington ilk. Mutt was not one to ply his product on television but was more low-key, nevertheless a creative, effective, successful salesman. As noted by his son Dana, Mutt frequently utilized his perfect "pard" techniques while negotiating business and personal transactions whether it was for purchasing cars, boats, motorcycles, campers or even a horse for his young daughter Kelly, who was competing in horse show events. His mind gravitated toward some calculate but fair "horse trading" or bartering. In the case of Kellys horse, an agreement was made to trade a two-door Pinto car for a Pinto horse! Because of Mutts requirement that his vehicles always be well-cared for, he put his trust in his good friend Malcom Hearn to assemble his prized dune buggies and Steve Miller to keep his bicycles meticulously maintained and rolling at all times.
Mutt was a family man demonstrating his love by being an integral part of family outings and supporting his children unwaveringly in their varied interests. Kelly became an award-winning acrobatic, vaulting horse competitor who traveled to Austria and Germany for a finals competition, returning with ribbons and certificates. Dana and Randy raced their cars with calculated abandon; the love of cars rubbed off on his sons who had a focused interest in stock car racing. Mutt wholeheartedly supported them in their car racing endeavors at the Santa Maria Speedway. This shared attraction for fast-moving vehicles led to a history of father-son interactions involving attending their races and viewing many hours of motocross and Indy 500s together. An added note relating to Mutt's financial back was revealed by Dana. With both brothers thorough knowledge of car mechanics, they were able to work on and repair their cars with Beattie Motors parts unbeknownst to "Dad." In other words, Mutt was generously funding the boys' race cars whether he knew it or not. Family activities were many which included snow and waterskiing trips to the mountains, lakes, and rivers. Camping and relaxing at the beach were also family favorites. All this is recorded in albums filled with photos of happy Beattie outings.
Although Mutt's days were full by any measure, he found time for his favorite sports. In his prime he could be seen biking and running in and around Lompoc. Initially he earned recognition by excelling in track in high school and at Occidental College. Spending hours and hours on that skinny uncomfortable bike seat was somehow pleasurable to Mutt. Oftentimes know to exceed his personal limits, Mutt would plan long, grueling bicycling treks with his buddies, one of which was for a one-day ride starting in Lompoc and ending in Bug Sur with Al Walker. According to someone close to him (Beverly), this epic athletic feat cost Mutt being laid up for a week to get some much-needed rest and recuperation. Another challenging "fun" ride covering 73 miles from Tecate to Ensenada was made with friends Dennis Grossini and Kaz and Kuni Omura. Bird hunting and fishing became an important male bonding activity for Mutt and his many guy friends. He also never missed a chance to swing the clubs and meet at the 19th hole with his cronies.
Mutt was what many would refer to as a "guy's guy," not to say that he didn't enjoy the company of female acquaintances. The Lompoc Valley Club Friday night dinners, the Elks Club gatherings, and evenings with the Vikings were testaments to his sociability with the husbands and wives alike. Always up for fun and games, Mutt participated in "boys" getaways. His love of food often reigned supreme when filling up on sushi, Mexican, food, and steaks and washing it all down with mugs of the brew.
Mutt will fondly be remembered by many because of his empathy, service, and friendship with the elderly. After his retirement in 1990, he and Beverly moved to Los Olivos where he volunteered to drive senior citizens to and from doctor appointments and delivered Meals on Wheels. Their final move was returning to Lompoc where Mutt always maintained connections with his ailing friends by visiting them in their homes or residential facilities.
Mutt left his mark on so many, and his legacy relating to his love of family, business acumen, infectious enthusiasm for sports, and long-standing, meaningful friendships will remain alive with all of us. He lived a life worthy of recognition, and for that we give this heartfelt memorial salute. Mutt, we miss you and know you are watching over us from above.
Obituaries Newsletter
Sign up to get the most recent local obituaries delivered to your inbox.