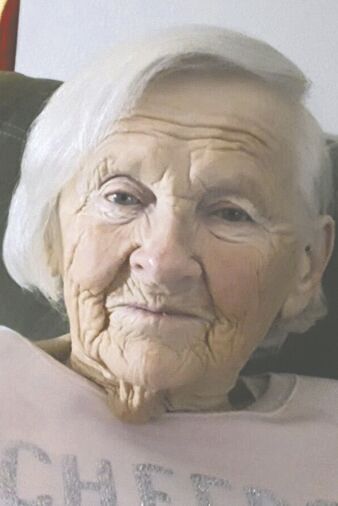 On Saturday, August 15th, 2020, Gloria Marie Ernberg, loving mother and grandmother, passed away at the age of 89 in Lompoc, CA.
Gloria Marie Ernberg was born on July 25th, 1931 in Milwaukee, WI to Alvin and Geraldine (Olsen) Tschanz. The 2nd oldest of 7 children, Gloria was raised in her beloved Greendale, WI. She would share fond memories of her childhood to anyone who would indulge her. These stories were often humorous and whimsical; from sledding down the gentle slope of her street with the neighborhood kids, to her father's impressive backyard garden producing a bounty of fresh fruit and veggies along with a great place to play hide-and-seek among the corn rows, or running after the mischievous boy who dropped a garter snake down her shirt while awaiting the morning school bus, and tales about the 3 spinster school teachers who lived across the street. Gloria was never short on entertaining stories.
A popular and pretty girl whose dance card was always full, Gloria could be counted on to know all the latest small town gossip and to be a good friend to everyone she encountered.
Gloria eventually settled in Lompoc, CA where she raised 3 sons and lived for over 50 years. She spent most of her working career as a loan officer at Coast Hills Credit Union. Retiring from there in her 70's. Gloria was a lifelong fan of Englebert Humperdinck's music. She was also an accomplished cook. So much so that friends would drop by her house, curiously just before dinner time, in the hopes of an invitation to enjoy her food and warm hospitality.
Gloria was preceded in death by her parents Alvin Tschanz and Geraldine (Olsen) Tschanz, her sons Danny Ernberg and Dennis Ernberg and her siblings Alvin Tschanz, Dicky Tschanz, Tommy Tschanz and Patsy Suminski.
Gloria is survived by her beloved son David Ernberg (Juliet), treasured sisters Mary Ottesen and Susy Lance, and cherished grandsons Matthew Ernberg, Steven Ernberg, Darren Ernberg and Jack Kingston.
A private family remembrance will be held at a later date.
Obituaries Newsletter
Sign up to get the most recent local obituaries delivered to your inbox.