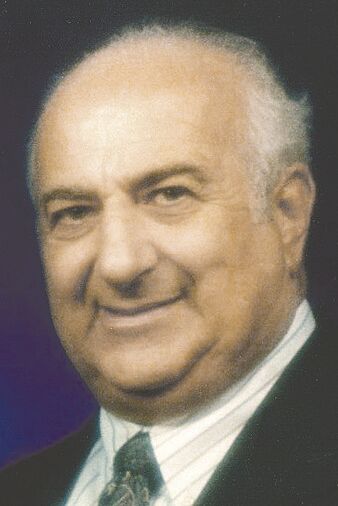 Joseph "Joe " Michael Mangino was born January 31, 1928 in Philadelphia, Pennsylvania and passed away in Santa Maria, CA on April 11, 2021.
Joe is preceded in death by his wife Mary, his siblings Marie Mangino, Anthony Mangino, Dominic Mangino, as well as his children Michelle Mangino, John Mangino, and John Barber.
Joe served his country in the active-duty US Navy from 1946 to 1948 and in the reserves until 1956. After his time in the Navy, he moved to Alaska to work for a government defense contractor on the White Alice Project. After multiple years of service in Alaska, Joe was offered a position in sunny Southern California at Cooke Air Force Base, later known as Vandenberg Air Force Base. Joe moved his family to the Central Coast of California, but found the weather so foggy and windy that he occasionally wondered if Alaska was warmer. Shortly after moving to the Central Coast, Joe transitioned to a position within the Department of Defense (DoD) in the Civil Service. Joe soon found his calling as a safety officer in the Strategic Air Command. After 25 years of faithful service he retired from the DoD in the early '80s.
Joe couldn't stay away from missiles and space for long, and soon went to work for Lockheed Martin at Vandenberg Air Force Base. His job with Lockheed took him away from beautiful Lompoc to work on a variety of programs in California, Colorado, Louisiana, and finally Florida. After settling in Florida near Cape Canaveral, Joe left Lockheed for SRS Technologies from which he retired. All told Joe Mangino worked for more than 50 years in the Missile and Space Industry. He loved his service to our country.
Joe and Mary shared nearly 50 years together prior to Mary's passing in 2018. They were avid bridge players for many years and together they helped establish bridge clubs in both Louisiana and Florida. Joe and Mary were also avid travelers. Their adventures took them along the waterways of Europe, around the Caribbean, and to Hawaii through the Panama Canal.
Joe is survived by his sister Debbie Mangino and Brother Frank Mangino as well as his children Lin Goodnick, Lana Asano, Cheryle Tognazzini, Michael Mangino, Steve Barber, Mike Barber, and Diana Sue Young. Joe also survived by twenty-three grandchildren, thirty-six great-grandchildren, and one great-great-grandchild.
A Mass of Christian Burial will be celebrated on Friday, April 23, 2021 at 1:00 pm at La Purisima Concepcion Parish in Lompoc, CA. Joseph will be interned at the Cape Canaveral National Cemetery in Mims, Florida, next to his wife Mary.
Obituaries Newsletter
Sign up to get the most recent local obituaries delivered to your inbox.