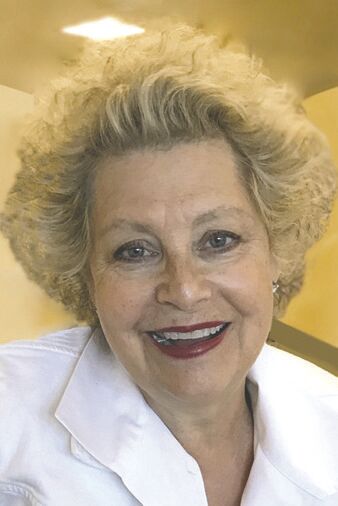 Beloved mother, grandmother, great-grandmother, sister and friend Linda Leach Thomas peacefully went to be with her Lord at 4:38 AM on her 72nd BIRTHDAY!!!!!
A beautiful, actually stunning, youthful, 69 year old, blue-eyed blond, received a diagnosis of grade 4 glioblastoma(GBM) brain cancer on July 18, 2017. One year later, Linda became one of the 5% of those to survive beyond 12 months. Two years later, on the anniversary of her brain surgery, Linda was informed that the tumor had returned and was given 3-6 months to live.Wanting to be a part of the celebration of her life with loved ones, she was the honoree of an unforgettable weekend birthday celebration with family and friends traveling in from all over the country. Three months later, Linda became bedridden as the GBM had its effect on her muscles. From that point on, Jesus's strength was made manifest through her weakness! Linda continually prayed that the cancer would not define her remaining days, but that the Lord's Goodness and loving kindness would define it--and it did--He did!! As the months went by, Linda continued to be what we referred to as the "healthiest terminally ill person"anyone knew! The 3-6 months became 8, then 10, then 11...her amazed family and friends were so thankful for the numerous"bonus" visits that God graciously granted. During Linda's last 10 months, though completely bedridden, she had no pain, no issues, a peaceful countenance, enjoyed sound sleep, an acute memory, and her hilarious sense of humor. Throughout this period, children, grandchildren, great-grandchildren, siblings, and devoted friends from her high school youth group.... were some of those in and out of the ranch house in Celeste, Texas where she resided. As Linda grew physically weaker, day by day, she was inwardly renewed as she believed that her great God and King had trusted her with this path marked with this "suffering"because He was going to bring something beautiful and eternal and unimaginable out of it for His Glory! And on the morning of her birthday, He ushered into her eternal home no medication, no stress, no fear---only peace and love of her family surrounding her as she finished her race, and received her ultimate prize---JESUS...His welcome and His embrace..."Well done, good and faithful servant! Enter into the JOY of you Lord" Matthew 25:23
We could write another page recounting how Linda so generously shared her many talents to bless all those around her. She was a gifted seamstress, using her gift to beautify many of her loved ones' homes. She also homeschooled many of her grandchildren, great-grandchildren, and a great niece. A fabulous cook, Linda created and hosted countless extravagant meals for family and friends, even helping to cater her great-grandchildren and nieces weddings.. Linda was also an avid bike rider and regularly went on 20 mile rides prior to her cancer diagnosis. Lind's life has touched so many. We are forever grateful for her life, her love and her testimony to the reality of her Savior, Jesus Christ, whom she wanted all to know.
Linda Leach Thomas was predeceased by her parents, Virgil Leslie Leach and Wilma Juanita Nation Leach and her Husband Roger Wendall Thomas. Linda is survived by her daughter Elizabeth Tukman Taylor(Christopher)of Tequesta Florida, and a son Jpshua Tukman(fiancee Annie Volk) of Denver Colorado. Two stepdaughters, Traci Thomas McConnell(Bill) of Celeste Texas, Torri Thomas delong(Randy) of Park City Kansas. A sister Marilyn Warren of Costa Mesa California, and two brothers, Stan Leach(Mary) of Lompoc California, and Steve Leach(Sheila) of Orcutt California, 15 grandchildren, 7 great-grandchildren, numerous nieces and nephews and beloved friends whose love and encouragement throughout Linda's life has made all the difference!
In Lieu of flowers, the family requests contributions be made in Linda's memory to Urban Youth Impact, a ministry in West Palm Beach florida, where she served as a volunteer tutor for inner city children, (urbanyouthimpact.com
Obituaries Newsletter
Sign up to get the most recent local obituaries delivered to your inbox.