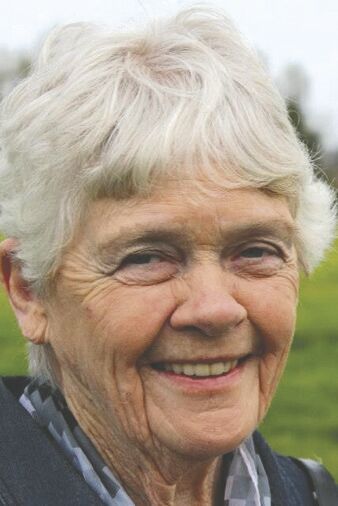 Marilyn Grinstead passed away in Raleigh, NC on November 10, 2020 at the age of 87.
Born in Honolulu T.H. on November 19, 1932 to Captain Thomas Raftery, USN, and Frances Raftery. Her four children and their spouses, Erin (Michael) Simons, Eric (Carrie) Grinstead, Susan (Jeff) Harig, and Mary (Rich) Walsh survive her along with grandchildren, Morgan Simons, Elizabeth Anderson, Rebecca Depp, Burt Grinstead, Joe Grinstead, Elijah Walsh, Lillian Walsh, and Tillman Harig. She was also great-grandmother to Gabrielle Grant, Faith Grant, Emery Anderson, Benjamin Anderson, Arthur Depp, and Frances Depp.
As a member of a New England Navy family, Marilyn traveled and lived in many places in addition to Honolulu, including Alexandria, VA, Anchorage, AK, Long Beach, Coronado, and Lompoc CA. Marilyn made a mean mac-n-cheese that everyone loved, except her. She was a die-hard Patriots fan who never forgave Bill Belichick for trading Danny Amendola. She liked her soda with ice and a straw and chips in her sandwiches. She swam as much as she could and worked to care for adults and children with special needs in the Lompoc school district and Lovarc. She was so very proud to be 100% Irish, Catholic, an American, and a Navy Captain's daughter.
To her family, she gave her whole heart, love, time, and attention and always believed we were smarter, better looking, and funnier than we really were. We were all her favorites.
Mom, we love you deeply, miss you terribly, and know you are standing in wonder as the trumpets of heaven welcome you.
A celebration of life will be scheduled following the pandemic, likely on one of her favorite beaches. In lieu of flowers, please call your loved ones who, because of Covid-19, have been shut in and alone for too long.
Obituaries Newsletter
Sign up to get the most recent local obituaries delivered to your inbox.