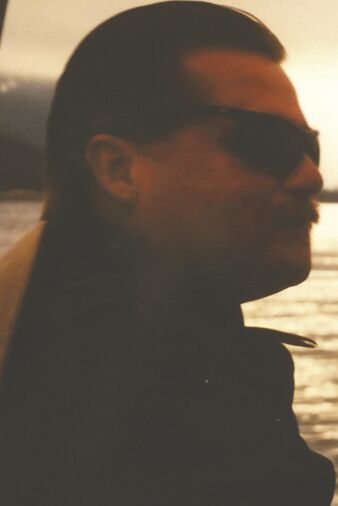 Mark D. Swartz, of Lompoc, California passed away on Saturday January 30, 2021, at the age of 59 due to Covid-19 complications. He took his last breath at 2:10 p.m. that afternoon which unbeknownst to his family was his LUSD radio number and seemed to be his tribute to his LUSD Family.
Mark was an Alumni of Lompoc High, Class of 79. He worked for the Lompoc Unified School District for 31 years as a Carpenter. He thoroughly enjoyed his work and was proud of his part in replacing the bleachers at Huyck Stadium. One of the highlights for Mark was BBQ-ing for his work family every month.
Before beginning his career with LUSD he was a hotshot with VAFB and took pride in the fact that he worked at Slick 6 hauling Missile components. Mark was essential in building the Gaviota Chevron Oil Refinery, especially the wall along the highway.
In his early years he enjoyed trap shooting, actually taking a few trophies. He was a member of the Moose Lodge, traveling pool league, the LUSD bowling league where he was known for his 7/10 split pick up. He loved taking weeklong horseback riding trips into the mountains and living out his dream of being a cowboy and he loved John Wayne anything.
Mark was an AVID Dallas Cowboy fan but would cheer for his wife's favorite, The Chiefs, whenever Dallas was not playing. As he got older he enjoyed deep sea fishing in Alaska with his Dad, Jim and his brother, Michael.
Mark developed a love for camping and would go every chance he got with his loving wife. Mark was a wonderful grandpa and he made great memories with and for his younger grand kids, Cienna and Adrian when they went camping and swimming together at Rancho Oso. His older grandkids remember well their trips to Lake Nacimiento and boating on the lake.
Mark could never do enough for his wife, his four daughters and four grandchildren. He loved showing his girls up with his roller-skating skills. When his daughters were cheerleading, he would help them practice their cheers. As a dedicated father he never missed a game for the girls or the grandchildren.
Mark was in charge of all the family special occasion BBQs and enjoyed every minute of it. He also lovingly put up his Mom's Christmas tree every year without fail and happily completed all the honey do lists from his wife, whom he loved more than anything.
Mark was many things to many people, but everything to us. He was a great husband, father, son, brother, uncle and friend. And he never met a stranger.
Mark is survived by his wife, Vicky, of 24 years; daughters: Tamera Hernandez (Anthony), Lynn Eden, Sonja Janos, Tina Linderholm; grandchildren: Anthony Janos, Jarrod Chavoya, Cienna Hernandez, Adrian Hernandez; mother, Sonja Swartz; brother, Michael Swartz; brothers-in-law: Tim Vaughn and Larry Vaughn (Mike); nieces: Christy Sorenson (Jeffrey) and Barbara Maxine Vaughn. He was preceded in death by his father, James Swartz, and a sister-in-law, Dawn Swartz.
There will a viewing at Starbuck-Lind Mortuary, 123 North A Street in Lompoc, on Friday February 5th from 3 to 7 p.m. Face masks and distancing will be required.
A Funeral Mass was celebrated outside at La Purisima Catholic Church main school parking lot located at South I and West Olive on Saturday, February 6th at 11 a.m. Interment will be at a later date.
There will be a celebration of life on Saturday, February 13th at 1 p.m. The location yet to be determined.
Obituaries Newsletter
Sign up to get the most recent local obituaries delivered to your inbox.