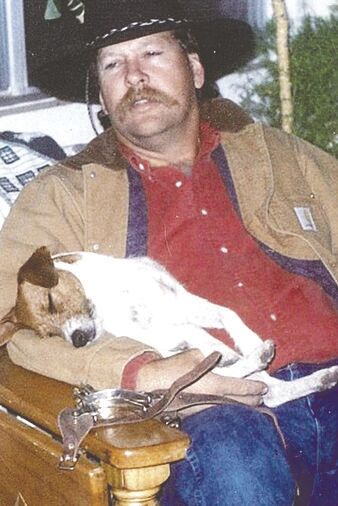 Matt Kizziah passed away Saturday, Feb. 6th at Cottage Hospital in Santa Barbara from complications after an accident at home. Matt is survived by his wife of 25 years, Jennifer (McVicar) Kizziah of Los Alamos, and his mother, Georgia (Peggy) Kizziah of Lompoc as well as many lifelong friends.
Matt was born March 22, 1957, in San Antonio Texas to Albert and Peggy Kizziah, joining his big sister Debbie who he adored. Matts father was in the Air Force and the family moved often during his childhood which gave him many unique and diverse experiences. His father was twice stationed in Germany, when Matt was five and when he was a teenager which had a memorable impact on his life. As a teenager, during his second stay in Germany Matt had the opportunity to travel to the Middle East and Egypt where he climbed the great pyramid!
Albert Kizziah's final station before retiring from the Air Force was at Vandenberg AFB. The family bought a home in Lompoc at that time. Matt attended Cabrillo High School and Lompoc High School. After graduating in 1975, he went to Allan Hancock College studying business courses.
Matt had many interests and passions during his life. He surfed, mountain biked and enjoyed many outdoor activities. At one point he owned a catamaran and loved to sail off the Gaviota Coast.
His biggest passion from an early age was music. Matt started playing guitar in grade school and was a member of different local bands during his life including The Bush Pilots and Long Rider being the most active and long-lasting (pun intended).
Matt also attended technical school and graduated in electronics. He went on to work in computers in Santa Barbara for Computer Doctor for many years. He later started his own business, Fast Packet Inc., in Santa Ynez Valley with his partner John Jones. After successfully building his own business he went on to work at Coast Hills Credit Union as an IT Administrator for over fifteen years.
As an adult and after meeting his wife Jennifer, Matt became interested in riding and training horses at which he excelled. Matt enjoyed trail riding and packing into the backcountry of Santa Barbara county on his paint horse, Smooch with his Jack Russell terrier, Missy (aka Spot). Twenty years ago, Matt and Jennifer bought acreage outside of Los Alamos to accommodate their small herd of horses. They built a unique strawbale insulated home. Matt did a lot of the work himself and was very proud and pleased with the results.
Matt was preceded in death by his father Albert Kizziah Jr, sister Debbie Randle, his grandparents, his beloved mare, Smooch, and best friend Spot. Funeral arrangements will be overseen by Starbuck-Lind Mortuary. Memorial services will be held at a later date. In lieu of flowers please make donations to your favorite charity.
Obituaries Newsletter
Sign up to get the most recent local obituaries delivered to your inbox.