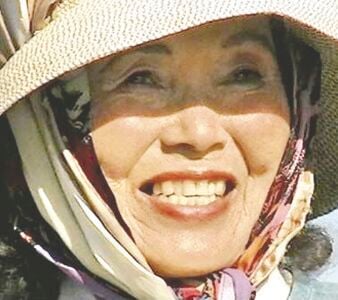 A long-time resident of Lompoc, Michiko Oldread was born to the Ito family in Hokkaido, Japan on June 1, 1930 as the fifth of nine children to her Father Sangaro Ito and Mother Saza Ito (nee Takahashi).
After growing up in Japan she worked at a parachute packing facility after World War 2 for the US Army and met and married William Francis Oldread Jr. of Holyoke, Massachusetts who was stationed in Japan as a member of the US Army in 1955. After moving to the United States in 1957, Michiko and her family moved to Lompoc in 1965 and into her College Avenue home in 1966, where she lived until her death on March 12, 2021.
Michiko was an accomplished seamstress who made custom clothing for many weddings, and formal affairs for people in Lompoc during the 1970's before she started working at the Village Inn in Vandenberg Village and the Danish Inn in Solvang, California until her retirement in 1995.
After her retirement she became a fixture at the Gaviota Pier where she fished two to three days a week until she was no longer able to make the drive from Lompoc by herself in 2010. She loved fishing and sharing her fishing knowledge and help, with everyone that she met on the pier. After 2010, she fished at least monthly at Gaviota with family who drove her there until the Gaviota pier closed in 2014, then she had to be driven to Goleta Pier to do her fishing up through this year as nothing would stop her from going fishing.
She is survived by her five children:
Charles (Chuck) Oldread (US Air Force Ret.) of Summerville, SC and his wife Noreen (Tomes) Oldread and their children Derek Oldread, Atrayu Oldread and Kyle Oldread and their families.
Francis (Frank) Oldread (US Navy, Vet.) of Bakersfield, CA and his wife Patti (Knisley) Oldread and their children Frank Oldread, Amanda Oldread, Jennifer Oldread and Kayla Roe and their families.
John Oldread (US Army Vet.) of Lompoc, CA and his wife Joelle (Stapleton) Oldread. Along with his children Tyler and Lindsay Oldread from his previous marriage to Sandra Jones (Sumter).
Thomas (Tom) Oldread (US Coast Guard Vet.) of San Jose, CA and his wife Tammy Czarnecki along with their children Trevor Oldread and Tristan Oldread.
Ann (Aiko) Oldread (Cal Poly SLO Alumnus) of Lompoc, CA
Along with her eleven grandchildren, she is survived by seven great grandchildren and her family in Japan including one older and three younger sisters and their extended families.
She is preceded in death by her ex-husband, her parents, two older brothers, one younger brother and an older sister.
Her greatest joys in life were her family, their service in the US Armed Forces and her love of living in the United States where she became a citizen in 1963.
In accordance with her final wishes there will be no service held but she will remain in Lompoc forever as this is the city that she loved and would never leave.
Obituaries Newsletter
Sign up to get the most recent local obituaries delivered to your inbox.