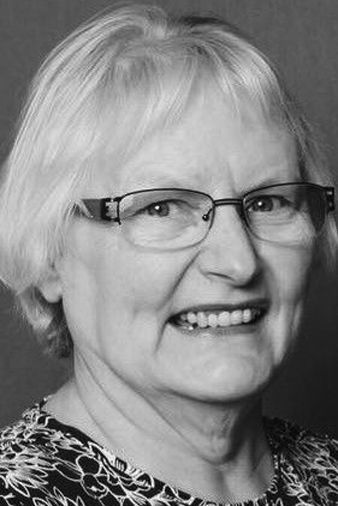 Ruth Ann Moran, 74, of Lompoc, California, passed away on October 21, 2018, at Cottage Hospital in Santa Barbara, California, from complications of a stroke and bacterial meningitis.
Ruth Ann was born on October 25, 1943, in Jeromesville, Ohio, to Nada and Ernest Schweyer. She had three older brothers - John, Carroll, and James - and enjoyed growing up with them on the family's dairy farm.
Ruth Ann graduated from Bethany College in West Virginia (1965) and earned her ministerial graduate degree from Yale Divinity School (1968). She was ordained at First Christian Church in Mansfield, Ohio, and then served as a missionary in Thailand for one year, teaching English to Thai students. She was delighted to return to Thailand with her family in 1992 to show them the place of that ministry and to reconnect with some of the students she had taught.
Ruth Ann married Geoff Moran on September 23, 1972. Together they traveled the world as part of Geoff's military service as a chaplain. They found many opportunities to serve together in ministry including co-pastoring churches in California, New Jersey, and Kansas.
Early in her career, Ruth Ann served in hospital and college chaplaincy positions, including Brooklyn Lutheran Medical Center and Yale Psychiatric Hospital. She was a professor and college chaplain at Alice Lloyd College in Pippa Passas, Kentucky. Ruth Ann and Geoff had two daughters during their ministries in Southern California. Ruth Ann also earned her Doctorate of Ministry from Claremont School of Theology (1981) during that time.
Over the years, she served as a pastor in both small and large congregations, including a yoked UCC and American Baptist congregation in New Jersey. Ruth Ann's unique gifts enabled her to find many avenues of ministry despite frequent relocations due to Geoff's military career. She served as the Director of Religious Education for Army chapels in half of West Germany. She reached out to troubled youth on military bases and worked with other military spouses on volunteer projects for the communities in which she lived. In the early 1990s, Ruth Ann served on the regional staff of the Disciples of Christ in Kansas and also served as an interim minister in Horton, Kansas. Ruth Ann co-pastored a large Disciples congregation in Pittsburg, Kansas, for nearly seven years. Most recently, Ruth Ann served as the interim minister for First Christian Church in Lompoc, and also worked as a supply preacher for Central Coast congregations including Peace Lutheran Church, Valley of the Flowers (UCC), and First Christian Church in Santa Barbara.
Ruth Ann enjoyed cooking, gardening, reading, and spending time with her family. She enjoyed theological and social discussions and would often bring her reading and varied experiences into these discussions. She especially loved to read and play games with her grandchildren.
Ruth Ann is survived by her husband of 46 years and daughters, Andra Moran (Stephen Daniel King) and Sarah Barthel (Paul Barthel); her grandchildren Ben, Noah, Andrew, and Calla; her brothers Carroll Schweyer and James Schweyer (Judy), and a host of loving nieces, nephews, and cousins. She was preceded in death by her beloved sister-in-law Karen Schweyer and eldest brother John Schweyer.
A Celebration of Life for Ruth Ann will be held on Wednesday, October 24, 2018, at 4 pm, at First Christian Church, 1517 W. College Ave., Lompoc, California, with Rev. Michael Cook presiding. In lieu of flowers, the family suggests donations to First Christian Church of Mansfield, Ohio (200 W. Third Street, Mansfield, OH 44902), where Ruth Ann grew up, was ordained, and was married, or to First Christian Church of Lompoc, California (1517 W. College Ave., Lompoc, CA 93436), where she was a member.
Obituaries Newsletter
Sign up to get the most recent local obituaries delievered to your inbox.