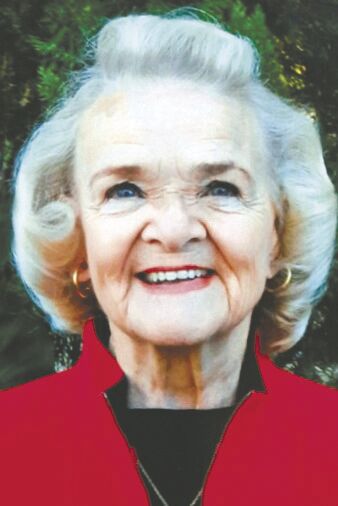 Vi was born on September 23, 1925, in Consort, Alberta, Canada, to Harriet (Bryant) and James Galloway. She attended kindergarten through high school in Lompoc, California. After graduating high school, she attended college in Westwood, California. Vi worked as a stenotypist at Johns Manville before marrying Warren J. Bottroff, who was serving in the US Navy, on May 31, 1945. They raised two children, James and Janice Bottroff, and as a young family lived on a ranch in Rogue River, Oregon, for 12 years before returning to Lompoc. Warren had worked in the lumber industry and they started Lompoc Lumber Company in 1958. Vi and Warren were self-employed and also had commercial leasing buildings in Lompoc. Both places of residence were near and dear to their hearts, having a wonderful community of friends in both Lompoc and Rogue River.
Vi married Leo McNett on November 11, 1991. They enjoyed their golden years overlooking Evans Creek and also their home in Lompoc. Vi had often collected the red colorful fall leaves of Oregon and sent them to her grandchildren in California.
Vi had a passion for music and playing cards. She could recite almost any Glenn Miller song and shared many wonderful memories tap dancing and working at The Lompoc Theatre as an usher during her high school years. Vi and Warren were active in the Cotillion Club. The ladies of the Sewing Club Vi belonged to turned out to be close, lifelong friends. Vi and Leo also enjoyed playing cards, and she taught most of her grandkids to play along. She had quite the competitive spirit. Vi was of the Christian faith and kept her favorite daily devotional book Jesus Calling close to her side.
Besides her parents, Violet was preceded in death by her four siblings; Ethel Williams, Beaulah Schultz, Walter Galloway, and William Galloway; her husbands Warren Bottroff and Leo McNett, and her son James Bottroff. She is survived by her daughter Janice Webb and daughter-in-law Carolyn Bottroff along with her dear, lifelong friend Don Marquart, her grandchildren Elizabeth Bottroff, Aaron (Emily) Webb, Alison (Nick) Delgadillo, Abby (Nolan) Leavens, Matthew (Cassandra) Bottroff, along with nine great-grandchildren.
Funeral service to be held Friday, November 20, 2020, at 11:30 am at Trinity Church of the Nazarene, 500 East North Avenue in Lompoc.
In lieu of flowers her family suggests memorial donations to Lompoc Valley Historical Society, PO Box 88, Lompoc, CA 93438, or the Lompoc Theatre Project, 740 North H St., #238, Lompoc, CA 93436.
Obituaries Newsletter
Sign up to get the most recent local obituaries delivered to your inbox.