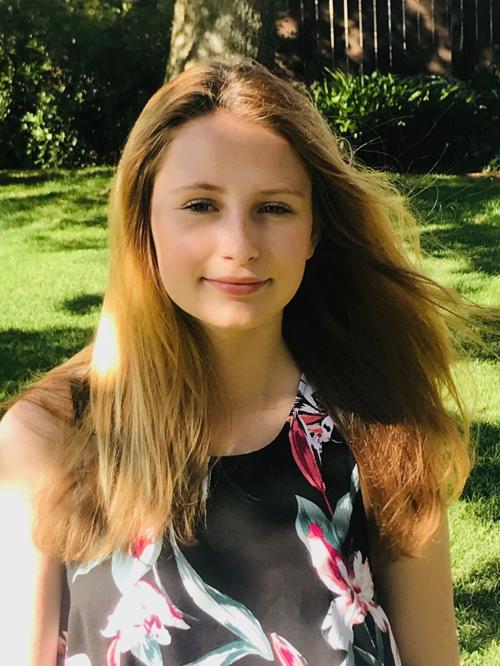 It has become glaringly obvious, especially recently, that the younger generations are important to the future. They have the power to influence the future greatly, and because of this, I decided to interview some of the younger members of my Lucky Clover 4-H Club.
Lately, I have noticed that our club has become increasingly dominated by younger members, which I think is great. Like I have said in the past, 4-H is a wonderful organization that teaches skills kids will use later in life.
When I joined 4-H at a young age and began as a mini-member, I learned a multitude of helpful skills that I now find myself using on a daily basis.
For example, I use my public speaking skills that I acquired in 4-H when I'm at school and have to give a presentation. And I also use my leadership skills to lead a group if we have to complete a group project. I can only imagine how much these skills will help me in college and my future career path.
So, without further ado, let's hear what some of the younger generation's opinions on 4-H.
First, I interviewed Myah Dunn, who is a new addition to our club. She joined in September and is 11 years old. She goes to Santa Ynez Elementary School and is in the sixth grade. I was interested in knowing what she liked best about 4-H and she told me, "Getting to help others and, hopefully, soon working with animals."
I know one thing is for sure, we all miss being together as a community and sharing our love for animals.
Personally, I am so upset that some of our new and younger members have not been able to experience 4-H like I have experienced it in the past. Walking into the doors of the Grange, where we host our meetings, to be met with cheerful hellos from everyone in our club was always the highlight of my day.
Speaking about how much our 4-H club has changed since the pandemic, I went on to ask another member of our club how she felt about what's been going on this year.
The member I interviewed is Kyla Kekuewa, who has been in 4-H for three years and is 7 years old. She explained, "It makes me sad this year that we aren't able to do fun things like parades and shows and meetings."
I wholeheartedly agree with her, because it really didn't feel like Christmas this year when there was no Gingerbread Wonderland, which was an event that Lucky Clover volunteered with to raise money for arts outreach and St. Mark's Preschool. And it didn't feel like summer when we couldn't host the Fourth of July Bounce House fundraiser for our club.
Koyie, Kylah's brother, who is 11 years old and has been in 4-H for five years, agreed with his sister.
"This year has been hard, not the best," Koyie said. "Not the same at all."
Again, I sadly agree.
Nevertheless, there are still many good memories and parts of 4-H that we can hold close to our hearts while we wait until we can once again take part in those fun club activities.
When I asked Ainsley Haws, who has been in 4-H for six years but has "been going with older brothers and sister since (she) was a baby," what her favorite 4-H memory is, she said, "When I was a mini-member, my bantam chicken named Clover won Best in Show at fair and I won a belt buckle. I was surprised to win because my brother won the year before."
The County Fair was always the highlight of everyone's year, which isn't very surprising, since no one ever leaves the fair without having a great time.
When I asked Kyla what her favorite part of 4-H was, she responded, "My favorite part of 4-H is having my bunnies and going to shows." And on the subject of her favorite project in 4-H, she said, "I really like the robotics project. We played with hex bugs, aqua bots and got to build things."
In comparison, her brother, Koyie, said that he "really likes fair and showing pigs." When we once again can meet in person, he said that he is excited for our end-of-year barbecue and going to the County Fair again someday.
Those are two very exciting things to be looking forward to, and I'm definitely ready for all the good food that we always have at the end-of-the-year barbecue!
For people who may be thinking of joining 4-H sometime in the future, rest assured that if you do make the decision to become a member, then it will be a decision well made.
Even now, when we aren't able to get together like we usually have, we are still helping and contributing to our community, and we're always looking for ways we can help.
If you're looking for a kind, compassionate and hardworking group of new friends, then we will always be here. I hope everyone is staying safe and healthy, and Lucky Clover 4-H wishes you a great year of love and laughter.
I have a strong feeling that I'll continue distance learning for a good portion of next semester as well. Because of this, I thought it might be beneficial to share with you some things that I learned about myself this past semester through online schooling.
When I think of a "spark," I think of passion. I think of doing something I love so much that it creates a warmth in my entire body, and makes me want to jump out of bed in the morning and get right to it.
Guest Commentary - Lately, I have been thinking a lot about my future. Whenever I do, there is a pit in my stomach when I consider just how much I have ahead of me. College? A career? I have no idea where I want to go to college or what I want to do with the rest of my life.
Elle Arvesen is the elected Lucky Clover 4-H Club reporter, a local high schooler, and SYV News Teen Life columnist.
Be the first to know
Get local news delivered to your inbox!