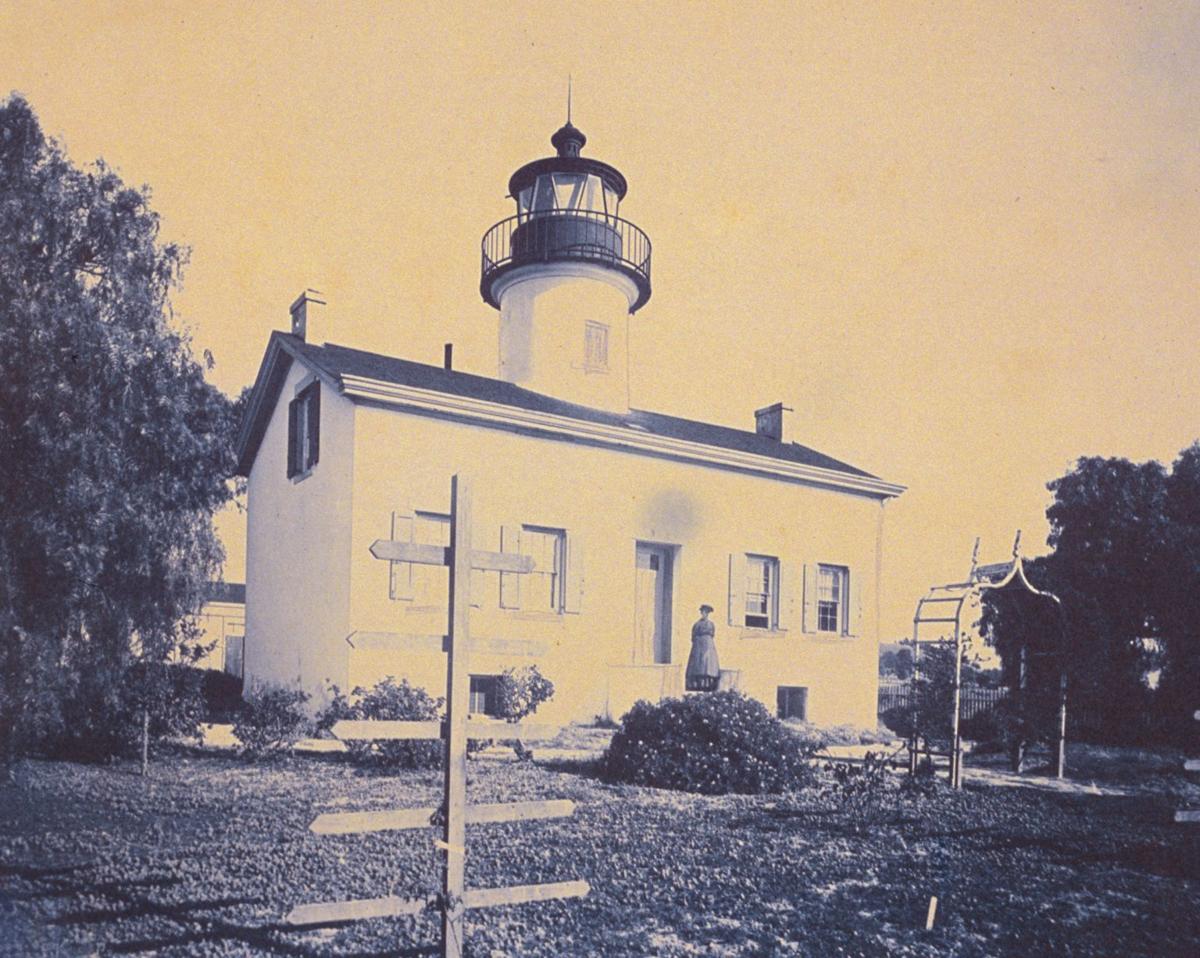 Julia Williams climbed 40 steps to light the lamp of Santa Barbara's lighthouse every night for 40 years, save the two nights she took off for her children's weddings.
The Williams family arrived in Santa Barbara in March 1856. Albert Johnson Williams had come West during the Gold Rush, settling in San Francisco where Julia and four-year-old daughter Helen joined him in 1853. Daughter Ada was born in 1854.
Julia was pregnant when they moved into the newly built lighthouse in 1856, and son Bion was born one month before Dec. 1 when Albert first lit its fourth order Fresnel lens, casting a fixed red light 12 miles into the Santa Barbara Channel.
Fresnel lenses, named for the French physicist, are beehive shaped with concentric glass prisms around an oil lantern. Seven "orders" (classes) are determined by the distance of the flame to the lens.
The Santa Barbara Maritime Museum displays a first order (largest) Fresnel lens from the Point Conception's lighthouse, 50 miles to the north, which was first lit just 10 months before its smaller Santa Barbara cousin. Both lenses contain hundreds of hand-polished prisms that survived the perilous journey from France to California.
There were no roads to the "remote" lighthouse, then located three miles from downtown Santa Barbara, and few neighbors. Only eight years had passed since California had become an American territory, and only six since statehood. Santa Barbara was still basically a Spanish-influenced small town.
The Cape Cod-style lighthouse was one mile east of Arroyo Burro (Hendry's Beach) near current day La Mesa Park. The tower projected from the roof of a one-and-a-half story keeper's house, which housed a family that grew to seven.
Albert lasted only four years as keeper, and moved the family to a nearby ranch. After several keepers came and went, the job was again offered to Albert. He declined, but Julia accepted and began her 40-year tenure in 1865.
A woman keeper with five children was unusual, and the lighthouse was second only to the Old Mission as a tourist attraction. Albert passed away in 1882, and Julia continued to gain attention. In 1892, the LA Times wrote that her hands are "shriveled and worn, the once brown hair has grown gray and the expressive face is deeply seamed with the lines of care, telling more plainly than words that life has been attuned to a minor key; but the eyes tell of courage and fidelity and a calm faith in the Supreme goodness."
In May 1905, Julia fell and broke her hip. After six months at Cottage Hospital, it was clear her keeper days were over. Another woman, Caroline Morse, took on the job, but was replaced by a man in 1911, the year Julia Williams passed away.
The lighthouse collapsed in the 1925 earthquake, and the Fresnel lens was shattered. An automated light replaced it, which required no keeper.
Sources include Santa Barbara Maritime Museum docent John Hill's "Curator's Log," and Neal Graffy's "Historic Santa Barbara."
Be the first to know
Get local news delivered to your inbox!