Valentine's Day is almost here, and if this is the first you are hearing about it you are in trouble. We went through our digital archives for both the Lompoc Record and the Santa Maria Times to find some sweet and touching (or honest) stories, photos or events that bring the reality of Valentine's Day home.
And if you're giving out gifts, might we interest you in sharing the gift of knowledge and a deeper, more fulfilling connection with the local community? Check out all of the features of a News+ Membership right here. 
If you are a platinum level member you get 10 one month digital memberships to share with friends, family or your someone special!
Why don't we start out with a little truth, maybe some salty truth, but timeless truth indeed.  This story is from the Feb. 13, 1965 edition of the Santa Maria Times.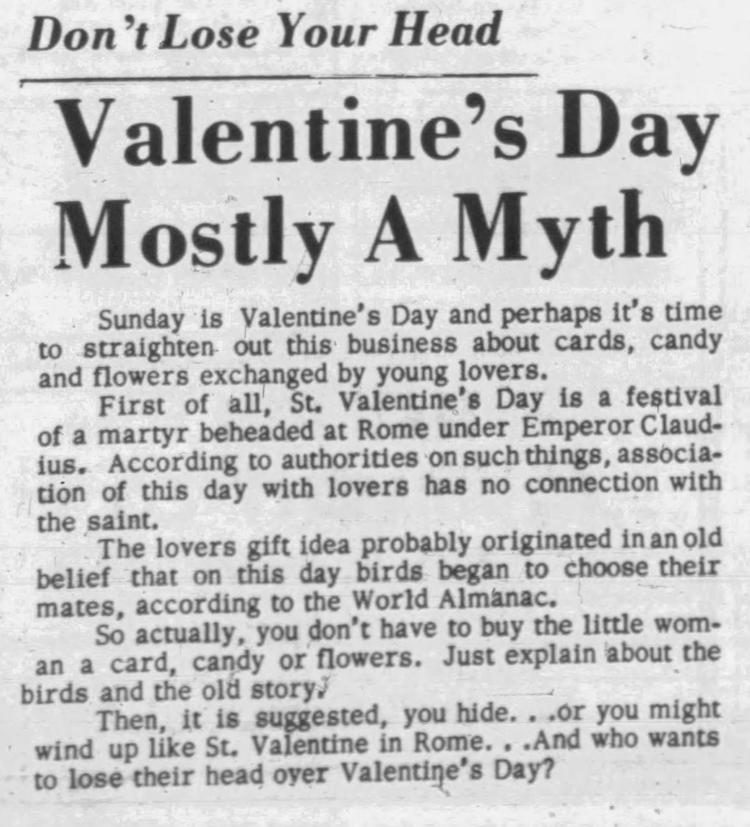 'Valentine's Day Mostly A Myth
Sunday is Valentine's Day and perhaps it's time to straighten out this business about card, candy and flowers exchanged by young lovers.
First of all, St. Valentine's Day is a festival of a martyr beheaded in Rome under Emperor Claudius. According to authorities on such things, association of the day with lovers has no connection with the saint.
The lovers gift idea probably originated in an old belief that on this day birds began to choose their mates, according to the World Almanac.
So actually, you don't have to buy the little woman a card, candy or flowers. Just explain about the birds and the old story.
Then, it is suggested, you hide ... or you might wind up like St. Valentine in Rome ... and who wants to lose their head over Valentine's Day?'
On the other end of the spectrum is this sweet wire story that was published in the Feb. 14, 1970 edition of the Lompoc Record.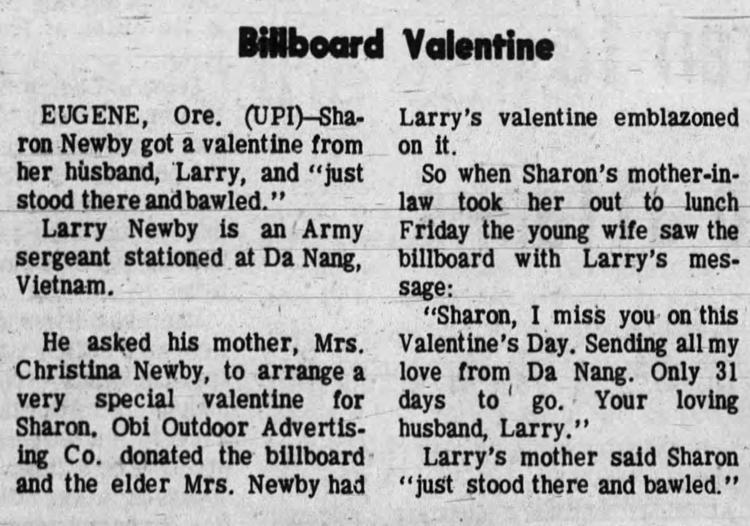 Billboard Valentine
Eugene, Ore. (UPI) - Sharron Newby got a valentine from her husband, Larry and "just stood there and bawled."
Larry Newby is an Army sergeant stationed at Da Nang, Vietnam.
He asked his mother, Mrs. Christina Newby, to arrange a very special valentine for Sharon. Obi Outdoor Advertising Co. donated the billboard and the elder Mrs. Newby had Larry's valentine emblazoned on it. 
This one from the Feb. 14, 1970 edition of the Santa Maria Times is not only touching, it is scientifically heart warming.
You have free articles remaining.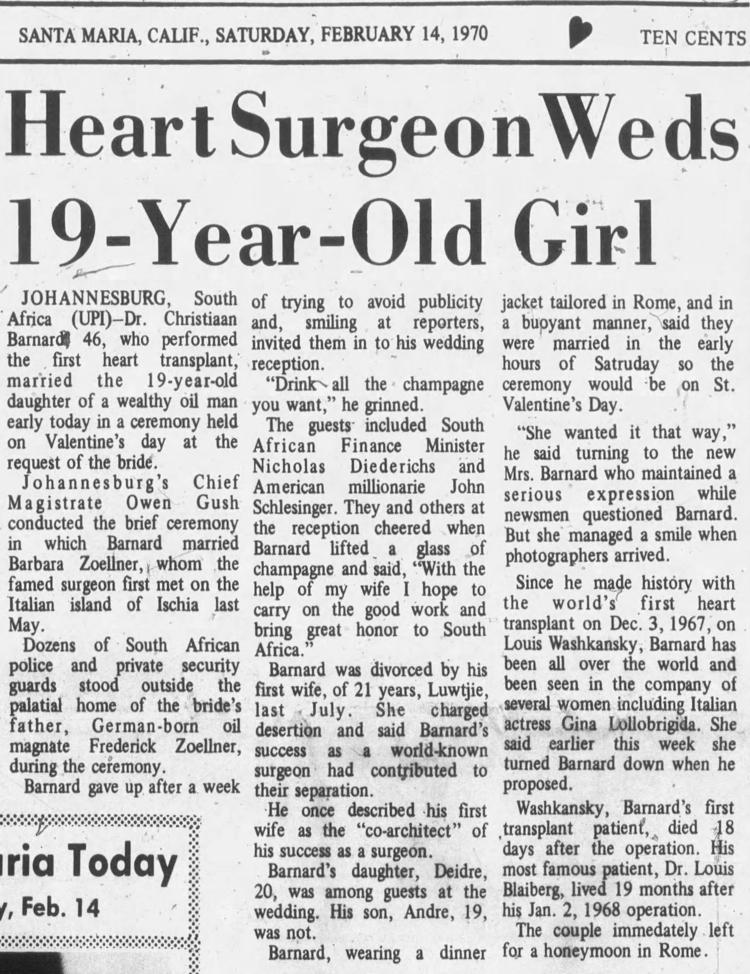 Just a little context to go along with the end of that story, Barbara Zoellner would live until 1998 when she died of breast cancer.
Young love highlighted in the pages of the Feb. 14, 1963 edition of the Lompoc Record.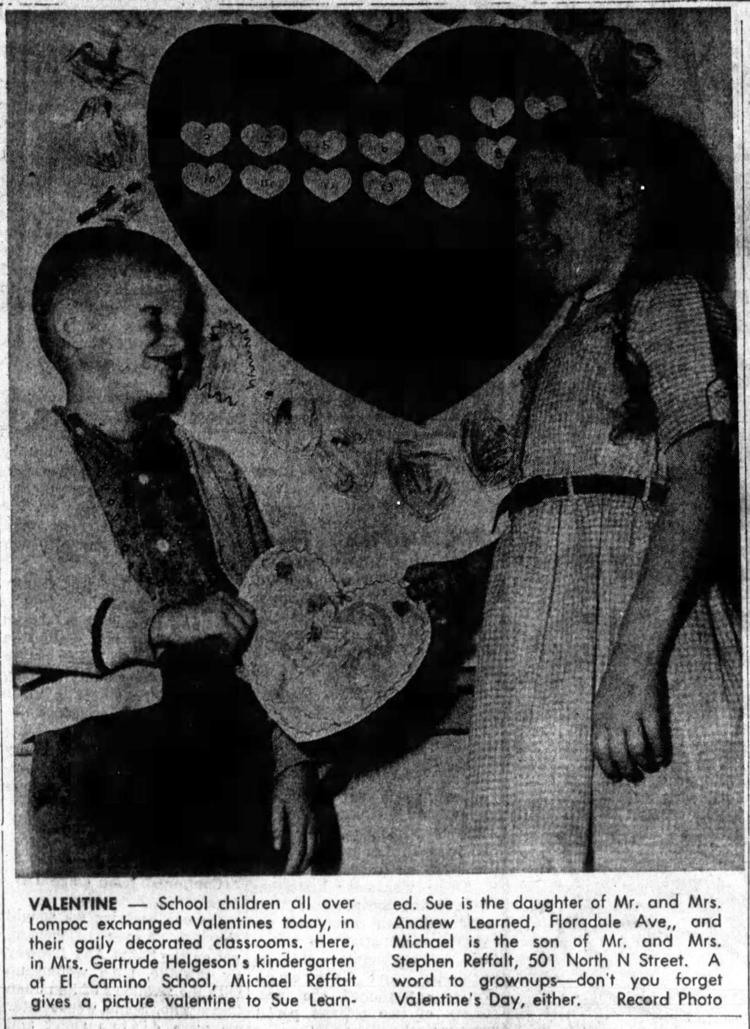 Sorry about the color on this one. 
'School children all over Lompoc exchanged valentines today, in their gaily decorated classrooms. Here, in Mrs. Gertrude Helgeson's kindergarten at El Camino School, Michael Reffalt gives a picture valentine to Sue Learned.
Sue is the daughter of Mr. and Mrs. Andrew Learned, Floradale Ave., and Michael is the son of Mr. and Mrs. Stephen Reffalt, 501 North N Street.
A word to grownups -  don't you forget Valentine's Day either. 
A 'Mae Day' celebration to be held at St. Patrick's Hall? Feb. 13, 1969 edition of the Santa Maria Times: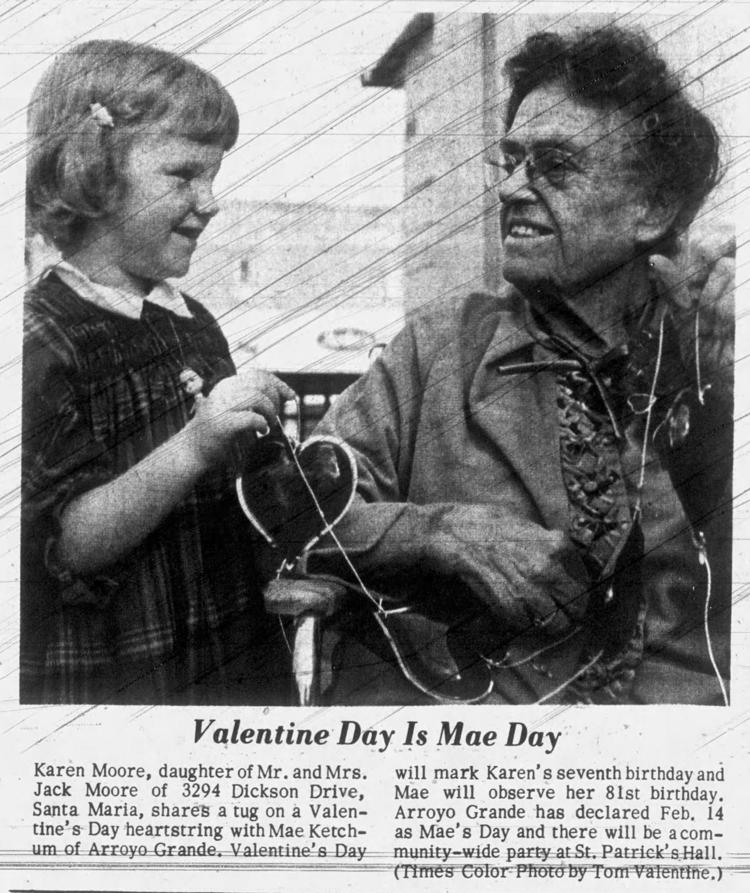 Valentine Day is Mae Day
Karen Morre, daughter of Mr. and Mrs. Jack Morre of 3294 Dickerson Drive, Santa Maria shares a tug on a Valentine's Day heartstring with Mae Ketchum of Arroyo Grande. 
Valentine's Day will mark Karen's seventh birthday and Mae will observe her 81st birthday.
Arroyo Grande has declared Feb. 14 as Mae's Day and there will be a community-wide party at St. Patrick's Hall.
- Did you see the photographer's name? Wow, this story is a Bermuda Triangle of coincidental names. 
Let's finish this off with a look at a few Valentine's Day ads from the Santa Maria Times.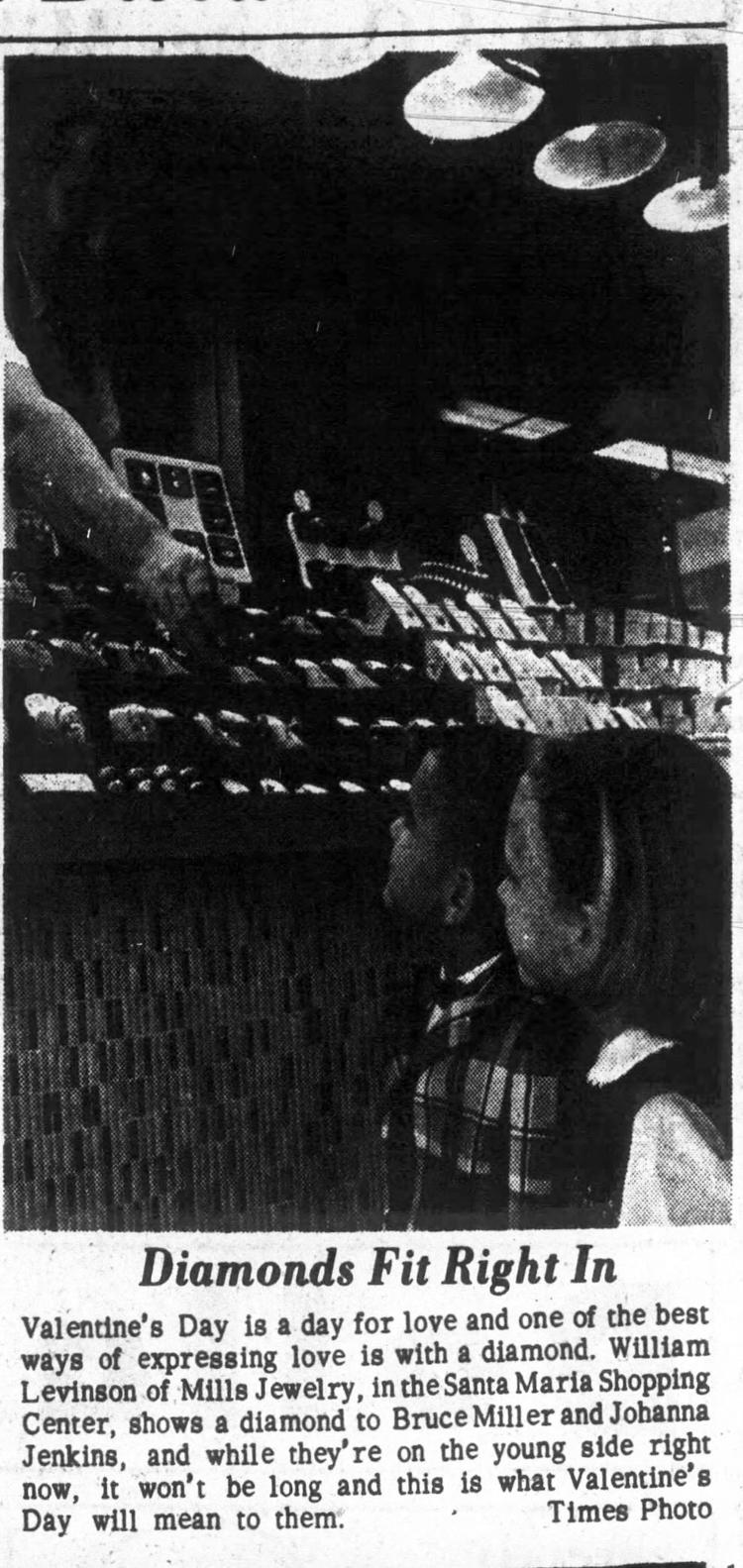 Every Thursday, editors from the Santa Maria Times and the Lompoc Record will reach into the newspapers' 100+ years of digital archives to offer you "Throwback Thursday," reminiscing about our rich history and the Santa Maria and Lompoc valleys. To access this memory and more, subscribe to our digital archives at SantaMariaTimes.com/archives or LompocRecord.com/archives.