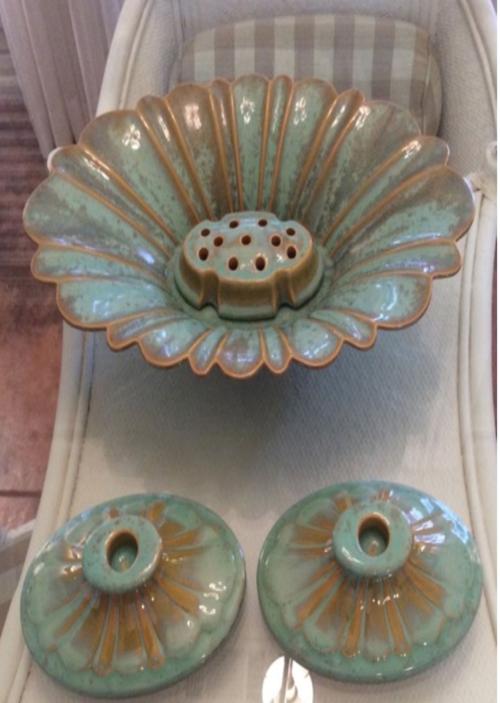 Dear Helaine and Joe:
This Fulper pottery set was given to my mother around 1950. It has "Fulper" stamped on the bottom of each piece other than the flower frog. Is it still considered to be collectible?
Thank you,
E.S.
Dear E.S.:
To find the beginnings of Fulper Pottery, it is necessary to go back to 1805, when drainage tiles began being made in Flemington, New Jersey. Some sources say this is the beginning date for the company that would become known as Fulper.
Other sources say the company originated when Samuel Hill arrived in Flemington from New Brunswick, New Jersey, in 1814 and began making drainage tiles like some of his neighbors. Hill died in 1858, and the pottery was purchased by one of Hill's workers, Abraham Fulper.
Fulper branched out a bit and began serving the community's needs by making earthenware and stoneware objects that every mid-19th century household needed to go about its daily business. They made canning jars, vinegar jugs, beer mugs, bottles, butter churns and drinking fountains for chickens and other poultry.
This was sufficient for the rest of the 19th century. But in 1910, when William H. Fulper II (grandson of Abraham Fulper) was in charge of the pottery, a ceramics engineer named J. Martin Stangl was hired, and fine art pottery began to be made. Stangl was in charge of this ambitious program and was so successful that the company won several awards at the 1915 Panama Pacific International Exposition held in San Francisco.
During World War I, when German dolls' heads were not available in the American market, Fulper filled the void and made heads that are now highly desirable to many doll collectors. By the 1920s, Fulper was producing beautiful art lines, but in September 1929 the factory burned to the ground. Operations were largely transferred to the Fulper plant in Trenton, New Jersey, (formerly Anchor Pottery) and the company was renamed Stangl Pottery.
Limited production of art lines continued in Flemington under the Fulper name until 1935 when production ceased. Therefore, the lovely console set given to E.S.' mother around 1950 was probably made in the time period after the end of World War I but before 1935, and this leads us to say that the set is most likely to be circa 1925.
We think the set is in a color called Flemington Green (it is difficult to tell for sure from the photos), and there may be a crystalline component in the glaze that we cannot see (it will look a bit like snowflakes). Moving on with the E.S.' main question: Yes, Fulper pottery is still very collectible, but like most other American art potteries, the prices have fallen in the last few years.
The console bowl should be oval and about 16 1/2 by 10 inches while the candlesticks are probably about 7 1/4 inches across. The retail value of this set is now in the $225 to $275 range.
Helaine Fendelman and Joe Rosson have written a number of books on antiques. Do you have an item you'd like to know more about? Contact them at Joe Rosson, 2504 Seymour Ave., Knoxville TN 37917, or email them at treasures@knology.net. If you'd like your question to be considered for their column, please include a high-resolution photo of the subject, which must be in focus, with your inquiry.
Sprout new ideas
With our home & garden newsletter!