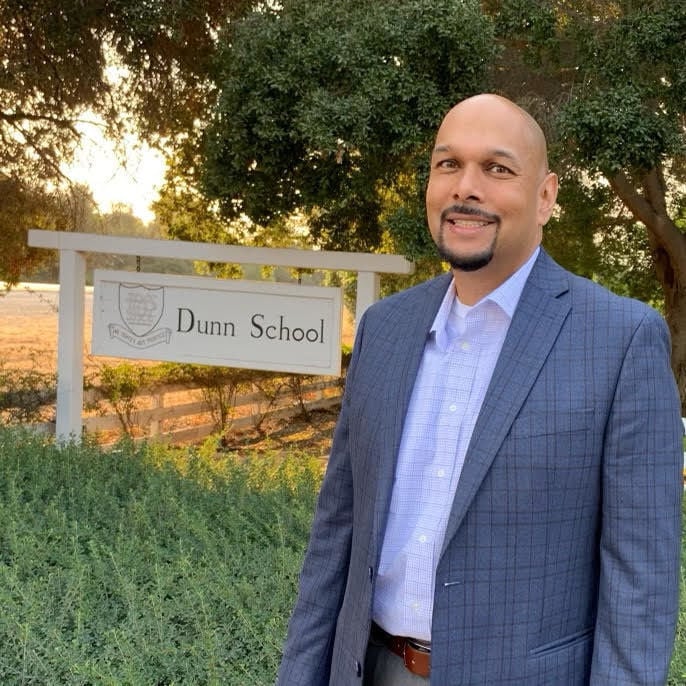 Dunn School has announced that effective July 1, Kalyan Balaven will succeed 13-year Head of School Mike Beck, who will finish the current school year and work to assure a smooth transition for his successor. 
Balaven, who holds a bachelor's in history from UC Berkeley and a doctorate from UC Davis, has served in various capacities in education that include a 13-year career at The Athenian School in Danville, where he has held the role of humanities instructor, dean of equity and inclusion, acting head of school, and currently, director of teaching and learning.
He also is responsible for creating the Inclusion Dashboard Consortium, a group of over 85 schools, recognized by the National Association of Independent Schools, that are building inclusion dashboards designed by him.
Born in India and raised in California, Balaven practiced law for a brief time before finding his calling in education.
The game was tied 1-1 at the break with the Earwigs scoring first and the Giants responding with a goal of their own. The Earwigs then erupted for three goals in the second half.
"I became an educator to help prepare students to do good in the world, and I'm overjoyed in carrying on this work in service to the mission at Dunn, where the journey of a student is as valued as the end result and the end is articulated as 'responsible leadership in society,'" Balaven said.
Acting chairman of Dunn School Board of Trustees, Jay Conger, explained that the school's Head Search Committee began its one-year recruiting process in search for "the strongest and best-matched candidate" from across the country.
After an extensive due diligence process that included students, faculty, staff, parents and alumni, Conger said, between three final candidates and recommended by unanimous vote, Balaven was recognized as the best choice for reasons of demonstrated hands-on and leadership experience, philosophical perspective, alignment with Dunn's mission and "contagious positive energy that will guide Dunn School into its future as the leader in whole student education."
Balaven will be joined on campus by his wife Fatemeh, an elementary school teacher, and his two children, Husna, 11, and son Matin, 7.
A 13-year-old Buellton girl on Tuesday handed over the final batch of almost 400 washable masks she made for Santa Barbara County Fire Departm…
The Santa Ynez Band of Chumash Indians Foundation has delivered $100,000 in donations to Santa Ynez Valley schools to help them meet high-tech…
St. Louis de Montfort Catholic School came back to life Wednesday morning after a seven-month dormancy due to the coronavirus outbreak, as car…
Lisa André covers local news and lifestyles for Santa Ynez Valley News. 
Be the first to know
Get local news delivered to your inbox!