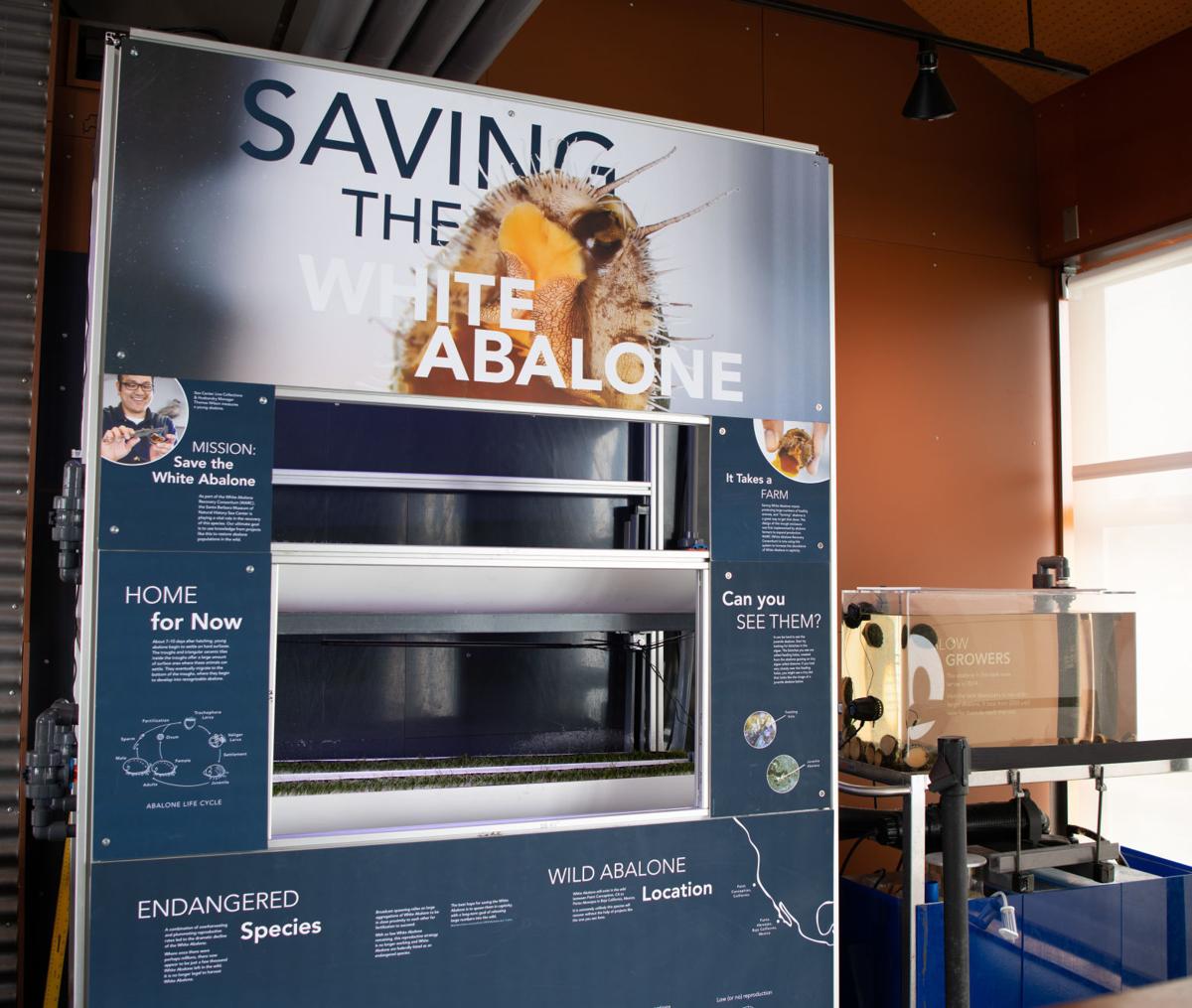 The new display will educate the public by raising awareness of white abalones' endangered status and explain how human activities can harm — and help — the species.
According to the Sea Center, where there were once millions, only several thousand white abalone remain.
In 2001 due to overharvesting by humans, white abalone became the first marine invertebrates to be listed as endangered in the United States.
As a member of the White Abalone Restoration Consortium (WARC) for the past 13 years, the Sea Center has been part of coordinated induced spawning events, aiming to increase the number of white abalone in captivity and release them in large numbers back into their native habitat.
Following several successes, in 2014 the Sea Center received a cohort of young snails to rear, the progeny of captive snails.
The Sea Center says that if all goes to plan, it will soon host a third generation of microscopic white abalone larvae, raised in trough enclosures like those used by commercial abalone farmers.
This most recent addition gives the Sea Center a unique opportunity to illustrate the abalone life cycle and explain conservation efforts to the public.
Now through Sept. 2 Southern California museums are inviting families to explore "Creature Crawl" — animal-themed activities offering both rea…
According to the Sea Center, fostering genetic diversity among a dwindling population is a major challenge for the WARC, which has a limited number of animals to crossbreed due to the rarity of the species and restrictions on collecting wild animals, even for conservation purposes.
The abalone larvae in the Sea Center's new installation are the result of a cross between a wild female that conservationists were recently permitted to collect and a captive-bred male.
The installation can be viewed on the second floor of the Sea Center daily from 10 a.m. to 5 p.m.
In celebration of World Oceans Day, the Santa Barbara Museum of Natural History Sea Center on Stearns Wharf is offering free admission to visi…
The generosity of an anonymous donor just put the Department of Invertebrate Zoology at the Santa Barbara Museum of Natural History's Collections & Research Center (CRC) on the cutting edge of science. The department reports they recently swapped out their older Zeiss EVO 40XVP scanning electron microscope (SEM) model that had been in use since 2005, for a new high performance Zeiss EVO 10 LS — thanks to the generosity of an anonymous donor and a substantial discount offered by technology company Zeiss.
Lisa André covers Valley Life for Santa Ynez Valley News. 
Be the first to know
Get local news delivered to your inbox!