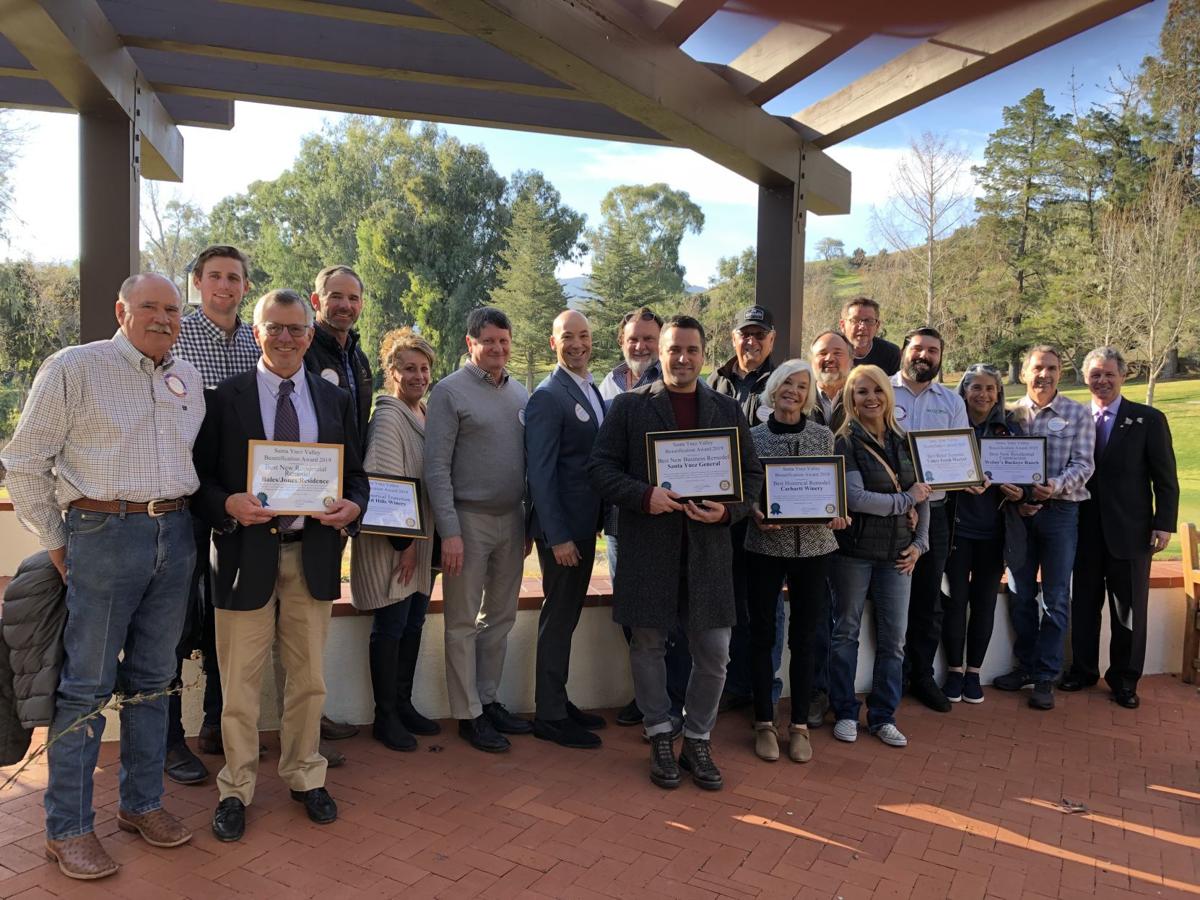 The Solvang Rotary Club held its annual Santa Ynez Valley Beautification Awards program on Feb. 18 at the Alisal Ranch Grill. Owners, managers and representatives of outstanding local commercial, residential and public properties that had been built, remodeled or renovated during the 2019 calendar year, were honored.
A large number were nominated and of those, seven were awarded.
Winners from each of the properties described their prize-winning projects to the audience and credited the hard-working contractors, designers and craftsmen responsible.
Those that were awarded, appearing left to right in the photo are: 
Best Residential Remodel, Solvang: Homeowners Dennis Bales and Ron Jones with builder Jim Elliott of Elliott & Pohls Construction, and Interior Designer Michelle Neels
Best Historical Transition, Santa Ynez: Owner of Folded Hills Winery, Andy Busch (Kim Busch not present) with son Will Busch. Not able to attend was the builder Hall Construction.
Best New Business Remodel, Santa Ynez: Owners of Santa Ynez General, Pearson Turnbull and Spencer Turnbull
Best Historical Renovation, Los Olivos: Owners of Carhartt Vineyard and Tasting Room, Mike and Brooke Carhartt with builder Matt Drammer
Best Retail Remodel, Solvang: Owners of Valley Fresh Market, Greg and Teresa King with Assistant Store Director Eli Weber, and contractor James Brown
Best New Residential Construction, Santa Ynez: Homeowners of Weber's Buckeye Ranch, Rick and Susan Weber with builder Mark Hemming
(Not present) Best Commercial Remodel, Solvang: Crawford Family Wines and Cailloux Cheese Shop.
For more information about the Solvang Rotary Club, visit solvangrotary.com
Applications are open for 2020 Solvang Danish Days Maid. The application deadline is March 15.
It was a packed house at the Solvang Senior Center on Jan. 8, as 75 members enjoyed the first dinner night of the new year hosted by Solvang Rotary.
Lisa André covers Valley Life for Santa Ynez Valley News. 
Be the first to know
Get local news delivered to your inbox!