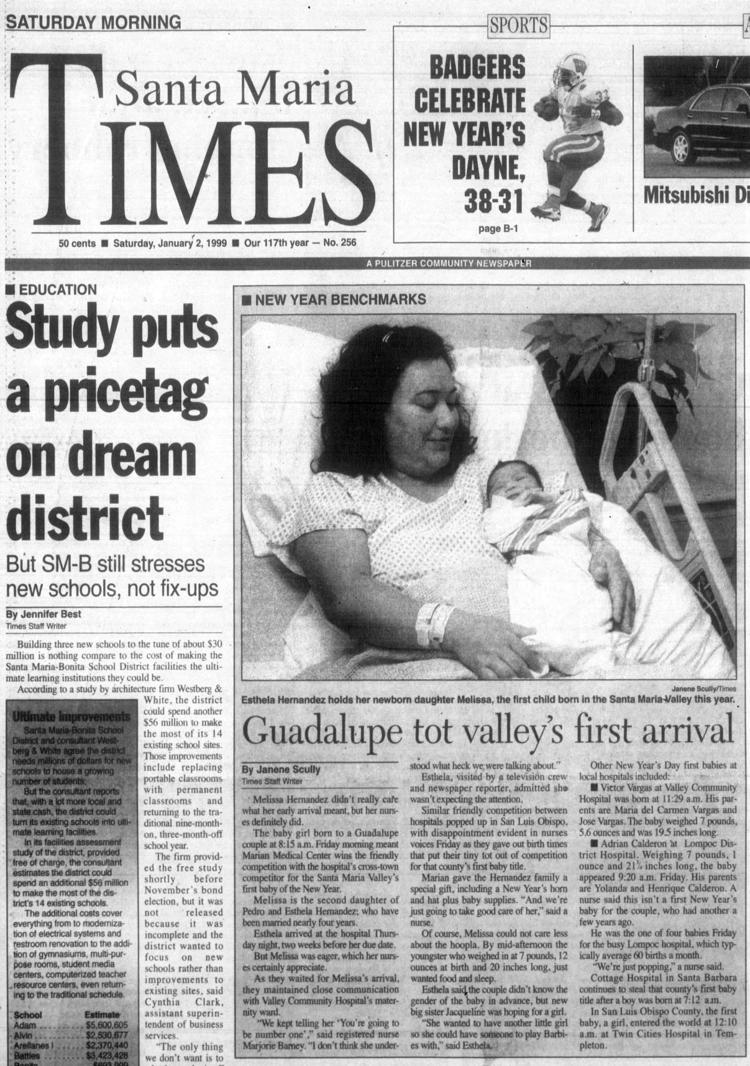 In celebration of the arrival of 2021, we wanted to make sure you saw our stories about the first babies of the year and give you a look back at previous first newborns.
Here is a listing from January 2, 1999 highlighting the arrival of the Santa Maria Valley's  first newborn and talks about the friendly competition between the two area hospitals, Marian Regional Medical Center and Valley Community Hospital. 
Melissa Hernandez didn't really care what her early arrival meant, but her nurses definitely did.  
"We kept telling her 'You're going to be number one'," said registered nurse Marjorie Barney. "I don't think she understood what the heck we were talking about." 
Similar friendly competition between hospitals popped up in San Luis Obispo, with disappointment evident in nurses voices Friday as they gave out birth times that put their tiny tot out of competition for that county's first baby title. 
Marian gave the Hernandez family (Pedro and Esther Hernandez) a special gift including a New Year's horn and hat plus baby supplies. 
Of course, Melissa county not care less about the hoopla. By mid afternoon the youngster who weighed in at 7 pound, 12 ounces at birth and 20 inches long, just wanted food and sleep.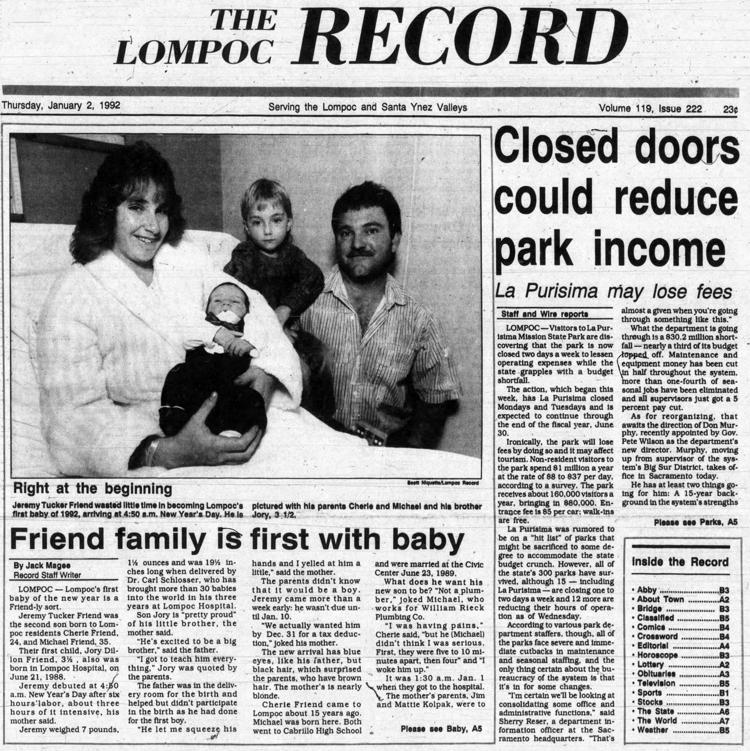 Jeremy Tucker Friend was the second son born to Lompoc resident Cherie Friend, 24 and Michael Friend, 35. 
The parents didn't know that [their baby] would be a boy. Jeremy came more than a week early: he wasn't due until Jan. 10.
"We actually wanted him by Dec 31 for a tax deduction," joked his mother.
Cherie Friend came to Lompoc about 15 years ago. Michael was born here. Both went to Cabrillo High School and were married at the Civic Center June 23, 1989.
What does he want his son to be? "Not a plumber," joked Michael, who works for William Rieck Plumbing Co."
Every Thursday, our  editors will reach into our newspapers' 100-years of digital archives to offer you "Throwback Thursday," reminiscing about the rich history of the Santa Maria and Lompoc Valleys.
To access this memory and more, subscribe to our digital archives at SantaMariaTimes.com/archives or LompocRecord.com/archives.
Jason Anderson is the Digital Producer for the Santa Maria Times. He can be reached at 805-739-2213
Be the first to know
Get local news delivered to your inbox!