As Lompoc Police Officer Mauricio Calderon walked up to a seemingly nondescript patch of pavement sandwiched between industrial buildings a few blocks from downtown on Wednesday, he kept his eyes alert for activity.
Calderon, who goes by the nickname Maui, moved toward heavy foliage and approached a chain-link fence that surrounded, among other things, a pair of large cellphone towers.
"It looks like nothing's there," he said, motioning to the back of the lot near the fencing, "but when you go past the trees, it's pretty elaborate."
The "it" in this case was a makeshift campsite and storage area that had been set up by one of Lompoc's homeless residents. The camp was empty at the time, but a note was attached to the fence indicating that the writer was out looking for a new site and would soon return to collect his or her belongings.
Finding those temporary encampments in the city — many of them hidden in plain sight — and in the Santa Ynez riverbed that runs along the city's eastern and northern borders is Calderon's new full-time job. The 10-year Lompoc Police veteran was reassigned last month as the department's homeless liaison, a position through which he is tasked with locating and extending a helping hand — by offering resources or referrals to social services — to local homeless residents as the city moves toward a planned cleanup of the riverbed.
Although no firm date has been established for that full-scale cleanup, police leaders remain steadfast that it will be coming soon.
"My role, to a certain extent, isn't really enforcement," Calderon said Wednesday as he drove around town to provide outreach. "My role is to show a lot of compassion for people and to do as much as I can to help them out. If you don't have that or feel that, then it's not gonna work.
"If you don't really want to help out somebody," he added, "they're gonna know, and it's not gonna work."
New approach
The decision to create a full-time homeless liaison position was made shortly after Lompoc Police Chief Pat Walsh got the OK from the City Council in February to begin looking into cleaning out the riverbed, which has long been home to many of those in the Lompoc Valley who would otherwise be living on the streets.
The total number of homeless people living in the Lompoc area is estimated to be anywhere from 100 to 180, according to people involved in outreach efforts. Calderon intends to meet with as many of them as possible to help city leaders gain a better understanding of what services are needed as they prepare for the large-scale cleanup.
In his first full month in his new position, Calderon estimates that he's made contact with at least 60 different individuals. Most of them, he said, have been receptive to what he has to say.
"They're just trying to survive, to be honest with you," he said.
Calderon noted that he typically performs outreach with representatives of partner organizations that are able to provide resources and services. He specifically pointed to Planting a Seed, a support organization founded by Lompoc resident Shawndel Malcolm, and AmeriCorps, a national service corporation, as being particularly involved.
"They're actually the ones that I would say pioneered this," Calderon said. "They've been doing this for years, so I'm pretty much hopping on their back and getting a lot of feedback from them. They have a lot of contacts and resources that I'm starting to use to my benefit, but without them I don't think this program would be beneficial."
Direct contact
During Wednesday afternoon's outreach, Calderon encountered several homeless people who were already familiar with him, either from past encounters or from hearing about him from others in the homeless community.
As Calderon approached another makeshift campsite near an empty commercial building off North H Street, 48-year-old Chuck Lussier poked his head out and then emerged from underneath a series of tarps he had affixed to some fencing.
Lussier, who seemed to be in good spirits, said he had been without a home for about five years, the latter half of that time in Lompoc after moving from Key West, Florida. After arriving in Lompoc, he said he lived for about a year under a bridge near the federal prison, but after losing a lot of his possessions there during a storm, he moved to his current spot shortly after last Christmas.
"I don't cause any problems (and) I don't make too much noise," he said. "I don't sit out there and go, 'Hey, give me money,' or something like that. I'm pretty quiet. I'm a hermit."
Lussier, who said his only family was an adult daughter who lives in Florida, acknowledged that he isn't long for life on the streets.
He said he is suffering from Parkinson's disease and was told by a doctor that he likely won't live past the age of 50. His condition likely isn't helped by the fact that he doesn't take medication and has a drinking problem.
Due to those factors, he said he views himself like "a dog crawling off to die."
"I'm not gonna kill myself or get assisted suicide or nothing like that; I'll probably be drinking myself to death, to tell you the truth," he said. "There's no cure to what I have. If I get the pills, all it's going to do is make me live longer. I don't want to do that."
Calderon suggested that those grim remarks were based more on the alcohol than Lussier's actual desires.
"He's screaming for help, really," the officer said after walking away from Lussier.
Calderon noted that he's already helped others in similar situations and seen the mental and physical turnaround that can occur when a person overcomes his or her addictions.
"With talks, and if he sees that there's actually some change, his mindset will change," Calderon said. "My role is to spend as much time as I can with him. ... Most of the time it will be successful if they see that you're actually doing as much as you can for them."
Before retreating back into his tarp enclosure, Lussier expressed disappointment that officers like Calderon had to spend their time dealing with people like him, "when they could be spending their time on getting real crime."
"I have people coming up from Walmart offering me boosters (stolen goods)," he said, noting that he tries to avoid people on drugs, evidenced by a sign he puts on his bicycle that reads "Don't Meth With Me."
"They (the police) could be spending their time on people like that that actually need to have time spent on them."
Upon hearing this, Calderon quickly assured Lussier that his time wasn't being wasted.
"I've been doing this for 22 years and there's other things that can be done in law enforcement other than enforcement, and in this case here, it's helping out people who truly need it," he told him. "So as far as you saying you're wasting my time, I don't think so. That's why I chose to do this."
In the river
A lot of the efforts of the Police Department, and its partner agencies, will be focused on getting people — particularly mothers and children — out of the riverbed.
The level of sophistication among the dwellings in the riverbed has vastly improved over the years. Some of the homes are constructed out of pliable building materials, with walls, roofs, separate bedrooms, toilets with makeshift plumbing and generators for electricity.
Calderon said he even approached one that had a doorbell.
"They do have a valuable skill if you see some of the buildings that they build, but again, it's not appropriate," he said, noting that biological hazards from dumpsites, which can include large amounts of human waste, are among the major health concerns.
Looking to avoid the perils that other municipalities have faced — such as Orange County having to pay for extended stay hotel rooms for people it evicted from a riverbed — the city of Lompoc is moving methodically to identify and encourage people to accept services.
"Our intention isn't to displace people; it's to help them out," Calderon said.
The Police Department recently purchased a four-seat, four-wheel all-terrain vehicle, or ATV, using grant funds. That vehicle is primarily used by officers to go into the riverbed with people from support agencies.
Given that some of the most utilized entry points for the riverbed are near homes and a large shopping center, the issue is of vital importance to the whole community, according to Calderon.
"With the riverbed, what happens is that it spills over into the city," he said.
Some of the issues already being experienced in and around the popular riverbed entrances are shoplifting, trespassing and the discarding of human waste.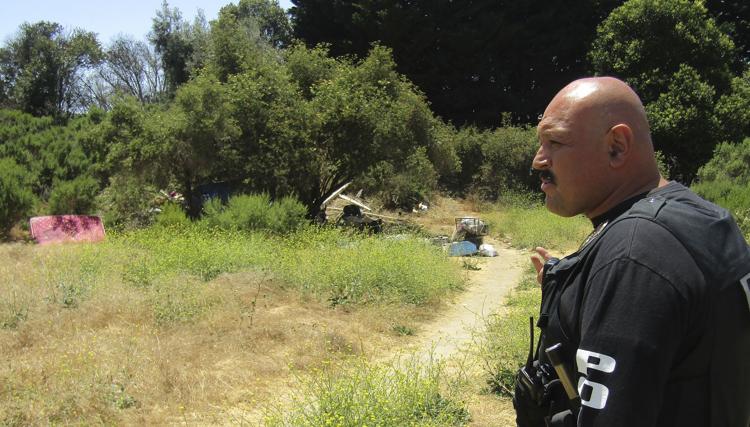 There have also been violent crimes reported in the riverbed, including stabbings, rapes and even a murder last year after which a suspect was shot and killed by police. Additionally, local fire crews have responded to three fires in the riverbed since April, including one in which two people were rescued.
"When they are no longer within public view, everything goes out the window," Calderon said. "There are absolutely no rules and anything goes, pretty much. … If we don't address this issue, it's going to get out of control."
Calderon typically goes down into the riverbed at least once per week currently, but he said that he'll soon be making daily trips as he gets more up to speed.
Seeing results
The model for Lompoc's homeless liaison program is similar to what other entities around the state have done. The only other such program in Santa Barbara County is within the Santa Barbara Police Department, which has two officers filling the role.
Lompoc Police Sgt. Kevin Martin noted that Calderon is doing a job that was meant to be performed by a team of four or five officers. Although Calderon has been in the job for only a month, Martin said the Police Department is already seeing a shift in the attitude that many in the homeless population hold toward police.
"When you bring us into it, people usually go the other way," Martin said. "But now they're getting confidence in the program and the way that we're doing it (and) they know we're not out there to take people to jail.
"Now, we will," he added, referring to arrests, "if somebody's got a warrant or is causing problems down there breaking the laws. There's certain things we can't look past."
Calderon noted that he's already seen some situations that, at least initially, can be considered success stories.
He said that one particular transient had been the subject of frequent calls to the police and could often be found passed out or lying down on the ground drenched in his own urine and feces. Calderon said he made several attempts to get the man to accept help before he finally did.
The man ended up going to rehab and recently told Calderon that he was celebrating 22 days of sobriety and was feeling better than ever.
Calderon has also personally driven people out of town to reconnect with family members who agreed to take them in.
"Maui has the authority, from me, to put them in a car and drive them to Bakersfield or drive them to L.A., if they have a family member that we can reach out to and that's willing to take them in and help them get the help that they need," Martin said. "We'll spend that money in gas, because it's cheaper. And it's easier for the family to get them the help that they need than for us to get them the help."
Chief Walsh indicated that he too has already seen the difference being made by Calderon.
"I am very proud of the compassionate work he is doing in our community," Walsh said.
It takes a village
While homelessness is a growing problem around the nation, Martin stressed that there is no one answer to fix it.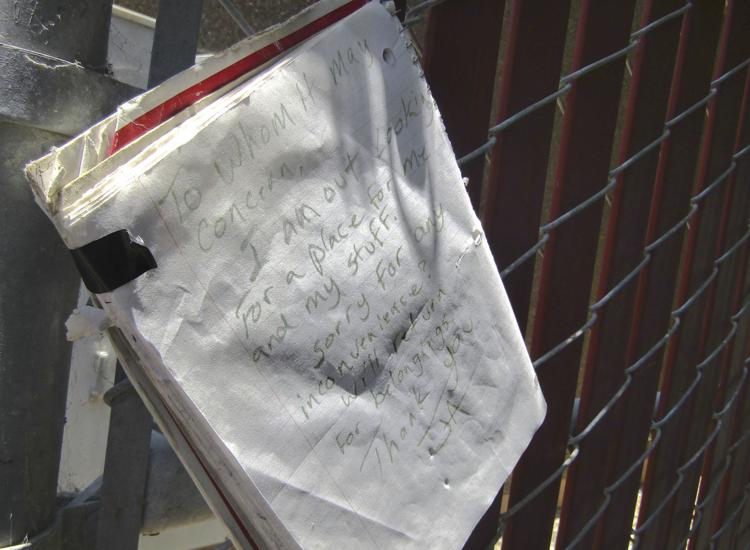 Critical to the Lompoc program is that it aims to keep a long-term focus. Rather than simply removing people from the riverbed or the streets, the goal is to help those people gain the tools they need to not have to return to those conditions.
Martin noted, however, that the heavy lifting shouldn't be left solely to the Police Department.
"The problem for this community is housing — there's so little of it," he said. "They hear that Officer Calderon can get them housing, (and now) he's starting to get people giving him notes saying, 'Hey, I need a house.' But that's not us; that's the housing department.
"Who ultimately is responsible to fix this problem? There's not one entity," Martin added. "It just doesn't exist. So we have to work together in the community to try to figure out how to lessen the challenges that we have and help people get out of the life that they're living down there."
Regardless of wherever that finish line is or what reaching it might entail, Calderon said he will do his best to effect positive change and positively impact the lives of some of Lompoc's least-fortunate residents.
"I think with the correct programs, then people will be given a better chance at life," he said. "That's the ultimate goal."
Willis Jacobson covers the city of Lompoc for Lee Central Coast Newspapers. Follow him on Twitter @WJacobsonLR.
Get local news delivered to your inbox!
Subscribe to our Daily Headlines newsletter.