A SpaceX Falcon 9 rocket was successfully launched from, and then landed back at, Vandenberg Air Force Base on Wednesday morning, causing sonic booms that resonated throughout the Central Coast.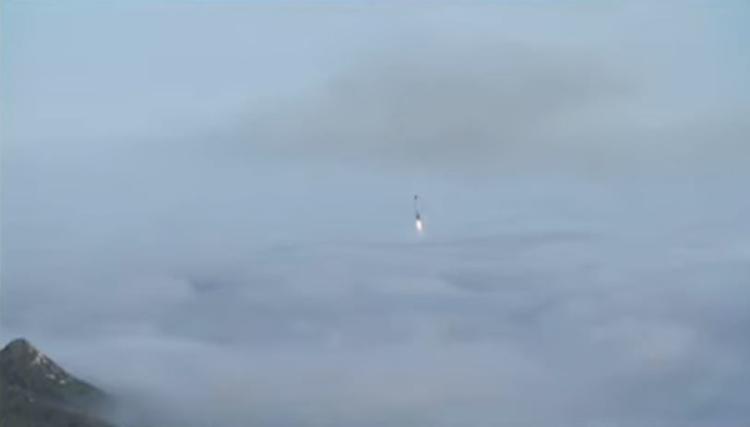 The rocket lifted off from VAFB's Space Launch Complex-4 at 7:17 a.m.
It soared through heavy fog and a mostly cloudy sky over the Lompoc Valley as it delivered three satellites into orbit for the Canadian Space Agency as part of the RADARSAT Constellation mission.
The sonic booms began about eight minutes after the launch as the rocket's first stage returned to Vandenberg and settled back at Landing Zone 4.
The successful return marked the second-ever land-based rocket landing on the West Coast, following SpaceX's first such landing in October 2018.
"Landing in the fog," SpaceX founder Elon Musk tweeted in response to confirmation of the landing.
Col. Bob Reeves, the 30th Space Wing vice commander, was the launch commander.
"Access to space is vital for space superiority," Reeves said, according to 30th Space Wing public affairs. "Team V remains diligent in its efforts to provide robust range capabilities in a safe and efficient manner so our mission partners, like SpaceX, continue to have unfettered access to space.
"This mission highlights, yet again, our capabilities as a spaceport for the nation."
The RADARSAT Constellation consists of three identical satellites. Once operational, it is expected the constellation will provide C-band data to the Canadian government and offer maritime surveillance, disaster management and ecosystem monitoring, according to the Canadian Space Agency.
The landing marked the 41st overall successful booster recovery for SpaceX since 2015.
The company has now performed 26 landings on offshore drone ships, 13 on land at the Cape Canaveral Air Force Station in Florida and two on land at VAFB.
The first stage of the Falcon 9 rocket used in Wednesday's launch had previously flown in a mission in March.
The launch could be the last of the year at VAFB, as the next liftoff is tentatively scheduled for early 2020.
Willis Jacobson covers the city of Lompoc for Lee Central Coast Newspapers. Follow him on Twitter @WJacobsonLR.
Get local news delivered to your inbox!
Subscribe to our Daily Headlines newsletter.