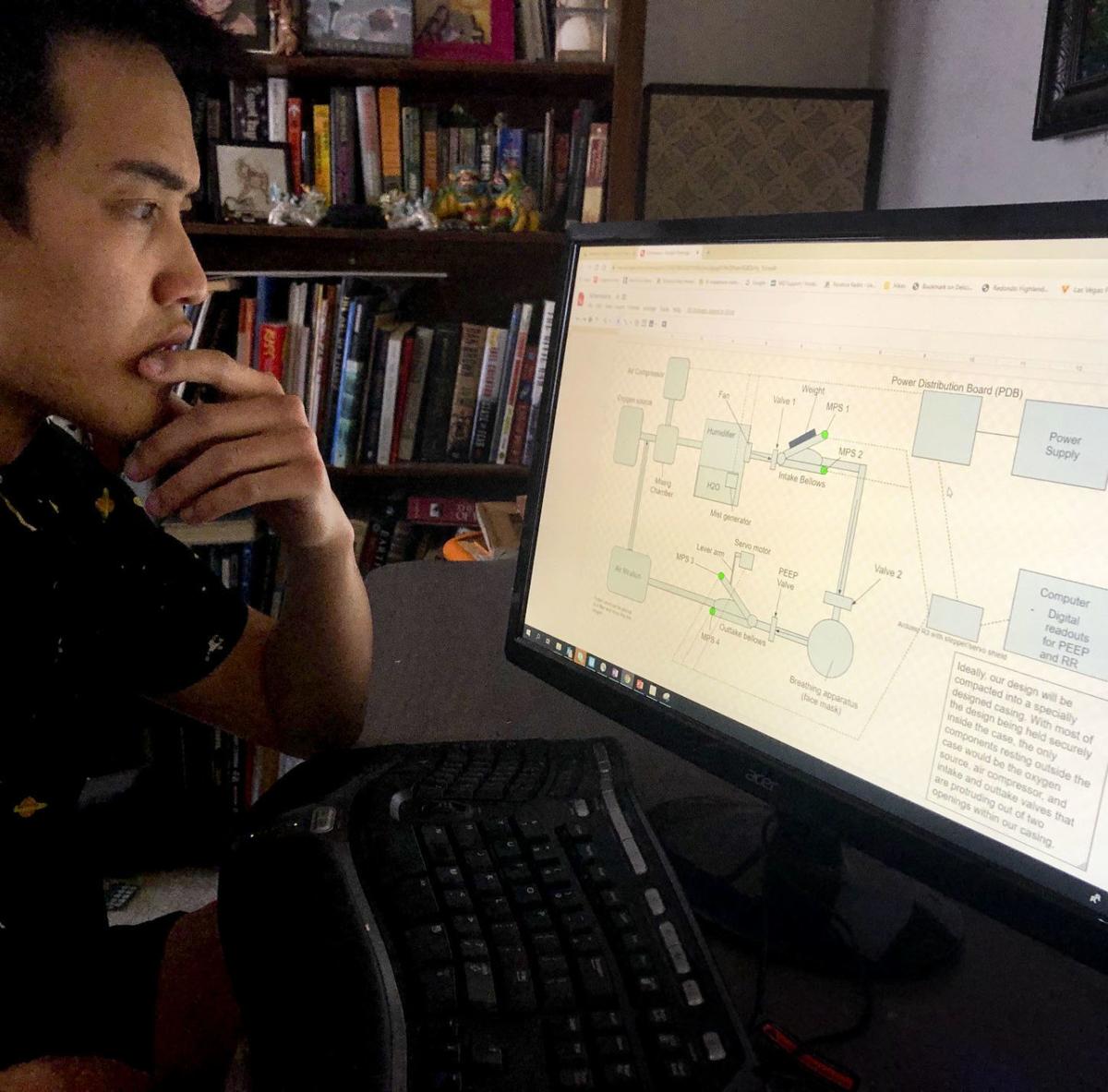 In addition to adapting their courses for online instruction while the university is shut down in response to the coronavirus, Cal Poly College of Engineering professors have refocused the topics on ways to help respond to the pandemic.
A heartbreaking story from Italy prompted Eric Paton, who teaches in the industrial and manufacturing and materials engineering departments, to design a course allowing students to address the worldwide hospital ventilator shortage.
"I heard that medical staff in Italy were removing ventilators from older patients, sedating them to die and giving the ventilators to younger patients," Paton said. "This broke my heart."
Ventilators help those unable to breathe on their own by pumping air into their lungs through a tube inserted into their windpipes, and because COVID-19 affects the respiratory system, the number of patients who need breathing assistance has risen exponentially, he said.
With the American Hospital Association projecting 960,000 U.S. coronavirus patients will need ventilator support, the U.S. Department of Defense asked the scientific community to quickly come up with a low-cost ventilation support system that can be rapidly reproduced at a local level.
We are working hard to get answers about the impact and reaction to the coronavirus in Santa Barbara County, this is a collection of those sto…
Paton immediately submitted ideas and invited three students to do the same.
In addition, his 70-student materials engineering class is creating ventilator technical manuals for iFixit, a San Luis Obispo company whose wiki-based website teaches people how to fix almost anything.
Existing machines are breaking down from heavy use, but technical manuals with repair information are often difficult to find, so the class is creating manuals that will provide step-by-step instructions for the most-needed ventilators.
Paul Anderson, associate professor in the Computer Science and Software Engineering Department, altered his spring bioinformatic algorithm course to focus on studying the virus and comparing it to other viruses and diseases.
Bioinformatics is the science of collecting and analyzing complex biological data like genetic codes.
"We'll be studying various molecular, genomic, genetic and evolutionary aspects of the novel coronavirus from an algorithmic point of view," Anderson said.
Karla Carichner's biomedical engineering design class will break into teams to generate designs improving various existing products or generating new ones for use against the coronavirus.
"I would expect it to range from something hospitals could use to devices that limit contact to products that help in isolation," Carichner said.
"We were originally going to have the students design a product to help the sight-impaired," she said. "Given our current circumstances, this seems more relevant."
Concerned about COVID-19?
Sign up now to get the most recent coronavirus headlines and other important local and national news sent to your email inbox daily.