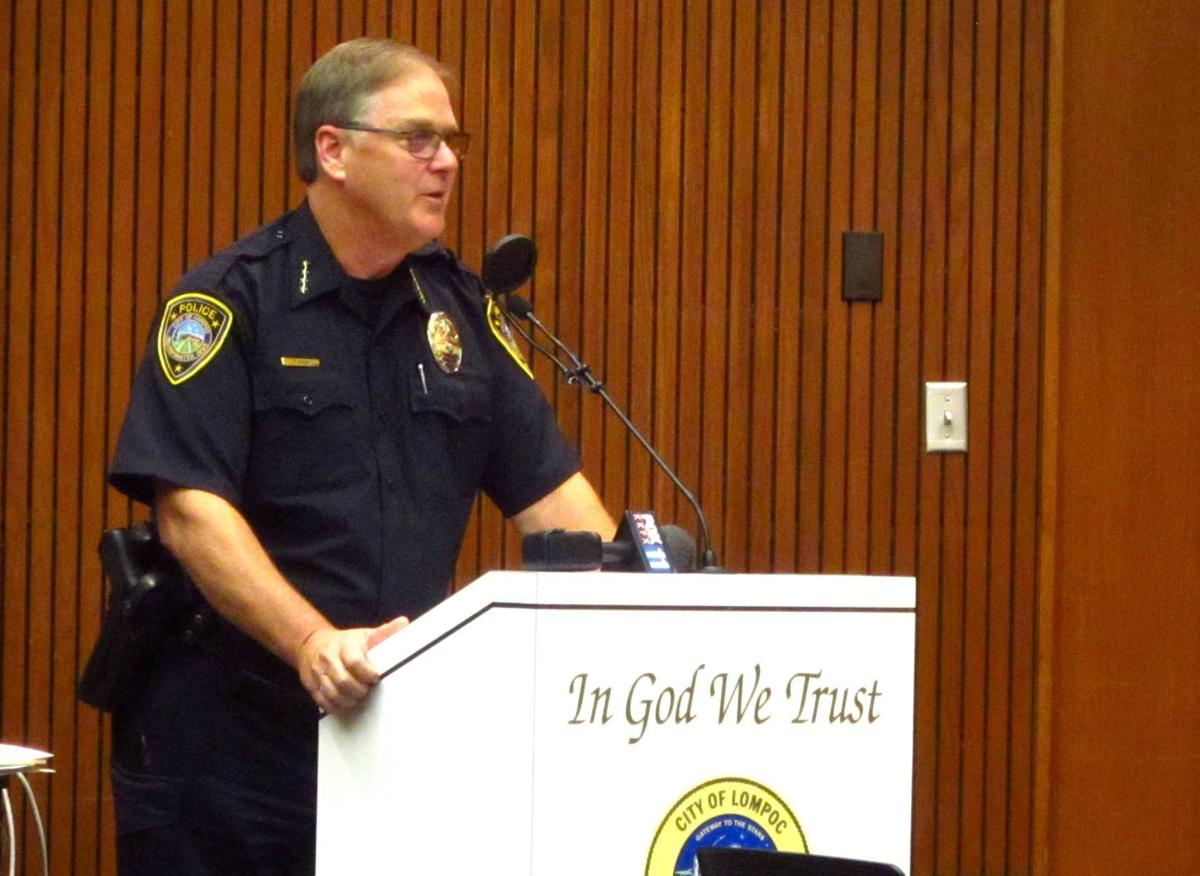 Noting that crime in the Santa Ynez riverbed just outside Lompoc has "escalated dramatically" and that drug use and sales have recently "exploded," Lompoc Police Chief Pat Walsh recommended steps Tuesday night that would ultimately lead to the removal of all people and debris from the riverbed area.
Walsh addressed the Lompoc City Council on Tuesday night to advocate for a move toward clearing out the riverbed, which is home to many of the area's homeless residents. Walsh received support from the majority of the council following his half-hour presentation and said that he plans to bring back more specific plans in the future to begin a sweep that would empty the area.
"I don't think people should be living in the riverbed; I don't think it's as safe as we think it is," Walsh told the council. "If we're honest with ourselves, I think we have to admit, as a community, that we've forgotten these individuals."
Walsh cited numbers from the most recent homeless count that suggested that there are a little more than 200 homeless people in Lompoc. Of those, he estimated that anywhere from 60 to 100 live in the riverbed.
Homelessness has long been a pressing issue in the city, but Walsh said the situation is worsening and suggested that it could get out of control if it goes ignored for much of longer.
Walsh began his presentation by showing a brief slideshow of pictures that he said were recently taken in the riverbed. The photos showed dozens of likely stolen items, including many bicycles; massive piles of what looked to be garbage; large encampments of tents and other makeshift housing; remnants of fires that he said were especially common on cold nights; and even home-like structures built into the side of the riverbed embankment.
Walsh also brought up the Nov. 19 homicide in the riverbed in which 28-year-old Timothy Ross Culley was killed after what police allege was a dispute over a woman. The suspect in that homicide, 34-year-old Geronimo Vicente Santos, was ultimately shot and killed by Lompoc Police after a confrontation.
Noting that the riverbed often goes unpatrolled, Walsh said the scene is akin to "the wild west." Things have gotten so bad, he said, that some of the longtime riverbed residents have started calling the police in an effort to have drug addicts and thieves taken away.
Walsh said the city can expect to see waves of new homeless people coming to the Lompoc area if the city continues to ignore what is happening in the riverbed. He based this on the fact that several other cities around the state are performing riverbed sweeps, and also due to the potential number of homeless people who fled Ventura and southern Santa Barbara counties after the Thomas fire last year and the subsequent deadly mudslides that primarily affected Montecito last month.
"My worry is that if we do nothing and everyone else is doing something … then our numbers (of homeless people) are gonna swell," Walsh said.
Walsh said the entire community — particularly businesses and social support agencies — would need to be involved for the sweeps to be effective.
One of the ways Walsh suggested moving forward was to have a Lompoc Police officer or unit solely dedicated to homeless issues. He acknowledged that this would cost "a bit of money," as would just simply cleaning out the riverbed, but he did not provide any cost estimates. He said he'd research the costs further and report back to the council at a future date.
While Mayor Bob Lingl and council members Victor Vega and Jenelle Osborne each offered vocal support for having the police department address the riverbed issues, some members of the community said they felt other avenues — besides forcing homeless people out of the riverbed and into the city — should be explored.
Lompoc resident Tyann Campfield said she was "disappointed" by Walsh's suggestions and instead advocated for the city to pursue allowing a tiny house community, in which homes could be constructed from items like large shipping containers.
Campfield, who identified herself as an advocate for homeless people, had made the same suggestion at past public forums, but she said that it never led to anything due to "red tape."
Shawndel Malcolm, the director Planting a Seed, the organization that led a cleanup of the riverbed late last year, also took issue with some aspects of Walsh's proposal.
Malcolm noted how support agencies often don't work in tandem, even when the same agency offers different services, which leads to people ending up back in the riverbed even after being offered and accepting assistance. He also pointed to the high cost of living in the area and the lack of response from some agencies, some of which said are exploiting the Lompoc homeless population for grant funds that are then used in other cities.
"Instead of Lompoc being proactive, we are becoming reactive," he said. "I am more concerned with what we're asking the agencies to do.
"My concern is we have a serious fundamental issue with resources we claim to offer that need to be addressed," he added. "Our supportive services are broken. We cannot say we are offering support when we continue to hand clients a broken ladder and ask them to climb up. Homelessness is not a crime, however we're right back to criminalizing their situation."
After receiving direction from the council to pursue a complete sweep of the riverbed, Walsh said he was planning to "actively address our partners" in the community as he works to develop a plan.
In other action Tuesday night, the council voted 3-2 to allow cannabis operations in mixed use zones in the city.
The issue was brought to the council because mixed use zones include both retail and residential uses. City staff proposed banning commercial cannabis in such zones in an effort to "minimize the negative impact commercial cannabis activities may have on residential uses," according to the city's staff report.
Osborne, Vega and Dirk Starbuck voted in favor of allowing cannabis in mixed use zones — the initial motion was made by Osborne — while Lingl and Councilman Jim Mosby voted against it.
The next meeting of the Lompoc City Council is scheduled for Feb. 20.
Willis Jacobson covers the city of Lompoc for Lee Central Coast Newspapers. Follow him on Twitter @WJacobsonLR.
Get local news delivered to your inbox!
Subscribe to our Daily Headlines newsletter.