After getting his first look inside Raytheon's Lompoc facility, Congressman Salud Carbajal described the experience as "mind-blowing."
Carbajal, who also serves on the U.S. House Committee on Armed Services, traveled to Lompoc on Oct. 9 to tour the local research and development labs for Raytheon, a major U.S. defense contractor that produces products and technologies for a wide range of weapons systems.
"I can tell you, when you see that technology and all the high-tech work they're doing, and the systems and the research, it just blows your mind," Carbajal said after trekking around the facility. "These are the types of things you see in movies and on TV."
The tour provided Carbajal an opportunity for an up-close look at a company that is heavily involved in programs considered essential for national defense, and it also gave Raytheon leaders a rare chance to publicly discuss some of what goes on in the facility.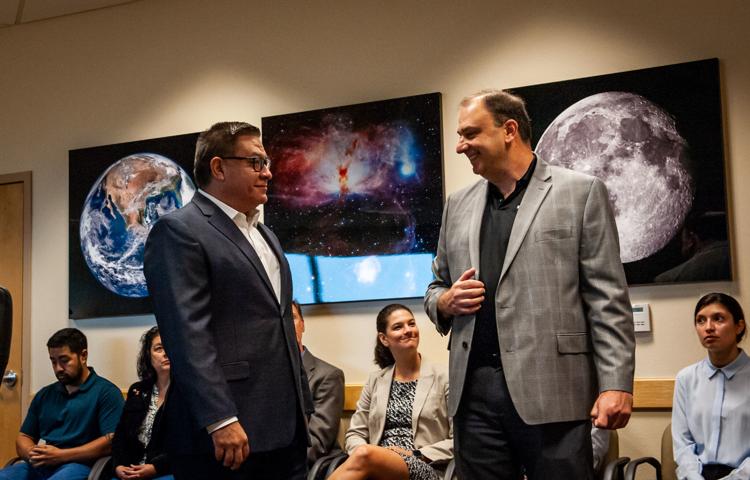 Raytheon typically avoids press and doesn't reveal much of what it does due to national security concerns. After the tour with Carbajal, however, Roy Azevedo, president of the company's Space and Airborne Systems, sat with a pair of media members to reveal some details about the otherwise nondescript Lompoc building that he said houses innovative technologies at least on par with those made famous by companies like Google and Amazon.
"The disadvantage that Raytheon has is we can't talk about a lot of things we do," Azevedo said. "The technology that we do within the company is … extremely innovative. It's a very specific example, right here in Lompoc, [of] doing things that easily match what's being done in Silicon Valley and are all over the newspapers — we're doing it right here."
Raytheon, which reports about $27 billion in revenue annually, has four businesses under its umbrella, all of them dealing with aerospace and defense. The Space and Airborne Systems business, which is run by Azevedo, generates about $7 billion in revenue annually, he said.
The Lompoc facility, located at 425 Commerce Court, was purchased by Raytheon in 2003. Azevedo said that since 2010 about $30 million has been invested in the building, which houses 61 employees. The company employees about 1,200 people overall in Santa Barbara County, with most of them at its two Goleta locations.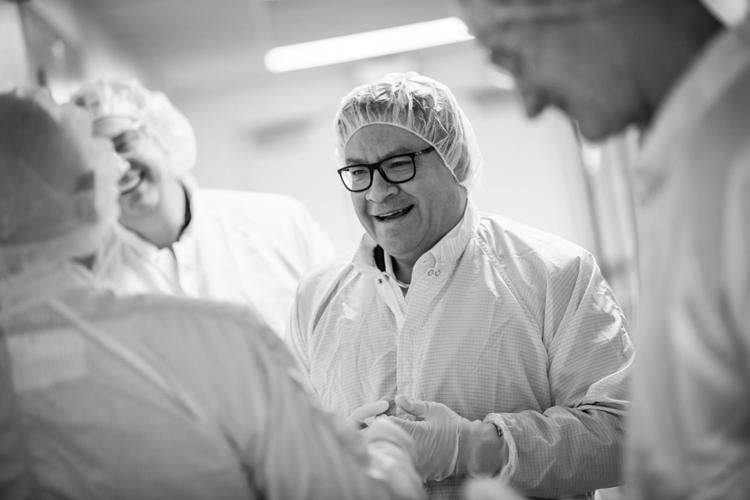 Azevedo said the Lompoc location stands out for its dual role of housing both research and development operations. The facility primarily produces space-related equipment and sensors — "what we call our eyes and ears," Azevedo said — for satellites and other payloads that get launched into space.
"All of the imagery that you see that's commercially available [comes from] products that started right here in Lompoc," Azevedo said, specifically mentioning Google Earth as a user of Raytheon technology.
Carbajal, who is working with Congress to finalize this year's National Defense Authorization Act (NDAA), said his visit to the Lompoc facility carried dual purposes. The proposed NDAA has "a number of resources for Raytheon," he said, including about $5 million in allocations to help with warfighters and defense readiness.
"When I hear Lompoc, and Raytheon brings something to my attention, I have every interest in going through a two-step process: 1) does this fit in our overall national security strategy? … If that box is checked, then the second interest is how does this help my constituents in Lompoc and in Santa Barbara and Goleta?" he said.
"Certainly what they do here is of the utmost importance to me," he added.
One specific project involving Raytheon is the Next-Generation Overhead Persistent Infrared, or OPIR, program. Congress recently approved the Air Force's request to reprogram $160 million in funding to support that program, which is a planned system of early warning satellites that will detect when missiles, including nuclear warheads, are launched.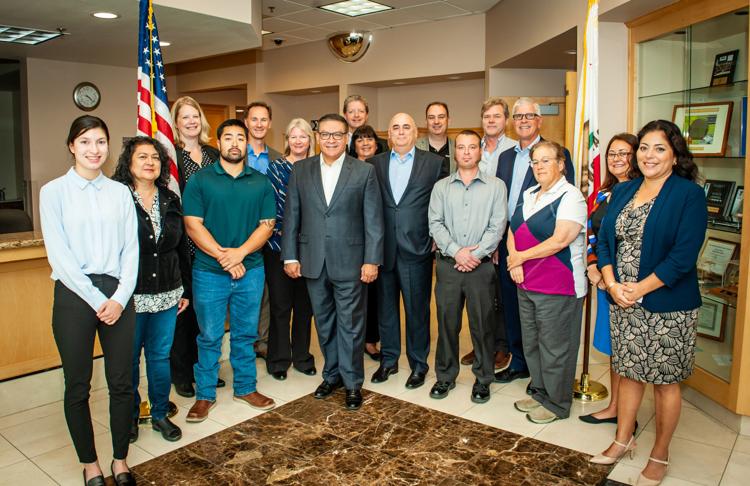 Though Raytheon doesn't have a direct relationship with nearby Vandenberg Air Force Base, that OPIR program is one of several that loosely connects the two entities that happen to be neighbors in the Lompoc Valley.
Carbajal noted that connection when pointing out that the U.S. weapons that would be used to intercept any threatening missiles would likely come from VAFB and from military facilities in Alaska.
"The technology that transpires here has a direct relationship with our abilities, our technology overall, that goes toward the mission of Vandenberg Air Force Base," he said.
Both Carbajal and Azevedo pointed out Raytheon's local economic impact, with Azevedo noting that the average salary at the Lompoc facility is more than $100,000, which is significantly higher than the average salary within the Lompoc Valley. He said the company was looking to continue to grow and keep pace with the demands of the growing space and defense industries.
"In terms of the programs that are coming down the line, I'm hopeful that it will force us to invest more, but if I was going to predict what we're investing in, it's investing in the people, hiring more people here," Azevedo said. "At the end of the day, you can put equipment, but without the talent of the people of Lompoc that are running this place, those machines are [just] nice machines. The products come out because of the talent pool that we have here. That's where our resources will go."
Willis Jacobson covers the city of Lompoc for Lee Central Coast Newspapers. Follow him on Twitter @WJacobsonLR.
Get local news delivered to your inbox!
Subscribe to our Daily Headlines newsletter.