When Santa Barbara County Sheriff's Deputy Dennis Thomas makes his rounds at Cabrillo High School, where he serves as the campus resource officer, he often has to rely on his own feet or try to hitch a ride with a school staffer on a campus golf cart.
Thanks to a partnership Thomas developed with a group of students, however, the deputy now has his own custom-made mode of transport.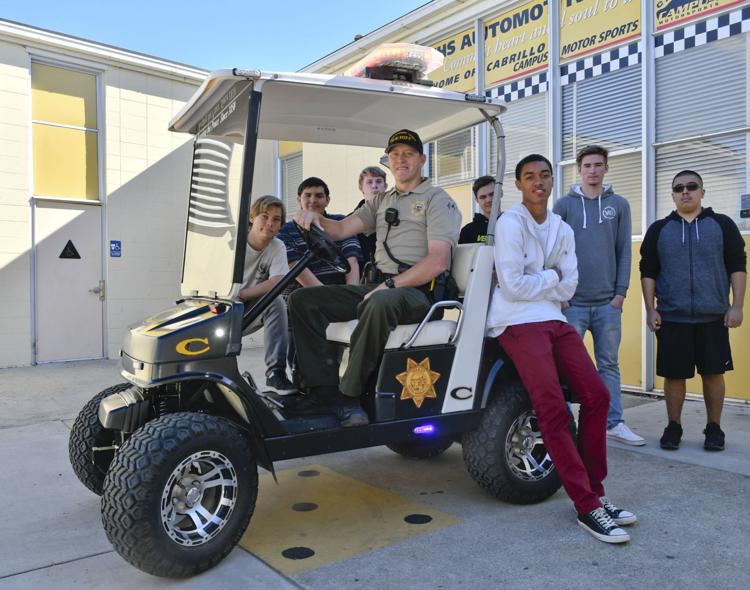 Thomas and a crew of seven Cabrillo High students gathered near the school's auto shop Wednesday morning to unveil a law enforcement ride that, at least locally, is the first of its kind. The group took a donated golf cart and refurbished, repainted and rebuilt it to make it more representative of a sheriff's car — complete with working lights and a siren.
"I came up with the idea of 'Let's make the golf cart into a cop car — a 'Cop Cart,'" Thomas said. "So what we decided to do was take it completely apart and put it all back together."
Seventeen-year-old Tyler Burch took a leadership role in the venture, which he decided to use as his senior project.
Burch, who said he's always had an interest in auto repair, noted that the golf cart transformation was a lot different than working on traditional gas-powered vehicles, particularly due to the focus on electrical components.
"It was a lot of tedious, hands-on work," he said.
Still, he said he enjoyed the process because "it was something that I could do to get my hands on, to give me more of an opportunity" for auto work.
Cabrillo junior Anthony Bajaras said he was also proud to be part of the team.
"We had a fun time wiring all the lights up," he said, hinting at slight sarcasm. "That was a long process. But, overall, the project was amazing. I think everyone enjoyed it … and I think it came out amazing."
The group worked on the project for about two months. Joining them was Steve Moldt, the school's auto shop teacher who gave them the OK for the work. Thomas estimated that the students put in about 80 hours on the project.
"I know there are others, but I don't know of any in this area," he said of the "Cop Cart" vehicle. "I think this is unique. This is a unique project that we did where we got law enforcement involved with students and I couldn't be more proud of them. They jumped in all the way and they worked hard."
Burch said he was thrilled with the outcome of the remodel, though he noted that it could still be a work in progress. He said that there is room for further enhancements, like the inclusion of a storage box.
Thomas, who will be the primary driver of the new-look cart, noted that it won't be just for campus patrols but can also be used in parades and other events.
"I'm ecstatic," Thomas said of the finished product. "I couldn't be more proud. (The students) knocked it out of the park."