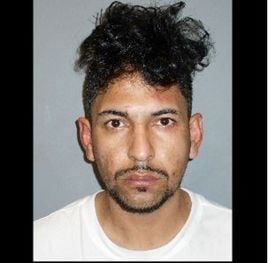 LOMPOC
Man arrested after Surf Connection break-in, theft of $1,200 worth of jeans
A Lompoc man was arrested on suspicion of burglary after multiple pairs of jeans were stolen from Surf Connection, which he accessed by smashing out the front door's glass, according to police. 
Officers were dispatched to the 1300 block of North H Street, where an alarm was sounding at Surf Connection store after the door was shattered shortly before 2 a.m., according to Sgt. Scott Morgan. 
Officers noted that a stack of jeans had been stolen. 
Lompoc Police detectives reviewed surveillance camera footage and identified the suspect as 35-year-old Michael Limon after they spotted him running from the business to a nearby hotel. They established Limon's identity after determining the hotel room he entered, according to Morgan. 
After Limon was contacted by detectives, he allegedly confessed to the crime. Limon was booked into the Lompoc Police Department jail and later released with a citation in accordance with a COVID-19 related statewide emergency $0 bail policy for low-level offenders. 
All of the jeans, which were valued at $1,232, were recovered, according to Morgan, who noted that damage to the glass window as $766.
LOMPOC
Lompoc Theatre Project hosting live telethon, variety event March 26
The curtains will go up on Lompoc Theatre Project's live telethon and variety event slated for 6 p.m. Friday, March 26, featuring celebrity guests, musicians and local artists who will perform and entertain.
The 2.5-hour virtual event, hosted by theater Executive Director Mark Herrier via Facebook Live, is an effort to raise funds to restore the local theater.
The event is free and open to the public.
With the purchase of a $20 VIP ticket, patrons can gain access to a silent auction featuring over 30 auction items from local wineries, restaurants, hotels, retailers, which include winery and vineyard experiences, overnight stays and more.
The silent auction will run from 9 a.m. March 20 through 9 p.m. March 26, with 100% of the proceeds going to The Lompoc Theatre Project.
For additional information or to purchase VIP tickets, go to eventbrite.com/e/the-show-must-go-on-tickets-142010086993?fbclid=IwAR2DU_VME9-tLZmgB8ZQ7eL54H-kB5kKhymZ4jOQpRNIweKK94LW-QcZeVs
SAN LUIS OBISPO COUNTY
New members sought for Diablo Canyon decommissioning panel
Applications are being accepted to join the Diablo Canyon Decommissioning Engagement Panel that provides community input about decommissioning issues to Pacific Gas and Electric Co.
Three new members are needed for the local nonregulatory stakeholder group of 11 people, and March 13 is the deadline to apply.
The panel was created to foster open dialogue between the community and PG&E on matters related to decommissioning Diablo Canyon Power Plant and future uses of the facilities and property located on the Pecho Coast north of Avila Beach.
Panel members, who meet quarterly, also have a chance to learn about the technical aspects of the decommissioning process.
PG&E representatives and existing panel members will select three replacements who broadly reflect the diverse stakeholder viewpoints in the communities surrounding the nuclear power plant.
New panel members will be announced March 29.
For more information on how to apply, visit https://diablocanyonpanel.org/ or www.pge.com/engagementpanel.
Get local news delivered to your inbox!
Subscribe to our Daily Headlines newsletter.