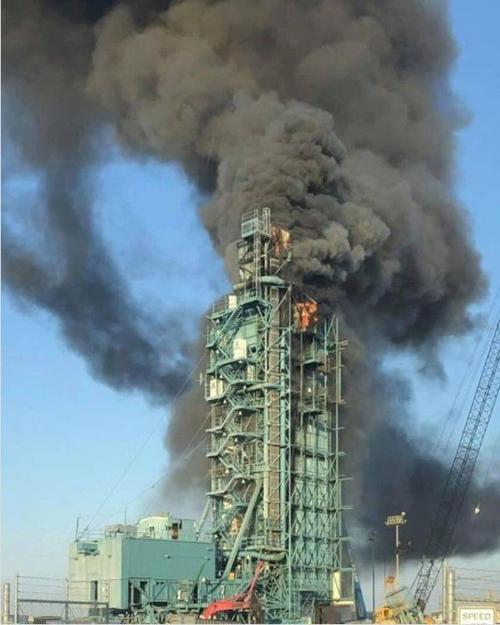 Crews extinguished multiple fires that broke out during the demolition of a Vandenberg Air Force Base rocket launch complex Thursday, according to a spokesman. 
Vandenberg Fire Department crews responded to a fire reported at Space Launch Complex 2 at about 10 a.m., according to Tech. Sgt. Patrick A. Harrower. 
Firefighters arrived on scene within minutes and evacuated site personnel before making their way up the tower, extinguishing fires on each of the 13 floors as black smoke billowed from the complex.
The fires were caused when a piece of hot metal made contact with flammable materials within the complex, according to Harrower. 
No injuries were reported. 
"The quick reaction of the site supervisor ensured everyone was evacuated safely and the fire department was called immediately, causing minimal impact to operations," said Mark Smith, 30th Civil Engineer Squadron fire department assistant chief of operations. 
The launch complex, or SLC-2, was previously used for Delta rocket launches and is in the process of being demolished by Austin-based Firefly Aerospace, which has a facility on base and plans to use the complex to launch commercial space vehicles. 
Photos: Surf Beach providing refuge for Lompoc community amid coronavirus crisis
Surf Beach remains one of the few public spaces that people can still visit amid all the shelter-in-place recommendations that have been made by public health officials. But just like at La Purisima Mission State Historic Park — another popular Lompoc Valley outdoor space — visitors are advised to be responsible and adhere to public health guidance while utilizing the 1.25 miles of accessible coastline.Since it is on Vandenberg Air Force Base property, the beach is patrolled and monitored by docents and airmen with the 30th Space Wing.Col. Anthony Mastalir, commander of the 30th Space Wing, acknowledged that the beach can be a particularly effective respite for people who may be dealing with added anxiety due to the ongoing pandemic."This is a stressful and hectic time for everyone," Mastalir said. "We are experiencing something completely unprecedented in our lifetimes. Part of getting through this together is making sure we are taking care of ourselves physically, mentally and emotionally. Walking on the beach and getting outside can help alleviate stress and be a great retreat for some."
Get local news delivered to your inbox!
Subscribe to our Daily Headlines newsletter.