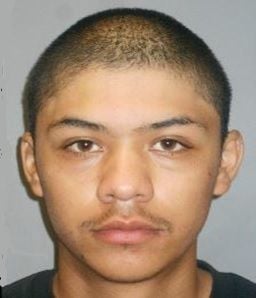 An alleged Lompoc gang member on Tuesday was sentenced to five years of probation and time served after pleading no contest to a firearm-related assault that occurred in May. 
Juan Carlos Duarte appeared in Lompoc before Santa Barbara County Superior Court Judge Raimundo Montes de Oca, who sentenced the teenager to probation and 224 days of time served on a felony charge of assault by force likely to produce great bodily injury. 
Duarte — along with three other youths — was arrested May 29 after allegedly shooting at a rival gang member in the area of North Q Street and West Apple Avenue, according to the Lompoc Police Department. 
All four suspects were identified as active gang members, the Lompoc Police Department said. 
A fourth suspect has been arrested in connection with a suspected gang-related shooting that occurred Wednesday in Lompoc, the Lompoc Police Department announced Friday morning.
Santa Barbara County District Attorney Stephanie Schoenberg said Duarte fired several shots through an apartment wall after the rival gang member ran inside the building. 
The bullets nearly struck an elderly woman who was asleep inside the home, Lompoc Police Department detectives said. 
Schoenberg said Duarte was initially charged with assault with a firearm, with a gang enhancement, and shooting into an inhabited dwelling or vehicle. 
However, Schoenberg added the charge of assault likely to produce great bodily injury, to which Duarte pleaded no contest. 
Schoenberg said Duarte is alleged to be a part of Lompoc's South Side Gang, which are also known as the "F Streeters," but didn't admit to the allegation. 
Despite that, Schoenberg said Duarte is required to register as a gang member as part of his sentence. 
Sign up for our Crime & Courts newsletter
Get the latest in local public safety news with this weekly email.