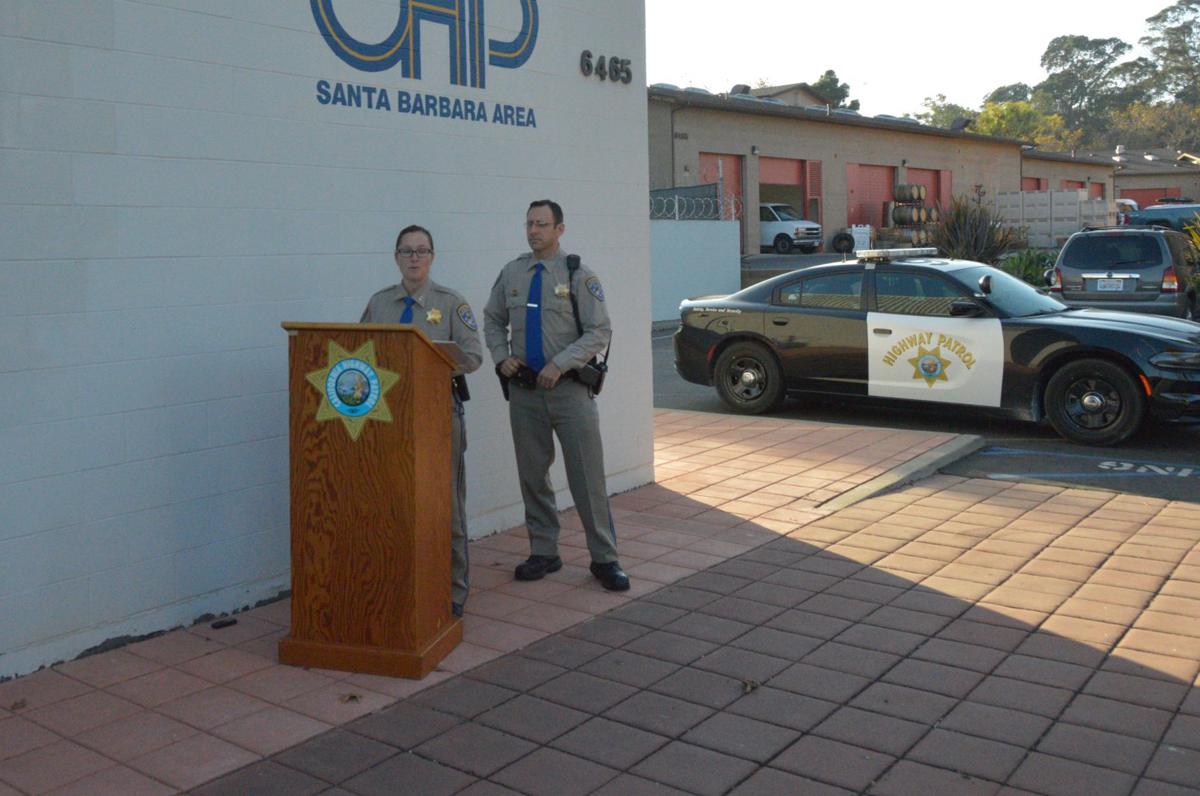 California Highway Patrol officials said Thursday they believe a driver intentionally crashed his car into an oncoming vehicle on Highway 154, killing a Solvang woman and her two young children.
At an afternoon press conference, Cindy Ponce, commander of the Santa Barbara Area Office of the CHP, outlined the investigation into the Oct. 25 crash and subsequent arrest of John Roderick Dungan, 28, who was charged with three counts of murder Wednesday.
"You know that our community is still hurting and will be for a very long time," Ponce told reporters. "I will assure you that the CHP will not rest until we have thoroughly investigated the case."
Dungan was driving his 2014 Chevrolet Camaro westbound on Highway 154 near Cold Spring Bridge when he allegedly slammed his car head-on into a 2013 Chevrolet Volt, driven by 34-year-old Rebecca Vanessa Goss Bley, of Solvang.
Bley was killed, along with her two children — 2-year-old Lucienne Bley Gleason and 4-month-old Desmond Bley Gleason — who were in the back seat.
Murder charges have been filed against a Santa Barbara man accused of causing a three-vehicle crash that killed a Solvang woman and her two yo…
The Volt was then struck from behind by a GMC Yukon, causing both vehicles to catch on fire, which scorched two acres along the adjacent hillside.
The driver and passenger of the Yukon were uninjured, according to the California Highway Patrol.
Dungan was seriously injured in the crash, Ponce said, and was immediately booked into County Jail following his release from the hospital Tuesday evening.
His bail was initially set at $2 million, but that has since been revoked, Ponce said.
The following day, Santa Barbara County District Attorney Joyce E. Dudley announced the murder charges against Dungan. 
Ponce said investigators believe Dungan intentionally crashed his car into Bley's, based on evidence collected through witness statements and search warrants.
Police have yet to interview Dungan, adding that he refused to waive his rights. They do not believe he has any connection to the victims. 
A blood sample was taken from Dungan as part of the crash investigation, Ponce said, but the results — which are being fast-tracked — won't be available for about one month.
Investigators from the CHP's multidisciplinary accident investigation team — which reconstructs car crashes to determine a cause — are still collecting evidence from the three vehicles, which were impounded by the CHP, Ponce said.
Preliminary information on the "complex" investigation was sent to the district attorney, Ponce said, although a full report has not yet been completed.
Prior to the press conference, Ponce said that CHP officers met with Max Gleason, the widowed husband of Bley, to provide him with updated information on the investigation and to answer questions.
In addition to the murder charges, Dungan faces a felony case filed last March in which he is charged with stalking and firearm-related violations.
According to the criminal complaint, he was free on bail or his own recognizance at the time of the crash, leading to one of two enhancements being added to the three murder charges.
Dungan was scheduled to appear for an arraignment at 8:30 a.m. Friday in Department 8 of the Figueroa Division of the Santa Barbara County Superior Court.
Ponce said the CHP is still asking for anyone who might have information helpful to the investigation to call the Santa Barbara CHP at 805-967-1234.
Sign up for our Crime & Courts newsletter
Get the latest in local public safety news with this weekly email.