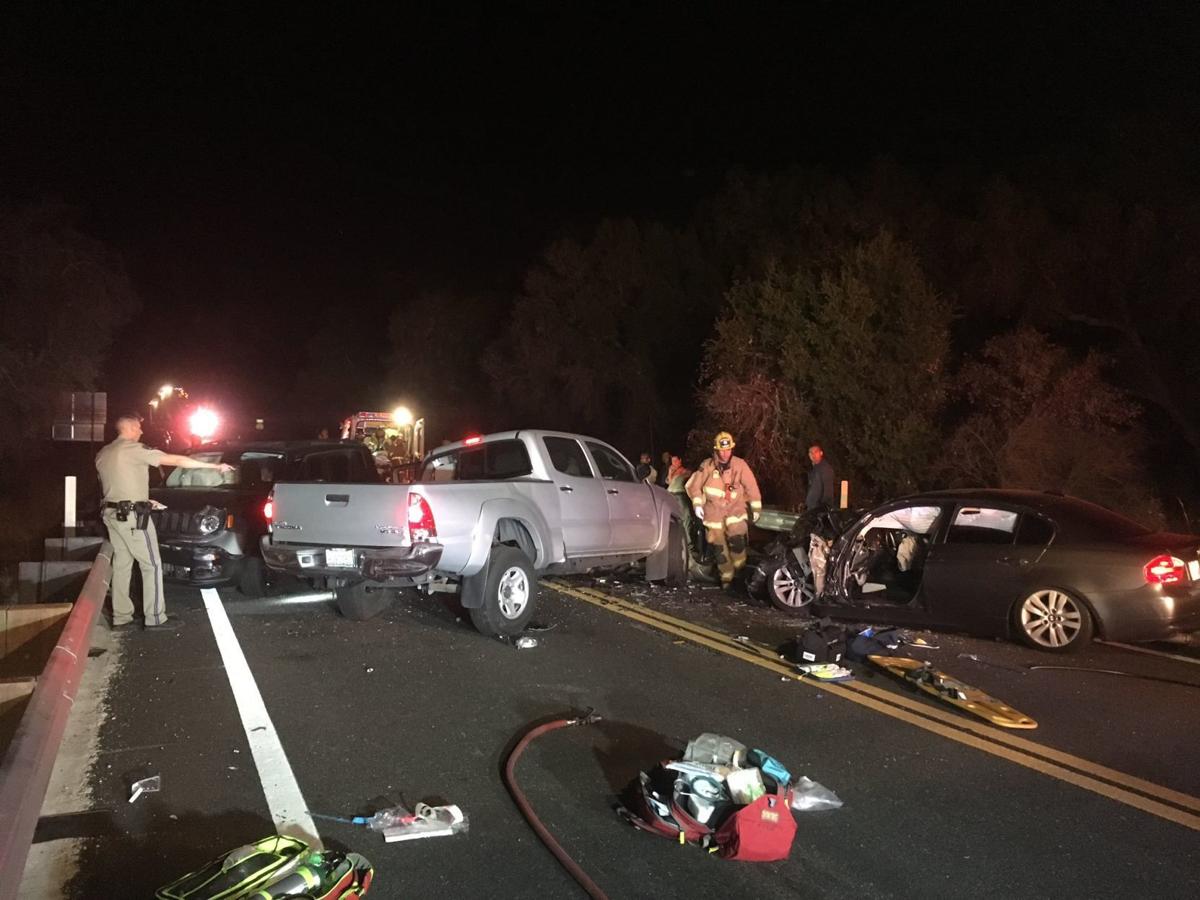 A former Santa Barbara County Sheriff's Office custody deputy is facing separate lawsuits filed in June over a DUI-related collision that involved multiple vehicles and injured six people along Highway 154 in September 2019. 
Two passengers injured in the Sept. 14, 2019 collision accuse Javier Antunez, who was a lieutenant custody deputy, of negligence, intentional infliction of emotional distress and other allegations stemming from the crash, according to the two lawsuits filed on June 29 in Santa Barbara County Superior Court. 
Judith Hall, a District Attorney's Office criminal investigator, and Evelia Dominguez, were passengers in a 2009 Toyota Tacoma and received severe injuries after it collided head-on with a 2008 BMW driven by Antunez at 7:10 p.m. just east of the Lake Cachuma Recreation Area entrance on Highway 154, according to the lawsuits.
The crash injured four other people: Dolores Gutierrez and Enrique Calderon-Mendez, who were also passengers in the Tacoma; Antunez and his passenger, Esther Trejo-Takembaiyee.
Talitha Blackwell was driving a 2017 Jeep Renegade, which collided with the Tacoma from behind, but was not hospitalized, according to the California Highway Patrol. 
Additionally, Trejo-Takembaiyee, Blackwell, and Antunez' wife, Guadalupe Guzman-Antunez, are listed as defendants in the lawsuits. 
Both plaintiffs, who are represented by attorney Patrick McCarthy, seek unspecified damages and demand a jury trial. 
Antunez pleaded not guilty in February to two felony criminal charges of driving under the influence, plus an enhancement, related to the crash. 
His employment with the Sheriff's Office terminated in February, according to spokesman Erik Raney. 
The incident triggered a conflict of interest in which Jonathan Kline, an official from the state Office of the Attorney General, was called in to prosecute the case. 
The plaintiffs allege that Trejo-Takembaiyee knew Antunez was intoxicated when he started driving toward Santa Barbara shortly after 7 p.m. following an evening of drinking in the Santa Ynez Valley, according to the lawsuit. 
Hall, Dominguez and the Tacoma's two other passengers were traveling in the opposite direction on Highway 154 to a concert at the Chumash Casino. 
Trejo-Takembaiyee was sitting in the front passenger seat of the BMW and was allegedly "distracting Antunez or otherwise voluntarily engaged in a reckless act" that caused Antunez to "violently and abruptly" crash into the Tacoma, almost coming to a complete stop upon impact, according to the lawsuits. 
Trejo-Takembaiyee, a Sheriff's senior patrol deputy, and Antunez were involved in an extra-marital affair at the time of the crash, according to the lawsuit.
Both vehicles were traveling approximately 50 miles per hour, and Hall and Dominguez were sitting in the back seat of the Tacoma when the vehicles collided, according to the lawsuits. 
Hall was airlifted in critical condition to Santa Barbara Cottage Hospital, where she underwent multiple surgeries for multiple head and spine fractures and a perforated bowel, according to the lawsuit, adding she was discharged on Oct. 9, 2019 but still suffers from chronic pain and had up to 45 centimeters of her intestines removed. 
Dominguez was admitted to Cottage Hospital's intensive care unit and treated for pulmonary and cardiac contusions, and fractured ribs. 
In addition, the plaintiffs allege Guzman-Antunez and several of her family members, who are not named in the lawsuits, attempted to hide assets to prevent them from being seized as damages, according to the lawsuits.
The lawsuits are scheduled for case management conferences at 8:30 a.m. on Nov. 2 in Department 5 of Superior Court in Santa Barbara. 
Sign up for our Crime & Courts newsletter
Get the latest in local public safety news with this weekly email.