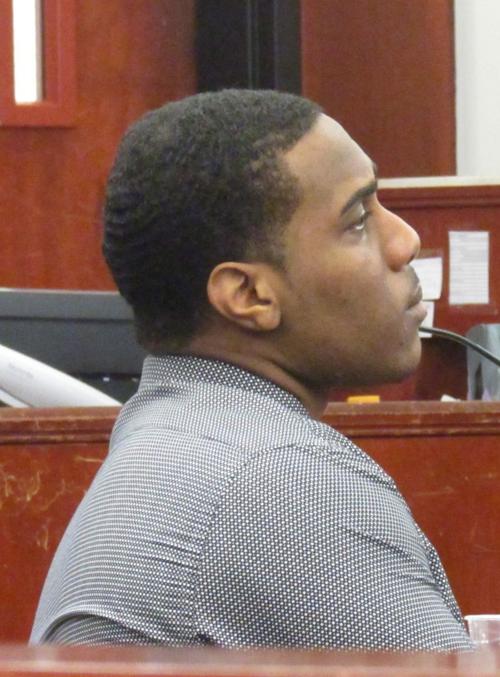 The man convicted of second-degree murder in connection to the 2015 slaying of a rival gang member in Lompoc was sentenced Friday to 16 years in state prison, after a judge blamed the killing on the decision by both men to join a gang. 
Dequan Jahlil Matthews was found guilty of second-degree murder in January following a two-month jury trial at the Santa Maria Superior Court alongside his co-defendant Edward Carter, who had a mistrial declared against him.
The pair were tried the first time in the summer of 2016, when both were found not guilty of first-degree murder. Jury members were hung on the lesser charges of second-degree murder and voluntary manslaughter. 
Jesse Lara was killed in a fatal stabbing June 6, 2015, following an altercation between 62Brims and VLP gang members in Lompoc.
During an emotional sentencing Friday, Lara's mother and aunt made victim impact statements, during which both shared the pain of having to live the past three years without Lara, 29, who also left behind two young sons.
"My son was only 29," said Lara's mother, adding she cries every time she thinks of him. "No mother should ever lose her son ... not the way I lost mine. I can't sleep at night; my whole life has changed where I don't want to do anything, see anyone or go out."
She also said his father, Jack, talks to his son every day, as if he's alive, telling him goodbye when he leaves the house and that he'll be back in a while.
"Then he sits at his gravestone every day and talks to him and cries," Lara's mother said. "What kind of life is this? I believe in my heart that these men should pay the price for our loss, as the Bible says, 'an eye for an eye.'"
Lara's aunt spoke next, telling the court that the family would never be able to recover from the tragedy, and that while her nephew did choose a wrong path when he was younger, he was turning his life around toward the end of it.
"Jesse did take a bad road, the same bumpy road you chose," she told Matthews. "He did turn himself around; he was always in his son's lives. Jesse's younger son will never remember him, but through his mother and family, we're doing our best to see that never happens." 
After the jury returned the guilty verdict in January, the family went out to lunch, still in a somber mood, she added.
"There was no celebrating, no sense that justice was served," she said. "We just sat there, quiet, still crying. The only justice we'd have to see is to see Jesse walk into the courtroom, but we knew that would never happen because you, Mr. Matthews, made sure of that.
"You showed no mercy on my beautiful nephew," she added. 
Following all the victim impact statements, Judge James Voysey, who presided over both trials, handed down the 16-year sentence, but not without reminding Matthews what could have been avoided had he made different decisions.
"Your future, and what happens to it, is now in your hands," Voysey told him. "I sat here for many months, listened to the facts of the case. When I look at the background of Mr. Lara, I see a human being who had potential, and could have done some really good things with his life, and had a family."
He continued: "I look at you and see someone who has a great family, and could have made different decisions. Somehow, you got sucked into 62Brims. Somehow, Jesse got sucked into VLP.
"If I had the power to dismantle every criminal street gang in this country, I'd do it right now because that's why we're here today -- because of VLP and 62Brims. Take that thought with you and remember to change your life." 
Gina Kim covers crime and courts for Santa Maria Times. Follow her on Twitter @gina_k210
Sign up for our Crime & Courts newsletter
Get the latest in local public safety news with this weekly email.